Dallas man says Alzheimer's Disease Center helped prepare couple for new normal
By Jeff Carlton, UT Southwestern News and Publications
Eight of Lonna Atkins' 11 siblings developed Alzheimer's disease, so the Dallas wife and mother always figured that one day she'd be next.
"She was prepared to have Alzheimer's disease," said Jim Atkins, her husband of 52 years and now her primary caregiver. "She thought she would have it. Seven older sisters had it."
"But when the day came," he said, "I was devastated."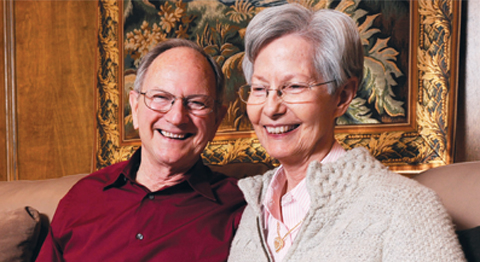 Mr. and Mrs. Atkins, both 72, were high school sweethearts. They met at Richardson (Texas) High School when he was 16 and she was 15. They married three years later, had two children and eventually two grandchildren.
Mr. Atkins' career in international business took his family away from Dallas for nearly 25 years. They lived in Belgium and Hong Kong, and they traveled to more than 20 countries across four continents. Together the couple enjoyed music, art, nature, church activities, and socializing with family and friends.
But Dallas was home, and when the family finally returned, Mrs. Atkins took an active role in caring for her siblings, many of whom were still in the area and developing signs of dementia and Alzheimer's disease. One of her sisters sought out care at the Alzheimer's Disease Center at UT Southwestern, which is how the Atkinses learned of the Medical Center's clinical services and research projects.
"When we came back, Lonna got involved in taking her sister to the doctor and making sure she was eating," Mr. Atkins said. "Then there was another sister, and then there was another one, and then there was her."
The signs initially weren't obvious to Mr. Atkins. But Mrs. Atkins, so attuned to the symptoms of Alzheimer's disease because of how it ravaged her family, realized that her memory wasn't what it used to be. In 2004, she sought out testing at the Alzheimer's Disease Center, and the results confirmed her suspicions. They've both since been active participants in several studies, and Mrs. Atkins remains under the care of Dr. Mary Quiceno, Assistant Professor of Neurology and Neurotherapeutics and leader of the Center's education core.
The disease progressed slowly, so the Atkinses used the time to prepare themselves by accessing the support groups and training classes made available through the Center and the Alzheimer's Association. Together, they learned memory tips and looked out for the signs indicating that Mrs. Atkins should give up driving. They followed the best nutritional and medication advice available and networked with other patients and experts at the Center who are traveling a similar path.
Mr. Atkins said he believed the couple's involvement in the Center's research programs already has saved his wife's life. Through routine brain imaging that is part of the Center's ongoing studies, physicians discovered a tumor on Mrs. Atkins' brain. Subsequent surgery stopped the growth of the tumor, which doctors said would have been fatal.
"Alzheimer's is a horrible disease to have, but we have gotten such great support and care from UT Southwestern," Mr. Atkins said. "I think if you are going to have it, this is a good place to have it. There are so many resources available. Going to the Alzheimer's Disease Center is like visiting with friends who know a tremendous amount about what you have to cope with."
Mrs. Atkins' disease continues to progress, and Mr. Atkins said he will soon move with her to an independent living facility that can provide additional assistance. In the meantime, the couple continues to enjoy drives to the Texas Hill Country, symphony concerts, art museums, church, and activities with friends and family.
"And, of course, volunteering for UTSW research projects," Mr. Atkins said. "I feel like I am able to pick up the phone and talk to somebody at the Center and know they have a depth of experience and understanding, as well as sympathy, compassion, and support. I can't imagine having gone through this without these resources."