Alzheimer's Disease Center awarded 5-year, $9 million grant
By Julie Kirchem, Department of Neurology and Neurotherapeutics
DALLAS - Aug. 16, 2011 - The National Institute on Aging of the National Institutes of Health has renewed the Alzheimer's Disease Center (ADC) grant for another five years. The NIH grant award is for $9 million and is the fifth consecutive grant renewal for the ADC dating back to 1988.
"We look forward to a highly productive and exciting five years ahead of renewed funding for our research," said Roger N. Rosenberg, M.D, Director of the ADC.
"It is our objective to find new insights into the biology of Alzheimer's disease and related disorders that will lead to effective therapies to prevent or delay the progression of disease," he said.
Photo by Julie Kirchem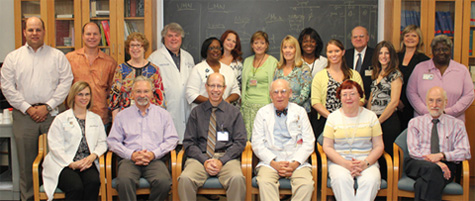 The UT Southwestern ADC is a leading research center for Alzheimer's disease and related disorders. Researchers published more than 160 scientific papers in peer-reviewed journals in the past five years and generated several million dollars in research grants by providing small grants from the ADC's Pilot Project Program and from grants funded by the Friends of the ADC.
Dr. Rosenberg announced that Munro Cullum, Ph.D., is the new Clinical Core Leader of the ADC and Mary Quiceno, M.D., has been appointed Education and Information Transfer Core Leader.
"The grant allows us, the researchers and clinicians, to provide research opportunities and cutting-edge therapies to our patients," said Dr. Quiceno. "We are so close to many significant breakthroughs in knowledge and treatments for Alzheimer disease and other dementias -- our continued participation in research, as investigators and participants, gets us nearer these goals."
Myron Weiner, M.D., who served previously as Clinical Core Leader, will be Core Leader for Native American Studies under the new grant. Dr. Weiner will provide diagnostic services and conduct research on dementia in the Choctaw Nation of Oklahoma. The UT Southwestern ADC contributes one-half of all of the clinical data to the National Institute on Aging related to dementia of the American Indian.
Kyle Womack, M.D. is pursuing NIH-funded neuroimaging studies of frontotemporal dementia. Kimmo Hatanpaa, M.D., Ph.D. is investigating the neuropathology of the hippocampus in dementia. Dr. Michael Devous is a national leader in the neuroimaging of Alzheimer's disease and presented his latest results at the International Conference on Alzheimer's Disease in Paris, France, this past July.
"We are extremely fortunate to have a team of physicians, patient care coordinators, and senior staff who are truly dedicated to the goal of providing excellent care to our patients and the conduct of outstanding research into the biology of Alzheimer's disease and related disorders," Dr. Rosenberg said.