Alejandro Magadan, M.D., brings imaging expertise to UT Southwestern stroke team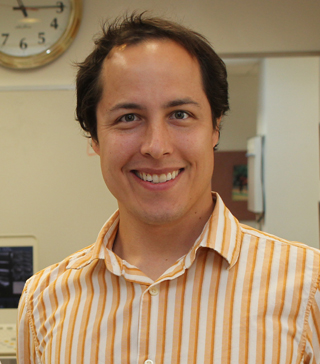 Alejandro Magadan, M.D., has joined UT Southwestern's Department of Neurology and Neurotherapeutics as an Assistant Professor.
Dr. Magadan was most recently a fellow in radiology and imaging sciences with the Translational Neuroradiology Unit at the National Institutes of Health (NIH). He also completed a vascular neurology fellowship at the NIH.
Dr. Magadan brings expertise in imaging techniques and diagnostics to the stroke team at Zale Lipshy University Hospital. He became interested in imaging while a medical student at Mt. Sinai University Hospital.
"I did a stroke rotation there and I liked how they integrated the clinic exam with the imaging," Dr. Magadan said. "The imaging helps us extend our exam and have a test that says with a 90 or 95 percent accuracy that yes, this is a stroke in more cases with more obscure clinical examination."
As part of the stroke team, Dr. Magadan has plenty of opportunities to use imaging for diagnosing stroke and other cerebrovascular diseases. One of his first patients was a college freshman who had suffered a venous sinus thrombosis.
"We did a special series of scans, one of them being a 3-D T1 which is a very thin slice MRI scan with contrast and without, and we could see her internal veins were open where they were previously blocked off," he said.
The scans showed that blood thinners were working and no further intervention was needed at that moment.
Dr. Magadan will also conduct neuroimaging research with a particular interest in Nuclear Magnetic Resonance. He will also give lectures to residents and fellows, and sees patients in the neurology clinic.