Our programs are dedicated to training young scientists from diverse backgrounds for successful careers in the biomedical sciences.
The UT Southwestern Graduate School of Biomedical Sciences is firmly committed to the recruitment and retention of a diverse student and postdoctoral scholar population. We believe that advanced biomedical research and academic scholarship are enriched when informed by a diverse population composed of graduate students and postdoctoral scholars with different perspectives, backgrounds, cultural experiences, thoughts, and ideas.
Graduate Student Demographics
Student Profiles
Student DEI Organizations
Postdoctoral Program focused on Diversity Fellows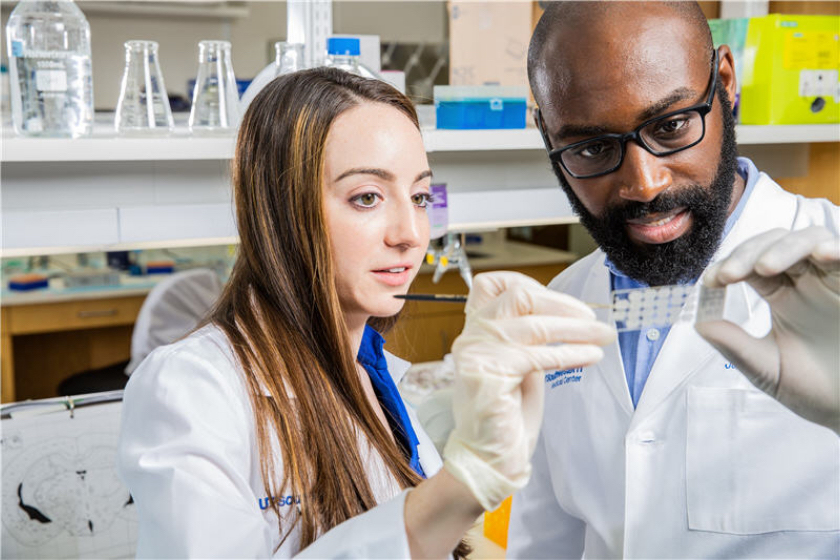 The PROVIDES Program is the Provost's Initiative for Diverse Emerging Scholars. Our mission is to help increase diversity within the postdoctoral community at UT Southwestern and to support the successful transition of postdoctoral fellows into independent faculty positions.
This program is for graduating Ph.D. students who plan to pursue an academic faculty position.
Read about the PROVIDES Program launch to improve mentoring, recruitment, and scholarship.
A Message from the Associate Dean
Our commitment to fostering a community that acknowledges and celebrates Diversity, Equity, and Inclusion has been and will always be a priority of the UT Southwestern Graduate School of Biomedical Sciences' strategic plan. We strive to work collaboratively to promote an inclusive environment that supports the advancement of our students, faculty, and staff and recognizes the value that each of our members brings to our organization. We are committed to building a welcoming community that supports all individuals regardless of race and ethnicity, national origin, gender and gender identity, sexual orientation, socioeconomic status, language, religion, age, appearance, marital status, disability, and veteran status.
All members of the Graduate School are responsible for ensuring that training programs are centered on respect, promote inclusion and diversity, value mentorship, and encourage professional and personal growth. I firmly believe that each individual's uniqueness contributes to making us a broader and stronger community. The sum of these differences aids in advancing scientific knowledge, which will ultimately translate into improvements in human health.
Through collaborations with stakeholders within UT Southwestern, including the Office of Student Diversity and Inclusion, the Office of Institutional Equity & Access, the Student Wellness and Counseling Center, the Office of Women's Careers, and the Office of Graduate Career Development, we have developed outstanding resources for our graduate students, with a wide array of academic and professional development and community events aimed at supporting, training, mentoring, and celebrating our graduate students, as well as postdoctoral fellows, faculty, and staff.
We encourage prospective applicants, current graduate students, postdoctoral scholars, and faculty to contact us to learn more about the different resources and ongoing initiatives from the Office of Student Diversity and Inclusion, including our student-led organizations, such as The African American Association of Scientists (TAAAS), the Society for Advancement of Chicanos/Hispanics & Native Americans in Science (SACNAS), and Out in Science, Technology, Engineering, and Mathematics (oSTEM). Among the many additional resources on campus, I would like to highlight the Office of Faculty Diversity & Development, the Office of International Affairs, the Office of Student Academic Support Services (SASS), and the Women in Science and Medicine Advisory Committee (WISMAC).
Additionally, we invite you to explore the different research training opportunities available for high school and undergraduate students, as well as a recently launched post-baccalaureate research training program, the UT Southwestern Postbaccalaureate to PhD (PB2PHD) Program, and the Provost's Initiative for Diverse Emerging Scholars (PROVIDES). The latter program aims to assist in diversifying the postdoctoral community and to help our trainees transition into independent faculty positions.
Additional campus wide programs, events, initiatives and resources can be found through the UT Southwestern's Office of Student Diversity and Inclusion.