Office of Women's Careers (OWC)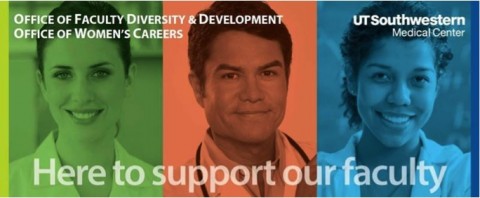 Overview
The Office of Women's Careers (OWC) was founded in April 2012 as a division of the Office of Faculty Development. OWC provides a coordinated approach to the recruitment, career advancement, and professional development of one specific UT Southwestern Medical Center constituency: women faculty.
Mission
To promote the professional development and career advancement of female faculty and trainees at UT Southwestern Medical Center.
The primary objectives are to:
Promote women's professional development.
Advocate for family-friendly initiatives to improve career-life balance.
Improve the recruitment, promotion, and retention of women faculty.
Empower women to increase their representation in academic leadership positions.
Champion for equity in pay and access to institutional resources.
The Office of Women's Careers is housed on the fourth floor of the Eugene McDermott Academic Administration Building (B Building) on the South Campus. Campus map.