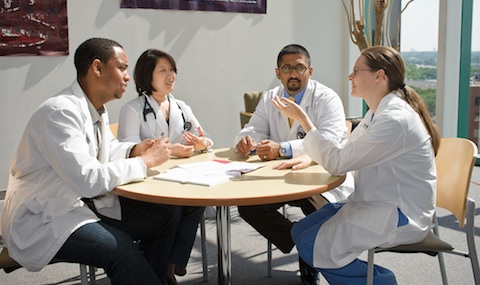 The Office of International Affairs strives to enhance and facilitate the academic, research, and clinical experiences of international students, trainees, faculty, and researchers at UT Southwestern Medical Center by:
Providing expert immigration services and timely and pertinent informational programs.
Serving as advocates for the UT Southwestern international population and as their liaison with institutional, local, state, and federal entities.
Advising faculty mentors and administrative personnel regarding visa sponsorship options.
Our services support UT Southwestern in attracting highly qualified international faculty, researchers, and students, contributing to campus diversity and internationalization.
All visitors participating in programs at UT Southwestern while on non-immigrant visas must have an appointment for an interview in our office on or before their first day of participation.
International Affairs Location Change
ATTENTION – The Office of International Affairs has moved to the Pegasus Park Building.
We are located on the 5th floor in the Pegasus Park Building. We are open 8 A.M. - 5 P.M. Monday - Friday.
Physical Address: 3000 Pegasus Park Drive, Dallas, TX 75247
Mailing Address: 5323 Harry Hines Blvd., Dallas, TX 75390-9011
The Office of International Affairs staff remains available for virtual appointments Monday - Friday from 8 AM - 5 PM. In addition to offering in-person appointments at Pegasus Park, we will also offer in-person appointments on Tuesdays and Thursdays between the hours of 1-5 PM on the North Campus (NE Building) in room NE5. 106. Appointments are strongly encouraged to ensure that an Immigration Specialist is available to assist you with questions or concerns that you have. In order to request an appointment, please contact your designated Immigration Specialist or call 214-648-0010. You can also sent an email to InternationalAffairsOIA@UTSouthwestern.edu.