Meet the Women's Careers Team
Associate Dean, Women's Careers
Dr. Yin obtained her B.A. from Mount Holyoke College and her Ph.D. in Physiology from Harvard University. She was an Associate Professor at Harvard Medical School, and joined UT Southwestern in 1989 as Professor of Physiology. Dr. Yin holds both the Margaret Yin Chair for the Advancement of Women Faculty and the Peter and Jean D. Dehlinger Professorship in Biomedical Science. She is the Director of the NIGMS T32 Mechanisms of Disease, Mechanisms of Disease & Translational Science Ph.D. Track at the Southwestern Graduate School, and the Co-Director of the Education and Career Development Program in the UT Southwestern Center for Translational Medicine. Dr. Yin was a founding member of the Women in Science and Medicine Advisory Committee (WISMAC) in 1995. In 2012, Dr. Yin joined FDD to launch the Office of Women's Careers.
Christina E. Ahn, Ph.D., CPCC, PCC
After her postdoctoral training in breast cancer research at Duke University Medical Center, Dr. Ahn transitioned into science administration and managed biomedical graduate education and translational research programs at the University of North Carolina at Chapel Hill. In 2008, Dr. Ahn moved back to Duke where she had multiple roles, including research administration, management of a large cardiology research group, and launching and directing the Chancellor's Clinical Leadership in Academic Medicine Program for faculty. In 2013, Dr. Ahn joined UT Southwestern as the Director of the Offices of Faculty Development and Women's Careers. As Director, Dr. Ahn is responsible for the implementation of strategic plans, fostering key collaborations, and managing the team that delivers on the missions of all three offices.
In 2020, Dr. Ahn earned her Certified Professional Co-Active Coach (CPCC) credential from the Co-Active Training Institute. In February 2023, she earned her Professional Certified Coach (PCC) credential from the International Coaching Federation. She actively provides leadership coaching for faculty, residents, and trainees.
Traci Barros, MBA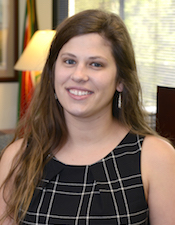 Traci is the Administrative Coordinator for the Office of Women's Careers/Faculty Development.
Traci earned her B.A. in Interdisciplinary Studies from the University of Texas at Dallas (UTD) in 2015. Within the two offices, she coordinates events, implements new initiatives, and assists Dr. Yin with daily operations and data analyses. Traci is also the Administrative Manager for the Women in Science and Medicine Advisory Committee whose mission is to enhance the visibility and recognition of women in science and medicine on campus. In 2019, Traci was accepted by the UT Southwestern Medical Center Selection Committee for the UT Dallas Healthcare Organization Leadership MBA Program and graduated May of 2022.
Marissa Hansen, M.A.
Management Analyst for the Office of Faculty Development/Office of Women's Careers
Marissa organizes and manages faculty data analysis projects within the department. Prior to her arrival in 2014, she was a student worker for the University of Texas at Dallas (UTD) Bursar's Office. Marissa earned her B.A. in Psychology and Gender Studies from UTD in 2011, and a M.A. in Interdisciplinary Studies in 2013. Marissa's research projects at UTD focused on the study of conflict, reconciliation, and attachment styles in couple relationships.