Patients take flight to further science on zero-gravity effects
Four cancer patients experienced a thrilling ride of a lifetime last year – a ride with a purpose to further research into how zero-gravity conditions in space affect the health of astronauts.
UT Southwestern Medical Center researchers, in conjunction with NASA, took the patients on a zero-gravity ride into the upper atmosphere to study why similar conditions on the International Space Station sometimes affect the vision of astronauts staying there for extended periods.
The research was led by Dr. Benjamin Levine, Director of the Institute for Exercise and Environmental Medicine (IEEM) at Texas Health Presbyterian Hospital Dallas, a partnership between UT Southwestern and Texas Health Resources. The Institute studies human physiology in health and disease, especially physiology under extreme conditions. Dr. Levine is known internationally for his research on how unusual conditions such as space, high altitudes, and intense exercise affect the health of astronauts, Olympic athletes, long-distance swimmers, and others.
Dr. Levine set out to test NASA's hypothesis that long-term increased pressure in the brain caused by the zero-gravity environment leads to the vision deterioration experienced by astronauts. Earlier results from 2015 in four men showed that while intracranial pressure rose during the periods of zero gravity, it did not rise as much as it did when the four participants were placed in a flat, sleeping position.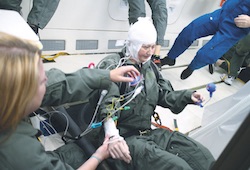 "It cannot be that this eye problem is due to a pathologically elevated pressure in the brain because it's not higher than it is when you are lying down sleeping every night," said Dr. Levine, also a Professor of Internal Medicine at UT Southwestern and holder of the Distinguished Professorship in Exercise Sciences. "On Earth, we are upright for most of the day. In space, you can't 'stand up' in zero gravity. And so, it may be that even a mildly elevated intracranial pressure, without the daily lowering of the pressure by being upright, is what's causing that adaptive change in the back of the eye."
The study enlisted the help of volunteer cancer patients who had permanent ports for delivery of chemotherapy, which provided a unique opportunity for researchers to take readings on pressure changes within the brain.
"I harkened back to my residency days working with leukemia patients and remembered that some patients have these ports – they're called Ommaya reservoirs – placed to deliver chemotherapy to cancer microcells in the brain," Dr. Levine said. "I scoured the country to find these patients."
For the study, three women and one man experienced the thrill of weightlessness as a NASA C-9 plane climbed to 34,000 feet, then swooped down to 26,000 feet above the Gulf of Mexico. Forty times the plane climbed and then dropped, creating 40 intervals of weightlessness and recordings to match. Volunteers underwent pretesting to ensure the flight would be safe for their vision and would not negatively affect their health.
Dr. Louis "Tony" Whitworth, Professor of Neurological Surgery and Radiation Oncology at UT Southwestern, was the neurosurgeon in charge of accessing the patients' ports.
"All of the participants did just fine. We had no problems, so I got to enjoy the weightlessness. I'm a bit of an adrenalin junkie, so it was pure fun," said Dr. Whitworth, who accompanied the patients on their flights.
Growing up in Orlando, Fla., Trent Barton, one of the study participants, witnessed space shuttle launches at nearby Cape Canaveral. "I saw every last one. Many times we watched them live at the space center. Other times we could walk out the back door and watch. You just had to know which direction to look."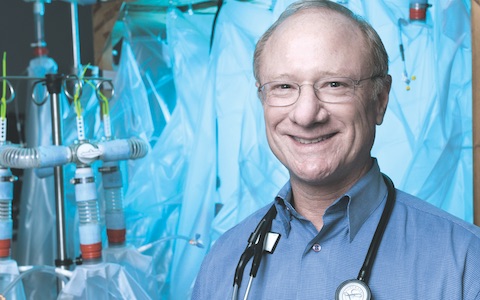 Although watching so many space shuttle launches piqued Mr. Barton's interest in spaceflight, it was his experience as a cancer patient that caused him to volunteer to participate in the research. "When I had cancer, so many people donated to me and my family. That was the hand of God giving to us," said Mr. Barton, who now lives in Dallas. "This is my opportunity to give back."
The National Space Biomedical Research Institute (NSBRI) funded the research. NSBRI leads a national program to mitigate the health risks related to human spaceflight and applies associated discoveries to improve life on Earth.
As an outgrowth of this work, researchers are now studying how to apply this knowledge to patients with traumatic brain injury in the ICU. A research team that includes Drs. Levine and Whitworth; Dr. Bert Vargas, Associate Professor of Neurology and Neurotherapeutics; and Dr. Justin Lawley, Instructor in Internal Medicine, received a grant from UTSW's Texas Institute for Brain Injury and Repair to pursue this research.