Researchers uncover mutation that causes rare disease
UT Southwestern Medical Center researchers have discovered a mutation that causes a rare systemic disorder known as X-linked reticulate pigmentary disorder (XLPDR) and, significantly, the unexpected cellular mechanism by which the mutation causes the disease.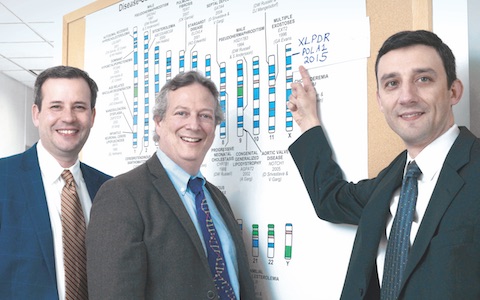 For Tom Vansyckle, it was an emotional moment when Dr. Andrew Zinn, Dean of the UT Southwestern Graduate School of Biomedical Sciences, told him that the genetic mutation linked to his two sons' disorder had been found. The research was published in mid-2016 in Nature Immunology.
"It felt like a dream," Mr. Vansyckle said. "I called Dr. Zinn the next morning and asked him, 'Is this really real or did I dream that this happened?' "
Symptoms of XLPDR, a hereditary X chromosome-linked disease, include blotchy skin pigmentation, unusual facial features, inability to sweat, and recurrent bacterial lung infections. The condition also causes cornea scarring, leading to blindness in many patients. Worldwide, only 14 families are known to have XLPDR.
Although the study's findings do not translate into an immediate cure for brothers Spencer and Tyler Vansyckle of Waco, Texas, they hold promise for development of therapies targeted at the now-known mutation that causes XLPDR: the POLA1 gene, a core enzyme involved in DNA replication.
Dr. Zinn, also a Professor of Internal Medicine and in the Eugene McDermott Center for Human Growth and Development who holds the Rolf Haberecht and Ute Schwarz Haberecht Deanship of the UT Southwestern Graduate School of Biomedical Sciences, began working to identify the genetic mutation that causes this disease after he met the Vansyckle family. Whole-genome sequencing led to the answer. The mutation, as it turned out, was not in an exon – a part of a gene that codes for proteins – but rather in a non-coding intron section of DNA.
Researchers next attempted to understand how the genetic mutation led to the phenotype of this disease. Dr. Ezra Burstein, Associate Professor of Internal Medicine and Molecular Biology and a UTSW Disease-Oriented Clinical Scholar, and Dr. Petro Starokadomskyy, research scientist, made a connection between POLA1 deficiency and an immune reaction in the cytoplasm, or fluid portion, of cells. The researchers pinpointed the cause of this unusual state as constant activation of the interferon pathway – the body's principal cellular system for fighting viral infections.
Beyond finally revealing a disease cause, UT Southwestern's research suggests a possible treatment route. "Finding a way to block or slow the interferon pathway could someday help these patients," Dr. Burstein said.
At a Glance: XLPDR
An extremely rare disease, it is estimated to affect only 20 people worldwide.
The gene that causes the disease is on the X-chromosome, so it seriously affects only boys, although girls can be carriers who pass the condition on to male children.
Characteristics include unusual skin markings and hair that looks slicked back.
Because recurring lung infections are common, patients are often misdiagnosed as having cystic fibrosis.
Many with XLPDR produce little or no sweat, have painful sensitivity to light, and eventually lose their eyesight.
The XLPDR mutation affects the immune system, causing patients' bodies to react as if they are under constant viral attack. Ironically, this makes them especially vulnerable to bacterial and fungal diseases.