From the front lines: Medical students reflect on how revised curriculum prepares them as future doctors
For the pioneering UT Southwestern Medical School Class of 2019, exposure to the real world of medicine has begun. With the first phase of the new integrated curriculum completed, many students are starting their clerkship periods now – six months earlier than any preceding class.
The earlier clerkship period that began in January enables second-year students to explore more clinical fields to assist in selecting their specialties. Meanwhile, a new group of first-year students is now heavily immersed in studies under the revised curriculum, which is currently in its second year.
Katherine Pouns and Reed Macy, co-Presidents of the Class of 2019, said they were looking forward to their clerkships and recognized their important roles as members of the curriculum's first test class of 239 students. They reflected on their experience with the shortened preclerkship period and the integrated classes.
The first semester – heavy on core science classes (Basic Science Foundation) as well as labs – included biochemistry, anatomy, and histology. Bookwork and labs soon gave way to systemic instruction.
"The second semester marked the beginning of our Integrated Medicine curriculum," Ms. Pouns said. "Instead of having a separate first-year physiology block and pathology organ blocks in the second year, we began the system/organ blocks the second semester of year one."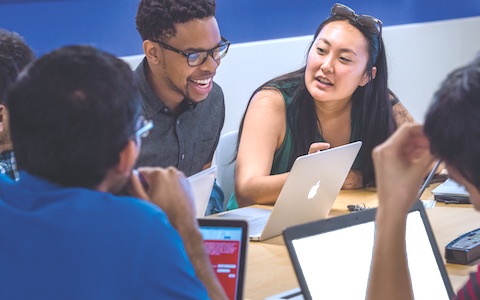 Each Integrated Medicine block, Ms. Pouns said, incorporated quizzes, team-based learning (TBL) instruction, simulation sessions, and gross pathology sessions that provided different ways to learn the material.
TBL instruction is a structured form of small-group learning that emphasizes student preparation outside of class and application of knowledge in class. Students are organized into diverse teams of six students who work together throughout the course.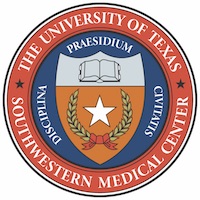 In 2013, Dr. J. Gregory Fitz, Executive Vice President for Academic Affairs and Provost, Dean of the Medical School, and holder of the Nadine and Tom Craddick Distinguished Chair in Medical Science and the Atticus James Gill, M.D. Chair in Medical Science, formed a committee of five academic leaders to develop a comprehensive change to the curriculum. Since the school opened in 1943, the curriculum has evolved with the changing landscape of medicine, but it had not implemented a complete overhaul until 2015.
The curriculum was the result of years of intense work led by Dr. James Stull, Professor of Physiology, and Dr. Dennis Burns, Professor of Pathology, with the Strategic Planning Committee. The effort included input from hundreds of faculty members and students, visits to schools with updated curricula, and analysis of reports and recommendations for teaching medicine in a complex, ever-changing world.
"Much of our outstanding curriculum has been taught before but has now been rearranged for integration and efficiency," said Dr. Burns, who holds the Jane B. and Edwin P. Jenevein, M.D. Chair in Pathology.
Systemic instruction, for instance, results in many more faculty members presenting to the students.
"We've had M.D.s as well as Ph.D.s teaching us," Mr. Macy said. "In the first year we've had more than 100 professors present. That's the great thing about UT Southwestern – there's an ocean of resources to draw from."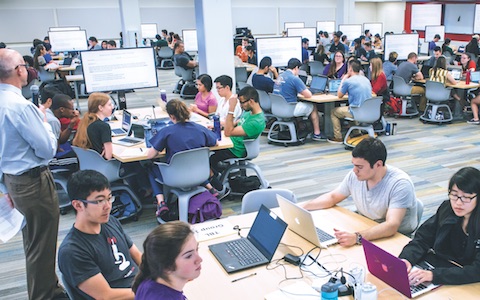 Dr. Stull said integration of classes eliminated some redundancies. A highlight of the new curriculum is the inclusion of a TBL environment, he added. In 2015, UT Southwestern renovated the second floor of the South Campus Library into the largest TBL Center of its kind in the United States. The $6 million state-of-the-art facility accommodates up to 270 students. In the TBL Center, student teams may work on a case study, for example, and discuss or simulate solutions with the aid of their table's video screen. Instruction stations offer the ability to pull video from any individual screen in the TBL Center and display it on other screens.
Gene Hu, curriculum representative for the Class of 2019, said the TBL exercises are still a work in progress.
"The recent TBLs have succeeded in creating an environment to engage students and challenge them with very relevant clinical pictures," Mr. Hu said.
Part of Mr. Hu's role as curriculum representative is to gather and present his classmates' feedback to the curriculum directors. Mr. Hu said that he's impressed with the faculty's sincerity and receptiveness to the feedback and that he's already seen improvements implemented into the curriculum.
"In developing and implementing the new curriculum, the faculty has really stepped up to the challenge and has been remarkable," Dr. Stull said. "We're improving the experience and education for our students, which we hope in turn will make them better doctors."
Those efforts to improve the educational experience continue. In the planning stages is a state-of-the-art Simulation Center that will be built on West Campus featuring high-fidelity simulators of patients. The mannequins will be used to teach responses to life-threatening medical problems such as cardiac arrest and shock before students encounter those emergencies in real life.
The challenge to stay current in medical education is daunting, given that some experts say medical knowledge doubles every four to five years. On the flip side, some medical information published is based on early-stage research that is quickly outdated by newer findings.
"Changes in health care delivery are also transforming our approach to medical education. In addition to scientific knowledge and clinical skills, for our students to be effective and successful physicians in providing optimal patient care, they must also develop capabilities in areas such as quality improvement, cost effectiveness, collaboration, and teamwork," said Dr. Daniel K. Podolsky, President of UT Southwestern, who holds the Philip O'Bryan Montgomery, Jr., M.D. Distinguished Presidential Chair in Academic Administration, and the Doris and Bryan Wildenthal Distinguished Chair in Medical Science.

"The first semester was rigorous, and I learned a lot in the classes. I'm still digesting it, still figuring things out. This new curriculum is fast-paced, and our peers are really sharp."
Reed Macy, Class of 2019 co-President

"I like the team-based learning exercises. You get to be very interactive. I can see how a good TBL exercise helps to develop doctors who are critical thinkers, team workers, and problem-solvers."
Katherine Pouns, Class of 2019 co-President

"The new curriculum is one of the many reasons I came to UT Southwestern. The improvements derived from the contributions of this class will benefit future generations of students, and the faculty has been open and helpful in listening to us and making adjustments, both retroactively and proactively, to make this transition in curriculum as smooth as possible."
Gene Hu, Class of 2019 curriculum representative