I'll take 'Cardiology fellows who won on Jeopardy' for $500, Alex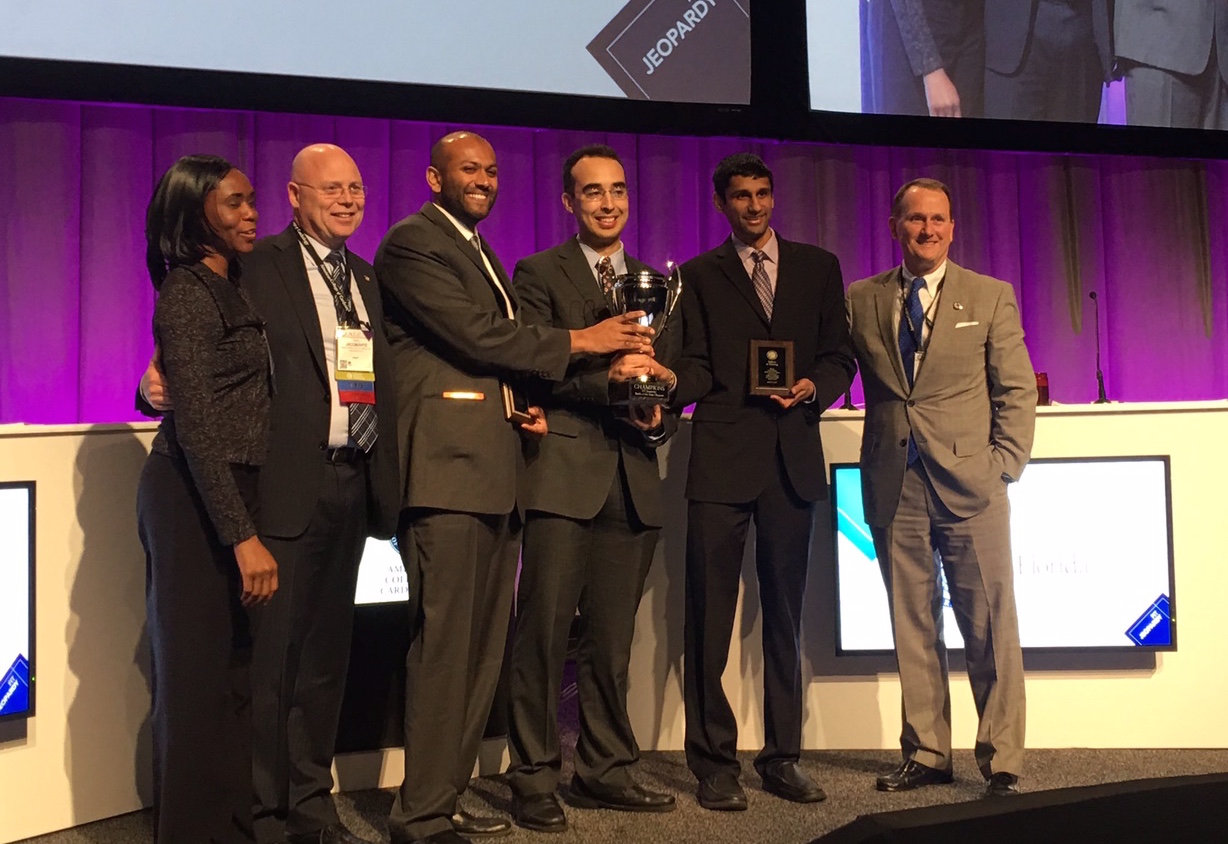 Q: On March 18 in Washington, D.C., they won the Fellows-in-Training National Jeopardy Competition hosted by American College of Cardiology (ACC).
A: Who are UT Southwestern third-year Cardiology Fellows Anish Bhatt, Daniel Cheeran, and Kamal Shemisa?
The UTSW fellows soundly defeated other teams of top-notch cardiology fellows from 32 states to win the national title.
Alex Trebek was not on hand, but there was plenty of excitement.
"We had questions from all topics in cardiology, from arrhythmias, rare heart failure and pericardial diseases, coronary artery disease and valve disease," said Dr. Shemisa. "Dan was laser-accurate with hemodynamics and heart failure. Anish was dominant with echo and congenital cases. I was strong with the valve disease and drug mechanisms."
The format was similar to the famous Jeopardy! game show, where the contestants selected categories for their questions, such as Congenital Heart Disease, Arrhythmias, and a category called "Music To My Ears," which included audio of heart murmurs.
"Right before final Jeopardy, we got a question about the causes of bidirectional ventricular tachycardia," recalled Dr. Cheeran. "The correct answer was probably the difference between winning and losing. Thanks goes to Anish for buzzing in so quickly. That answer put us ahead of Florida before final Jeopardy and positioned us to maintain the lead."
Dr. Bhatt recalls another notable question. "We were asked to name the beta blocker that should not be given to patients who are taking quinidine, a drug for treating certain types of arrhythmia. The three of us immediately smiled, as we all recalled learning this answer (Metoprolol), specifically from one of the great clinical educators in electrophysiology at UTSW, Dr. Jose Joglar."
The final answer that put them over the top to win, according to Dr. Shemisa, was: "What condition would lead to an increase in the pulse pressure after a premature ventricular contraction? The answer was aortic stenosis. We wagered almost everything and ended up with the higher score to win the contest against Florida."

The UTSW team, affectionately named the "Cardiac Kids," represented the State of Texas after winning the Texas finals last October in San Antonio.
"It was our own version of March Madness. They kept us on the edge of our seats, but they always pulled through," said Dr. Mark Drazner, Professor of Medicine, Clinical Chief of Cardiology and Medical Director of the Heart Failure, LVAD, and Cardiac Transplantation Program at UT Southwestern.
"To come out victorious in a competition against many other talented cardiology fellows from all over the U.S. is truly amazing. It's important that we also acknowledge how much work went into their preparation, which allowed them to achieve this remarkable level of success. We are so proud of them," said Dr. Drazner.

Dr. Amit Khera, Associate Professor of Internal Medicine and Director of the Cardiology Fellowship Program, echoed that enthusiasm. "This is quite an accomplishment for these outstanding fellows who are being recognized for their talents and hard work," Dr. Khera said. "It reflects on our good fortune to recruit the best and brightest fellows at UT Southwestern, and raises awareness on the national level of our excellent cardiology training and expertise."
Team members were each given a plaque by the ACC and will carry their distinction as national champs as they move forward in their cardiology careers.
Dr. Bhatt said, "Given the difficult competition, we are thrilled to have come out on top. It was a long journey to make it through both the state and national tournaments, and we are lucky to be the champions!"
"This was a team effort and I am both excited and proud that we won it all for our division and for UT Southwestern," said Dr. Shemisa.
—Ellen Beth Levitt