Immunotherapy: The autoimmune disease downside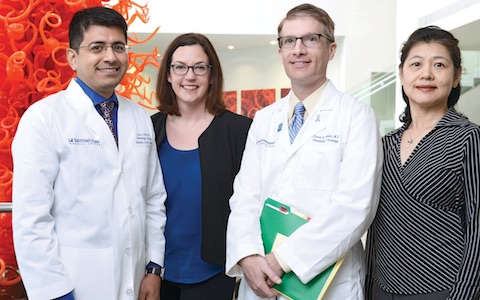 A significant proportion of lung cancer patients also have autoimmune disease, which may make them unsuitable for increasingly popular immunotherapy treatments, a team of researchers at UT Southwestern Medical Center's Harold C. Simmons Comprehensive Cancer Center has found.
The UT Southwestern cancer researchers calculated that between 14 and 25 percent of lung cancer patients reviewed also had autoimmune disease, and these individuals were more likely to be female and older.
The results, reported last year in JAMA Oncology, are significant because the use of immunotherapy for cancer treatment is expanding, and clinical trials of immunotherapy have routinely excluded patients with autoimmune disease. An autoimmune disorder occurs when the immune system attacks healthy body tissue by mistake.
"The new immunotherapy treatments convey the risk of unpredictable, possibly severe, and potentially irreversible autoimmune toxicities affecting a variety of organs. With combination immunotherapy regimens, rates of these adverse events may exceed 50 percent," said Dr. Saad Khan, Assistant Professor of Internal Medicine and a member of the Simmons Cancer Center.
The researchers studied 210,509 lung cancer patients over age 65 and applied two different algorithms to measure the presence of an autoimmune disease.
"Since the use of cancer immunotherapy is growing, examining the effectiveness and toxicity of these promising treatments among patients with autoimmune diseases will be critical," said Dr. David Gerber, Associate Professor of Internal Medicine, Co-Director of the Lung Cancer Disease-Oriented Team, and Co-Leader of UT Southwestern's Experimental Therapeutics Program.