Trial advances game-changing immunotherapy for lung cancer
The success of an international clinical trial that UT Southwestern Medical Center took part in paved the way for approval of an immunotherapy drug to treat advanced-stage lung cancer – signifying a major advancement in immune system-boosting alternatives to chemotherapy.
In late 2015, an international team of cancer researchers compared the immunotherapy drug nivolumab and the chemotherapy drug docetaxel in patients with nonsquamous non-small cell lung cancer (NSCLC) whose disease had progressed after finishing first-line chemotherapy. The results, reported that year in the New England Journal of Medicine, were significant because options for these patients are generally limited.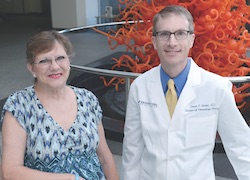 "This clinical trial showed that people with lung cancer not only lived longer when treated with the immunotherapy drug nivolumab, but their quality of life was better and toxicities were fewer and less severe," said Dr. David Gerber, Associate Professor of Internal Medicine at UT Southwestern.
Based on the success of the trial, the Food and Drug Administration approved nivolumab to treat advanced lung cancer. Previously, it had been approved for squamous non-small cell lung cancer and certain types of melanoma. Nivolumab works by inhibiting the function of the PD-1 protein, which blocks the body's immune system from attacking cancerous cells. Nivolumab treatment is promising because the drug is effective, often well-tolerated, and appears to be beneficial in several types of cancer.
Nivolumab is but one drug in the rising category of immunotherapeutics, and the potential for new, lifesaving therapies to treat a broad range of cancer types is significant. Immunotherapy is one of the greatest medical advances in cancer treatment in the past 30 years, Dr. Gerber said.
"We have seen promising effects against some lymphomas, colon cancer, ovarian cancer, bladder cancer, and other malignancies," said Dr. Gerber, Co-Director of the Lung Cancer Disease-Oriented Team, Co-Leader of the Experimental Therapeutics Program, and a member of the Division of Hematology and Oncology in the Harold C. Simmons Comprehensive Cancer Center at UT Southwestern.

"The idea behind immunotherapy is to kick-start the body's natural immune response to a cancer. Cancer develops and grows in part because it has put the brakes on the immune response. These drugs take the foot off the brake, allowing the immune system to accelerate and attack the cancer," he explained.
The Simmons Cancer Center is the only National Cancer Institute (NCI)-designated comprehensive cancer center in North Texas and one of just 47 NCI-designated comprehensive cancer centers in the nation. In addition, the Simmons Cancer Center is among only 30 U.S. cancer research centers to be named a National Clinical Trials Network Lead Academic Participating Site, a prestigious designation by the NCI.
Donna Fernandez of Rockwall, Texas, said nivolumab has improved her quality of life. A smoker for 40 years, Mrs. Fernandez was diagnosed with NSCLC several years after quitting smoking in 2007. She'd been fighting stage 4 lung cancer for the past four years and needed another option after her initial round of chemotherapy wasn't successful. She decided to join the trial at UT Southwestern.
"No one thought I'd still be alive. I'm not just alive – I'm living life to the fullest," said Mrs. Fernandez, who receives treatment every two weeks. Except for a little fatigue the day after treatment, she said she is able to continue with her normal activities, including agility training with her dogs.
The phase 3 clinical trial followed more than 500 patients such as Mrs. Fernandez who had NSCLC: 287 received nivolumab and 268 received docetaxel chemotherapy.
The one-year survival rate was 51 percent in the nivolumab group versus 39 percent in the docetaxel group.
In addition to studying safety and efficacy, the trial examined the protein biomarker PD-L1, which is believed to play a role in suppressing the immune system. The study results suggested that patients with a higher level of PD-L1 in their cancers may experience the greatest benefit from nivolumab, which targets the related molecule PD-1. Using a biomarker helps oncologists predict which patients will do best on which treatment and plan their treatment accordingly. Other promising predictive biomarkers for cancer immunotherapies include the degree of immune cell infiltration within a tumor and the number of mutations a tumor has.
"The more mutations a cancer has, the more foreign it appears to the body, thus marking it for immune attack," Dr. Gerber explained. "With lung cancer, we see the greatest number of tumor mutations – and the greatest benefit from immunotherapy – among individuals with the heaviest smoking history."
UT Southwestern has taken part in a number of other nivolumab trials, including a phase 1 study examining nivolumab combinations with chemotherapy, targeted therapies, and other immunotherapies. Other types of cancer have also shown benefit from nivolumab and other immunotherapies.
To further this research, one of Dr. Gerber's studies will examine whether survival rates improve in patients with locally advanced lung cancer who are given immunotherapy after standard chemotherapy and radiation treatments.
At a Glance: Cancer Immunotherapy Trial
Compared immunotherapy drug nivolumab vs. the chemotherapy drug docetaxel in patients with nonsquamous non-small cell lung cancer who had failed to respond to first-line therapies.
Phase 3 clinical trial followed more than 500 patients for at least a year.
Survival rates at one year: 51 percent for nivolumab and 39 percent for docetaxel.
Confirmed objective response rate: 19 percent for nivolumab and 12 percent for docetaxel.
79 percent of participants were current or former smokers.
Trial's success led to approval of nivolumab in late 2015 for treatment of advanced lung cancer.