Growing to meet future needs
Since its formation in 1943 as a small wartime medical college, UT Southwestern Medical Center has grown exponentially to become one of the nation's top academic medical centers. Today, it is a sprawling campus, encompassing multiple buildings in the Southwestern Medical District, plus satellite clinics in Park Cities, Richardson/Plano, and Las Colinas, and an expanding presence in Fort Worth. To keep pace with the growth of medical, research, and educational efforts, plans for the next transformative stages of UTSW's ongoing evolution are in the works. At right are some highlights of current building projects.
Radiation Oncology Center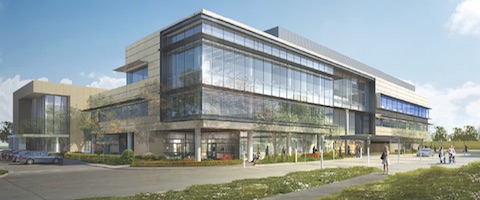 The $66 million facility is targeted to open in spring 2017.
Relocating services from other campus sites, the new three-story center will consolidate radiation oncology patient care into a single, 63,000-square-foot building.
Features include seven treatment vaults and a dedicated area for each major disease site – such as brain, breast, or gastrointestinal cancer.
The center will be the largest individual facility for radiation treatment in North Texas, and it will be home to some of the world's leading therapeutic technology, enhancing disease-site specialization for cancer patients.
UT Southwestern Monty and Tex Moncrief Medical Center at Fort Worth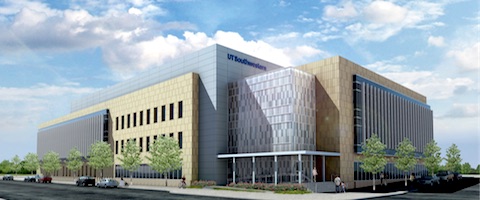 The new 6.3-acre campus in Fort Worth's medical district – UT Southwestern's first named campus outside of Dallas – will build on recent UTSW expansions at the nearby Moncrief Cancer Institute.
The first building at the site, located at the intersection of Pennsylvania Avenue and Main Street, will be a multidisciplinary outpatient facility.
The Center, expected to be completed and ready for occupancy in mid- 2017, will be an exemplary health care facility serving our community in the south Fort Worth area.
West Campus Improvement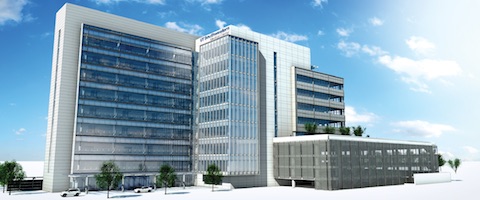 The former site of St. Paul University Hospital is now known as UT Southwestern's West Campus, and the $875 million West Campus Facilities Replacement Plan will unfold in five phases over 20 years.
Ultimately, the plan will add 1.1 million square feet of facility space.
The first phase involves construction of a nine-story, 305,000- square-foot academic and clinical building (above) that will house faculty offices, outpatient clinics, and a state-of-the-art simulation center, all estimated to be completed in early 2018.
The high-tech simulation center in the nine-story building will include four mock operation, ICU, emergency, and obstetrical rooms; 20 mock patient exam rooms; and six advanced technology team training rooms.
Clinical areas of the nine-story building will include 220 exam rooms and procedure rooms for multiple specialties.
An 805-space parking garage also will be added as part of phase 1.