President's Message
Dear Friends,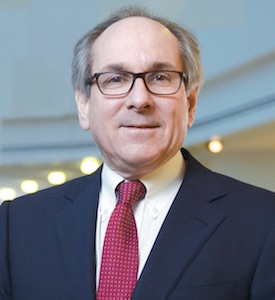 With deep gratitude for your support, I am pleased to send you UT Southwestern Medical Center's 2016 Annual Review. As you will see, UT Southwestern continues to flourish, and once again in 2015-16, our faculty have significantly contributed to accelerating the future of medicine through their path-breaking biomedical research; their exceptional patient care; and their dedicated and innovative approaches to medical education and training.
The cover of this year's annual review highlights the brain, medicine's ultimate frontier, to convey the priority we are placing on addressing the devastating toll of diseases of the brain through the Peter O'Donnell Jr. Brain Institute at UT Southwestern. Despite great progress in uncovering the underlying mechanisms of many diseases over the last several decades, modern medicine has just begun to understand the human brain, the body's most complex system and medicine's greatest mystery.
Brain disease in its various forms – whether developmental, traumatic, psychiatric, or degenerative – looms as one of the greatest challenges of our time. Despite the varying underlying causes and processes of brain injuries and disorders, the fundamental challenge is crosscutting – the need to identify the basic mechanisms of brain functions and the underlying causes of brain diseases, as well as the means to promote repair and functional recovery. UT Southwestern scientists and clinicians are committed to taking on this challenge, and as you will see in the articles that follow, they are actively using sophisticated techniques in gene editing, biomarker analysis, and other advanced technologies to better understand, treat, cure, and prevent a wide range of neurological and brain disorders.
Indeed, we are reaching new heights in scientific discovery and clinical care across many disciplines, bridging the gap between today's medical challenges and tomorrow's cures. UT Southwestern investigators are using pioneering technology, such as cryo-electron microscopy, DNA sequencing, and nanoparticle development, to solve puzzling scientific questions and achieve better treatments.
The opening in May 2016 of our new $17 million cryo-electron microscope facility represented a significant milestone in the use of advanced technology. With a unique collection of instruments, literally not found anywhere else in the world, our investigators can now view 3-D images of objects as tiny as an atom or an intact cell. This technology is expected to accelerate discoveries in basic research that answer fundamental scientific questions, as well as to contribute significantly to translational investigations that advance the development of drugs and other therapies to combat human disease.
Increasingly, medical care is shifting toward personalized, tailored treatments based on an individual's genetics. UT Southwestern is active in this field as well, for example, using DNA sequencing to analyze a patient's tumor sample to develop the best treatment in the context of the patient's genetic vulnerabilities.
At the same time, our successful completion of the first combined lung-liver transplant in North Texas – an extremely rare and challenging procedure – is yet another example of UT Southwestern clinicians using innovative techniques to provide the most advanced care for patients with complex medical problems.
Since optimal medical care is increasingly a team effort, we were very pleased that the nursing program of UT Southwestern University Hospitals achieved Magnet status in July 2016, a designation that is recognized as the gold standard of nursing excellence.
To carry on UT Southwestern's history of excellence in science and medicine, UT Southwestern faculty are dedicated to providing medical, graduate, and allied health profession students with the best education possible to fulfill their career goals and to prepare them to become leading scientists and clinical practitioners.
At the same time, we are expanding the Medical Center's reach through new clinical programs and facility enhancements. This year we will see completion of the Radiation Oncology Building adjacent to the BioCenter on East Campus, and work is well underway on the education and clinical building that will be the first phase of the master plan for West Campus. We will also be opening an ambulatory care facility at the UT Southwestern Monty and Tex Moncrief Medical Center at Fort Worth.
To position UT Southwestern for success in the changing landscape of health care delivery and to provide the citizens of North Texas with expanded, comprehensive access to quality health care, we have created Southwestern Health Resources, a clinically integrated network involving UT Southwestern and Texas Health Resources that began operations in April 2016. The network leverages the strengths of UT Southwestern and Texas Health Resources, encompassing 31 hospitals, 300 clinics, and more than 2,600 physicians across a 16-county area.
At UT Southwestern, Accelerating the Future of Medicine is an aspiration that reflects our commitment to excellence and innovation in education, research, and patient care – now and into the future. On behalf of the entire campus community, I thank you for your generous support and continued commitment to UT Southwestern's mission and goals.
Sincerely,

Daniel K. Podolsky, M.D.
President, UT Southwestern Medical Center