Advancing UTSW educational programs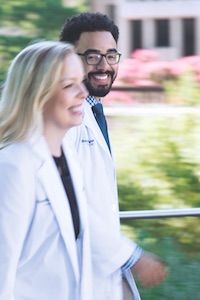 UT Southwestern's three degree-granting schools aim to prepare students for exemplary medical, health care, or research careers. Ever-changing advances in medicine, science, and technology mean schools must adjust as well to equip students with the latest tools and knowledge to do their jobs. Below are some highlights of recent changes, or proposed adjustments, to UTSW educational programs.
UT Southwestern Medical School
The reformed curriculum, implemented in 2015 for new students, moved smoothly into its second year, with an emphasis on active learning in a new state-of-the-art Team-Based Learning Center, small-group simulations with high-fidelity mannequins, and online instructional material with electronic testing.
The preclerkship period incorporates a cohesive, multidisciplinary approach for foundational material and integrated medicine based on organ systems.
The clerkship period introduces core clerkships six months sooner for clinical training with patients in hospitals and outpatient clinics.
All medical students now take a Scholarly Activity course for an individual research project, with opportunities in clinical and translational research, medical education, global health, biomedical research, community health, and biomedical innovations.
During the clerkship period, novel electives in the Growth and Exploration curriculum – such as Exploration of Psychiatry Addiction Medicine – provide students a way to explore a variety of career opportunities.
UT Southwestern Graduate School of Biomedical Sciences
An innovative "umbrella" curriculum has been added with nine Ph.D. programs that emphasize learning in the laboratory by completing required didactic coursework in one year.
An Organic Chemistry Ph.D. Program and a Medical Physics Track in the Biomedical Engineering Ph.D. Program were added.
A collaborative Biostatistics Ph.D. Program with Southern Methodist University launched in mid-2015. Students take classes at SMU their first year before conducting research at UTSW.
A new Matlab Boot Camp gives students a foundation for advancing research projects with tailored computational data analysis solutions.
A revised Master of Science in clinical science curriculum provides junior faculty with the tools to conduct clinical research that results in publications and funded grants.
UT Southwestern School of Health Professions
The Radiation Therapy Program is preparing to enhance curricular content and transition from a post-baccalaureate certificate to a master's degree program.
Preliminary authority has been granted for the development of a doctoral program in applied clinical research to foster both patient-oriented and translational research.
The interprofessional course offered through the Department of Health Care Sciences has been expanded to include TeamSTEPPS (Team Strategies and Tools to Enhance Performance and Patient Safety) training and more patient interaction with student health care teams.