The UT Southwestern Medical Center Pharmacy Residency Program is an ASHP-accredited health-system pharmacy program. Our PGY1 residency program will accept three residents each academic year.
Residents will select four (4) elective rotations to meet their professional goals in addition to the orientation to pharmacy operations and completion of practice related required learning experiences. After training in acute care, ambulatory care, and practice management, residents should attain the knowledge and skills needed to enable them to provide a high level of clinical service and pharmaceutical care throughout their careers as well-rounded practitioners and practice leaders.
Program Structure
Required Learning Experiences
Orientation (July)
Advanced Staffing
Antimicrobial Stewardship
Cardiology
Critical Care
Internal Medicine
Pharmacy Administration
Project/Research (December)
Elective Learning Experiences
Include but not limited to:

Advanced Critical Care
Advanced Infectious Disease/Consult
Advanced Internal Medicine/Geriatrics
Advanced Internal Medicine/Physical Medicine & Rehabilitation
Ambulatory Care
Anticoagulation – Ambulatory Care
Bone Marrow Transplant
Cardiovascular Intensive Care
Clinical Administration
Emergency Medicine
Hematology/Oncology
Investigational Drugs Services
Neonatal Intensive Care
Neurocritical Care
Pain & Palliative Care
Pharmacy Informatics
Solid Organ Transplant (Kidney, Liver, Lung, Heart)
Surgical Critical Care and Nutrition Support Services
Longitudinal Learning Experiences
Ambulatory Care Clinic - Internal Medicine
Anticoagulation Clinic
Drug Information
Major Research Project
Professional Development
Staffing (every third weekend)
Teaching Certificate
Program Expectations
ACPE Accredited CE Presentation
Code Blue/Code Stroke Responses
Drug Monograph
Medication Use Evaluation
Precept Pharmacy Students
Program Length
12 months, beginning in July
Available Positions
Three (3) PGY1 Pharmacy Residents
Applying to the Program
Requirements
Graduate from an ACPE-accredited pharmacy program with a Pharm.D. degree
Minimum GPA of 3.1 on a 4.0 scale or "Pass" grade on each class and rotation if from a "Pass/Fail" program
Eligibility for Texas licensure
Formal interview
Process
Salary and Benefits
Classified as a full-time employee of UT Southwestern Medical Center
Annual estimated salary of $49,500
Paid vacation/holiday leave
Comprehensive benefits package that includes medical and life insurance
Travel funding for conferences
Current Residents
Kathy Le, PharmD, BS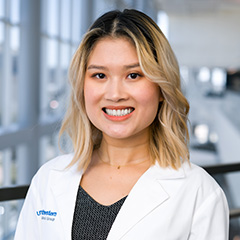 Dr. Kathy Le is a PGY1 Pharmacy Resident at UT Southwestern Medical Center. She received her Bachelor of Science in Biology from Austin Peay State University in her hometown, Clarksville, TN. She went on to complete her Doctor of Pharmacy at the Medical University of South Carolina in Charleston, SC. Dr. Le's clinical interests include solid organ transplantation, critical care, and cardiology. She is a member of the American Society of Health-System Pharmacists and Rho Chi Society. In her free time, she enjoys hiking, traveling, and eating her way through Dallas.
Madeline Scarbrough, PharmD
Madeline.Scarbrough@UTSouthwestern.edu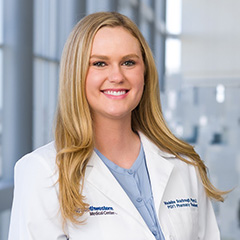 Dr. Madeline Scarbrough is a PGY1 Pharmacy Resident at UT Southwestern Medical Center. She completed her pharmacy prerequisites at Texas Tech University and received her Doctor of Pharmacy from the Texas Tech University Health Sciences Center School of Pharmacy. Her pharmacy interests include critical care, emergency medicine, and internal medicine. She is a member of the American Society of Health-System Pharmacists, Phi Lambda Sigma, Rho Chi Society, and the American Society of Consultant Pharmacists. During her free time, Dr. Scarbrough enjoys working out at Orangetheory Fitness, reading, spending time with family, and being outdoors.
Darrell Smith, PharmD, MBA
Darrell.Smith@UTSouthwestern.edu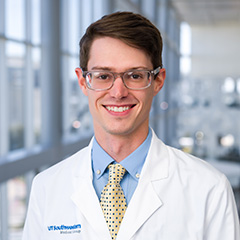 Dr. Darrell Smith is a PGY1 Pharmacy Resident at UT Southwestern Medical Center. He is from the small town of Deville, Louisiana. Dr. Smith received his Doctor of Pharmacy and Master of Business Administration from the University of Louisiana Monroe. His pharmacy interests include cardiology, critical care, and infectious diseases. He is a member of the American Society of Health-System Pharmacists, Phi Lambda Sigma, Phi Delta Chi, and Rho Chi Society. During his free time, he enjoys playing golf, fishing, and spending time with family and friends.