The UT Southwestern Medical Center Pharmacy Residency Program is an ASHP-accredited health-system pharmacy program. Our PGY1 residency program will accept three residents each academic year.
Residents will select four elective rotations to meet their professional goals in addition to the orientation to pharmacy operations and completion of the practice related required learning experiences. After training in acute care, ambulatory care, and practice management, residents should attain the knowledge and skills needed to enable them to provide a high level of clinical service and pharmaceutical care throughout their careers as well-rounded practitioners and practice leaders.
Program Structure
Required Learning Experiences
Orientation (July)
Project /Research (December)
Advanced Staffing
Antimicrobial Stewardship
Internal Medicine
Cardiology
Critical Care
Pharmacy Administration
Elective Learning Experiences
Include but not limited to:

Advanced Critical Care
Advanced Infectious Disease/Consult
Advanced Internal Medicine/Geriatrics
Advanced Internal Medicine/Physical Medicine & Rehabilitation
Ambulatory Care
Anticoagulation – Ambulatory Care
Bone Marrow Transplant
Cardiovascular Intensive Care
Clinical Administration
Hematology/Oncology
Investigational Drug Services
Neonatal Intensive Care
NeuroCritical Care
Pain & Palliative Care
Pharmacy Informatics
Solid Organ Transplant (Kidney, Liver, Lung, Heart)
Surgical Critical Care and Nutrition Support Services
Longitudinal Learning Experiences
Anticoagulation Clinic
Drug Information
Major Research Project
Professional Development
Staffing (every third weekend)
Teaching Certificate
Program Expectations
ACPE Accredited CE Presentation
Code Blue/Code Stroke Responses
Drug Monograph
Medication Use Evaluation
Precept Pharmacy Students
Program Length
12 months, beginning in July
Available Positions
Three PGY1 Pharmacy Residents
Applying to the Program
Requirements
Graduate from an ACPE-accredited pharmacy program with a Pharm.D. degree
Minimum GPA of 3.1 on a 4.0 scale
Eligibility for Texas licensure
Formal interview
Process
Salary and Benefits
Classified as a full-time employee of UT Southwestern Medical Center
Annual estimated salary of $49,500
Paid vacation/holiday leave
Comprehensive benefits package that includes medical and life insurance
Travel funding for conferences
Current Residents
Stephanie Anderson, Pharm.D.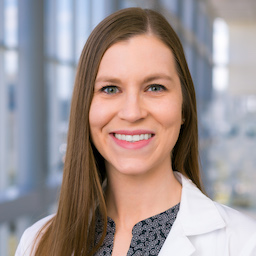 Dr. Stephanie Anderson is a PGY-1 Pharmacy Practice Resident at UT Southwestern Medical Center. She received her Bachelor of Science in Exercise Physiology from the University of Florida and her Doctor of Pharmacy from the University of Colorado Skaggs School of Pharmacy. Her pharmacy interests include oncology, internal medicine, and ambulatory care. She is a member of the American Society of Health-System Pharmacists, the American College of Clinical Pharmacy, Rho Chi Society, and Phi Lambda Sigma Society. Dr. Anderson enjoys hiking, yoga, watching movies, and spending time with her border collie, Ellie!
Tyler Boyd, Pharm.D.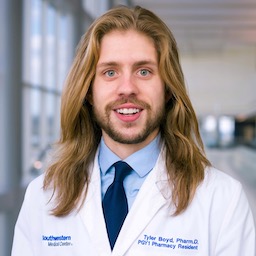 Dr. Tyler Boyd is a PGY-1 Pharmacy Practice Resident at UT Southwestern Medical Center. He received his Bachelor of Science in Psychology from the University of Georgia and his Doctor of Pharmacy from Wingate University School of Pharmacy. His pharmacy interests include cardiology, infectious diseases, critical care, and internal medicine. He is a member of the American Society of Health-System Pharmacists, the Texas Society of Health-System Pharmacists, Phi Lambda Sigma, Kappa Epsilon, and Rho Chi Society. During his free time, Dr. Boyd enjoys any outdoor activities, watching Georgia sports, and spending time with his family, friends, his two cats (Baxter and Franklin), and his dog (Russell).
Kyle Fischer, Pharm.D., M.B.A.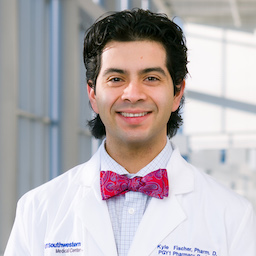 Dr. Kyle Fischer is a current PGY1 pharmacy resident at UT Southwestern Medical Center. He was born and raised in Brownsville, Texas, where he went on to complete his pharmacy prerequisites at the University of Texas at Austin and then graduated from the Rangel College of Pharmacy in 2021. Kyle's professional and research interests include acute and chronic heart failure, acute decompensated heart failure, advanced heart failure, cardiac critical care, acute coronary syndromes, preventative cardiology, and sleep and its relation to cardiovascular disease. Kyle is also very active on Twitter (@Kfischer_10) and Instagram (@KGFischeRx) and routinely posts infographics over different disease states. He is also a member of the American Society of Health-System Pharmacists and American College of Clinical Pharmacy – Cardiology PRN. During his free time, Kyle enjoys watching sports, being outdoors, and reading.