PGY-1/PGY-2 Health System Pharmacy Administration and Leadership (HSPAL) Pharmacy Residency
UT Southwestern offers a PGY-1/PGY-2 Health System Pharmacy Administration and Leadership residency experience in an exciting and expanding health care system.
Throughout the program, residents will constantly be involved in administrative functions within the department.
Rotations
The first year's rotations focus on the completion of clinical requirements in addition to two required administrative rotations in:
Internal Medicine
Critical Care
Antimicrobial Stewardship
Cardiology
Inpatient Operations I
Finance/Budgeting I
Clinical Practice (Staffing)
3 elective clinical rotations
Elective Learning Experiences
Include but not limited to:
Advanced Critical Care
Advanced Infectious Disease/Consult
Advanced Internal Medicine/Geriatrics
Advanced Internal Medicine/Physical Medicine & Rehabilitation
Ambulatory Care
Anticoagulation – Ambulatory Care
Bone Marrow Transplant
Cardiovascular Intensive Care
Clinical Administration
Hematology/Oncology
Investigational Drugs Services
Neonatal Intensive Care
Neurocritical Care
Pain & Palliative Care
Pharmacy Informatics
Solid Organ Transplant (Kidney, Liver, Lung, Heart)
Surgical Critical Care and Nutrition Support Services
The second year has a focus on administrative topics in:
Inpatient Operations II
Ambulatory Services Management
Clinical Pharmacy Services Management
Oncology Operations
Finance/Budgeting II
Quality/Medication Safety Management
Executive Pharmacy Leadership
Pharmacy Informatics & Data Management
External rotation experiences (Vizient, Apexus 340B, ASHP, Academia, Community Hospital Operations, etc.)
M.B.A. Program
Throughout the 24 months, residents will complete an M.B.A. degree through our partnership with UT Dallas. Most classes are online with periodic weekend attendance required.
The resident's second-year research project will count toward completion of the M.B.A.'s capstone course.
Future Leaders
The program's purpose is to develop and prepare the residents for a variety of administrative positions and to be future leaders within the profession of pharmacy.
Program Structure
Requirements of the program consist of the following core learning experiences:
Orientation (July)
Project/Research (December)
M.B.A. requirements throughout two years
Required rotations: see above
*All PGY1 rotations are one month each; PGY2 rotations are four weeks each with no orientation month.
Longitudinal Learning Experiences
Staffing every third weekend

First-year: Central Operations (Central Pharmacy and/or Sterile Compounding)
Second-year: Optional central operations or decentralized operations (e.g. internal medicine, critical care, emergency medicine, etc.)

Code Blue and Code Stroke response
Precept PGY-1 residents and students during second-year
Teaching Certificate (first year)
Ambulatory Care Clinic – Internal Medicine (first-year)
Anticoagulation Clinic (first-year)
Professional Development (first-year)
Human Resource Management and Leadership (second-year)
Strategic Planning (second-year)
Serve as Chief Resident (second-year)
Program Expectations
Completion of UT Dallas M.B.A. program
ACPE-accredited CE presentation*
Present major research project at a regional or national meeting*
Medication use evaluation*
Drug monograph*
*One per residency year
Current Residents
Daniel Berger, Pharm. D.
Daniel.Berger@utsouthwestern.edu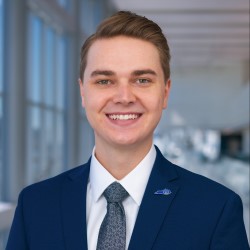 Dr. Daniel Berger is the current PGY-2 Health System Pharmacy Administration and Leadership (HSPAL) resident at UT Southwestern Medical Center. He is from St. Charles, Missouri, and completed pharmacy pre-requisites at the University of Kentucky. Daniel graduated with his Doctor of Pharmacy from the University of Kentucky College of Pharmacy in 2021.
Daniel pursued UTSW because he wanted to pave his own path. Being a new program, UT Southwestern offers the flexibility to align Daniel's rotations and projects around his interests. As UTSW expands, the program offers many opportunities for Daniel to work on high impact projects.
His career interests include inpatient pharmacy operations, health-system level leadership, pharmacy automation and technology, and the advancement of pharmacy practice. He is involved in the American Society of Health-System Pharmacists New Practitioners Forum, and the Vizient Practice Advancement Committee.
He enjoys hiking and camping, playing Frisbee with his Golden Doodle Gus, and cheering on the St. Louis Blues and Cardinals.
Sue'ad Elchehimi, Pharm. D.
Suead.elchehimi@utsouthwestern.edu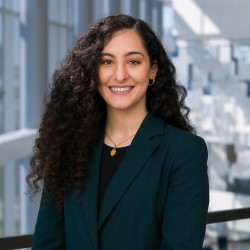 Dr. Sue'ad Elchehimi is the PGY-1 Health System Pharmacy Administration and Leadership (HSPAL) resident at UT Southwestern Medical Center. She was born and raised in Dallas, TX and obtained her undergraduate degree from The University of Texas at Dallas. Sue'ad graduated with her Doctor of Pharmacy from the University of Houston College of Pharmacy.
Sue'ad pursued UTSW because she wanted to create new opportunities for future residents, student pharmacists, and herself. She also felt connected with the culture at UTSW, aligned with the PACT values, and knew it was an environment she would best thrive in. With the growing profession, UTSW offers unique opportunities for Sue'ad to engage in quality projects and initiatives.
Some of her career interests include inpatient pharmacy operations, leadership development, and ambulatory services management. She is a member of the American Society of Health-System Pharmacists, Texas Society of Health-System Pharmacists, Phi Lambda Sigma, and Rho Chi Society. Sue'ad currently serves as Vice Chair of the American Society of Health-System Pharmacists HSPAL Student and Resident Engagement Workgroup and is involved in the Vizient Business of Pharmacy Enterprise Committee.
Outside of pharmacy, she enjoys spontaneous trips, trying out new foods, and playing sports with friends.