Information For Applicants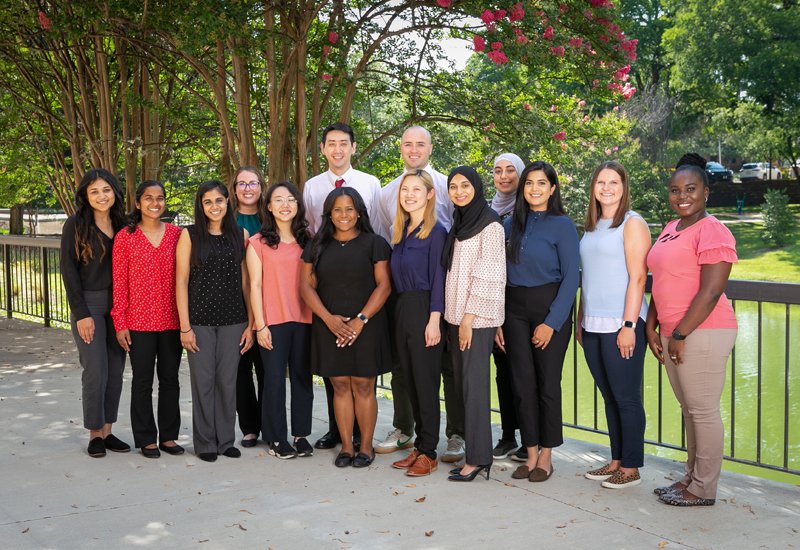 Our interview season will be virtual starting in the fall of 2022 (excluding Thanksgiving, Christmas, and New Year holidays - dates to be determined).
UT Southwestern Graduate Medical Education Committee has a requirement for successful completion of USMLE Step 1, 2CK, and 2CS prior to employment by the residency programs.
How to Apply
Thank you for your interest in the Family Medicine Residency Program at UT Southwestern Medical Center and its affiliated hospitals: Parkland Health & Hospital System, Texas Health Presbyterian Hospital Dallas, Children's Health℠ Children's Medical Center Dallas, and UT Southwestern University Hospitals.
We accept applications through the Electronic Residency Application Service (ERAS) offered by the American Association of Medical Colleges. Learn more about Parkland Health & Hospital System's general requirements for residents.
Each candidate should meet the following criteria in order to be competitive:
Must be eligible to work in the United States
Must be eligible for a Texas license upon the completion of residency, and the medical school MUST be listed on the Texas Medical Board's list of medical schools with "Substantial Equivalence"
All steps must be passed on first attempt
Passing grade required for all applicant for USMLE Step 2 CS (Clinical Skills) Exam or on Level 2-PE for NBOME
Medical school graduation within last three years
Recent clinical experience, defined as within one year; U.S. clinical experience preferred
Must be ECFMG-certified, if applicable
The Family and Community Medicine Department does not sponsor H-1 visas
Students from UT Southwestern Medical School are eligible for an interview.
If you have further questions, please feel free to email us any time.
FAQ
How do candidates apply?
We will accept applications only through the Electronic Residency Application Service (ERAS) between September 1 and December 15.
When is your application submission deadline?
We will stop accepting new applications on December 15 of this calendar year.
How will I learn if I have been selected to interview?
Our program typically interviews in October, November, December, and January of the calendar year. If you are selected to interview, you will receive an invitation through ERAS between October 21 and December 15 of the calendar year. Please feel free to reach out to us to check on the status of your application.
What is your medical school requirements, and graduation cutoff date?
You must have graduated from medical school within the past three years, and your medical school must be listed in the Texas Medical Board's Substantial Equivalence List. We will, however, consider recent hands-on clinical experience and review applications on a case-by-case basis.
What letters of recommendation do you require from International graduates?
We require three letters of recommendation. At least one of the LOR's must be from a Family Physician.
Do you require a minimum USMLE/COMLEX-USA score to apply?
We do not have a minimum score requirement, but require a passing score on the first attempt for all USMLE/COMLEX-USA tests. After review, applicants may be invited even if only a USMLE STEP 1/COMLEX-USA Level 1 score is available. However, applicants must have passed all required USMLE/COMLEX-USA tests prior to the NRMP's rank order certification deadline to be considered for our program's rank list.
Do you accept applications outside of the match?
We are an all-in program and do not accept applications outside of the match or ERAS.
Do I need U.S. clinical experience?
U.S. clinical experience is not required but is preferred.
Do you accept visas?
All applicants must be eligible to work in the U.S. We will consider J-1 visa applicants on an individual basis. We do not sponsor H-1 visas. See the following section for more detailed information for international applicants.
Whom do I contact if I need further information?
International Applicants
If you are not a United States citizen or Permanent Resident, UT Southwestern will request J-1 visa sponsorship through the Educational Commission for Foreign Medical Graduates (ECFMG). UT Southwestern does not sponsor H1B visas for categorical residents.
Exceptions will not be required for applicants with asylee or refugee status with appropriate documentation, or those with Deferred Action for Childhood Arrivals (DACA) status with a valid employment authorization document (EAD).
In response to the cancellation of Step 2 Clinical Skills and the development of ECFMG's new pathways:
ECFMG certification will not be required before interviews are offered.
Prerequisites
In addition to the prerequisites listed above, international applicants should note:
U.S. clinical experience is valued but not required. We consider exceptional applicants, and we understand that diversity of training and life experience can only enrich our program
Applicants must submit three (3) letters of recommendation that are a faithful representation of the applicant. Home-country or other international letters of recommendation (LORs) will be considered equal in value to U.S. LORs.
If you have further questions, please feel free to email us at UTSouthwestern.FamilyResidency@utsouthwestern.edu.