UT Southwestern Medical Center has the largest residency training program in the nation, with 80 approved positions. Approximately one out of every 80 Ob/Gyn residents in the country trains here. About a third of our residents pursue fellowships after graduation.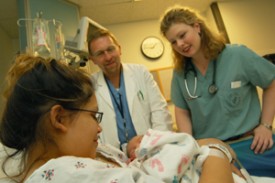 With more than 250,000 ambulatory visits and 12,000 deliveries annually, Parkland Health & Hospital System is the primary teaching venue for the UT Southwestern Ob/Gyn Residency Program. Here, residents focus on developing skills in intrapartum management, high-risk obstetrics, ultrasound, and prenatal care.
Residents also gain experience in the treatment of a broad spectrum of disorders in gynecology, gynecologic oncology, reproductive endocrinology, and urogynecology. Specialized curricula focus on pelvic anatomy, dysplasia, and laser treatment. Residents are introduced to advanced surgical procedures and hone their surgical skills in specialized endosuites at UT Southwestern's Simulation Center.
Residents also have clinical services at Presbyterian Hospital of Dallas, Medical City Dallas Hospital, and UT Southwestern's new William P. Clements Jr. University Hospital.