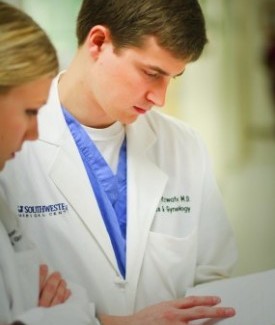 In addition to patient care, medical student, resident, and fellow training is another mission of the Department of Obstetrics and Gynecology. In fact, UT Southwestern Medical School trains more new Ob/Gyn physicians and subspecialists than any other program in the United States. Ten graduates of our residency and fellowship programs have become chairs of academic clinical departments, and one is currently a U.S. congressman.
Medical Students
The Department of Obstetrics and Gynecology participates in student medical education in every year of medical school, with major efforts during the third and fourth years. Also, through our extern program, clinical rotations are open to students from other medical schools.
Residents
The Ob/Gyn Residency Program, one of the largest in the nation, is approved by the ACGME for 80 residents. Currently we fill 18 positions annually from an applicant pool of the top medical school graduates in the United States.
Clinical Fellows
With programs in all the subspecialties of obstetrics and gynecology, we train clinical fellows to be future academic leaders. Our fellows receive extensive training in patient care as well as basic and clinical research and also have the opportunity to teach residents and medical students.
Fellowships are available in the following subspecialties: