Fellowship in Minimally Invasive Gynecologic Surgery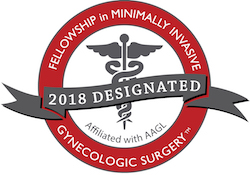 Accredited by the Fellowship in Minimally Invasive Gynecologic Surgery Board, our fellowship in Minimally Invasive Gynecologic Surgery (MIGS) is a comprehensive, two-year fellowship that integrates minimally invasive surgery, clinical care, research, and education.
The goal of the program is to develop academically-minded MIGS surgeons who are proficient in managing common and complex gynecologic problems with minimally invasive techniques. Our fellows will advance the field through training in evidence-based research methods. Examples of faculty and fellow research publications can be found here.
The MIGS Fellowship Program is structured to integrate minimally invasive surgical training through high-volume surgery and direct patient care, simulation training, research experience, and educational courses and conferences. The fellowship provides thorough training in advanced laparoscopic, hysteroscopic, vaginal, and robotic-assisted procedures in general gynecology, while also providing experience with minimally invasive techniques used in the gynecologic subspecialties of urogynecology, oncology, infertility, and pediatric-adolescent gynecology.
The core faculty members participating in our MIGS fellowship have extensive experience in the management of gynecologic problems through the use of advanced minimally invasive techniques. Additional training in chronic pelvic pain, gynecologic oncology, and colorectal surgery solidify a well-rounded clinical and surgical experience for our fellows.
The MIGS Fellowship Program leverages the high surgical volume, clinical expertise, and clinical, educational, and research capabilities available on the campus of the UT Southwestern Medical Center, including Parkland Health & Hospital System and William P. Clements Jr. University Hospital. Surgical and robotic skills training and scholarly research are enhanced by the simulation environment at UT Southwestern's Simulation Center and the Cadaveric Anatomy Laboratory.