During their rotation on the Female Pelvic Medicine and Reconstructive Surgery (FPMRS) Service, Ob/Gyn residents join FPMRS fellows in a Pelvic Anatomy and Dissection Course that is embedded within the clinical rotation.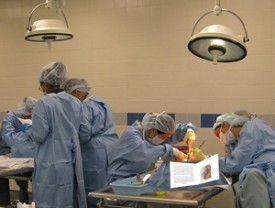 This course, which is structured into four half-day sessions, has been part of the gynecologic surgery curriculum of the Ob/Gyn Residency Program since 2002.
The objective of the course is to improve the participants' knowledge of pelvic anatomy and develop their surgical skills. The effectiveness of the course at reaching these objectives has been documented.
In addition, residents and fellows have the opportunity to participate in research projects related to pelvic anatomy and other pelvic floor disorders topics. Publications and educational videos have emanated from work done by participants in the Anatomy Laboratory.
In the first week, participants attend anatomy lectures and view instructional videos on nerve and ureteral anatomy and injury. An instructional guide for laparoscopic and open cadaver dissection and procedures and written materials on the principles of electrosurgery are distributed.
Participants are also introduced to three of the simulator box trainers used in the Fundamentals in Laparoscopic Surgery (FLS) course curriculum at UT Southwestern's Simulation Center.
These skill labs include peg transfer, suturing with extracorporeal knot-tying, and suturing with intracorporeal knot-tying. Baseline performance with these tasks is recorded and participants are encouraged to practice these tasks on their own over the following three weeks.
In week two, participants perform a laparoscopic pelvic sidewall retroperitoneal dissection, a total laparoscopic hysterectomy, and a cystotomy and repair on an unembalmed cadaver. Dissection and procedures are performed following instructions from the dissector and with faculty guidance and feedback.
In week three, an overview of pelvic anatomy is demonstrated on prosected specimens, and residents complete the dissections of the vessels and peripheral nerves on the same unembalmed specimen used the previous week. At the conclusion of this session, participants practice procedures on the unembalmed specimen with emphasis on surgical spaces and anatomic relationships.
During the fourth week, performance with the three simulator box trainers is documented, and participants present a review of the literature on a topic they selected during the rotation.