Pediatric Pulmonology Fellowship Program
The Pediatric Pulmonology Fellowship Program at UT Southwestern Medical Center and Children's Medical Center in Dallas welcomes you to explore our 3-year ACGME accredited program. Our mission is to lead future pediatric pulmonology experts in attaining the essential knowledge, clinical skills and critical thinking used to provide care and develop research in childhood lung disease. Our goal is to produce a diverse work force of pediatric pulmonologists who are not only compassionate and clinically skilled but will be the next generation of leaders, researchers, educators and clinicians in our field.
Our pulmonology program is ranked by the U.S. News & World Report list of Best Children's Hospitals and provides excellent patient centered and comprehensive care to children with a range of acute and chronic lung conditions including severe asthma, cystic fibrosis, aerodigestive disorders, neuromuscular disorders, sleep disorders and chronic respiratory failure requiring technology dependence. The division performs hundreds of bronchoscopies and thousands of sleep studies and pulmonary functions tests each year.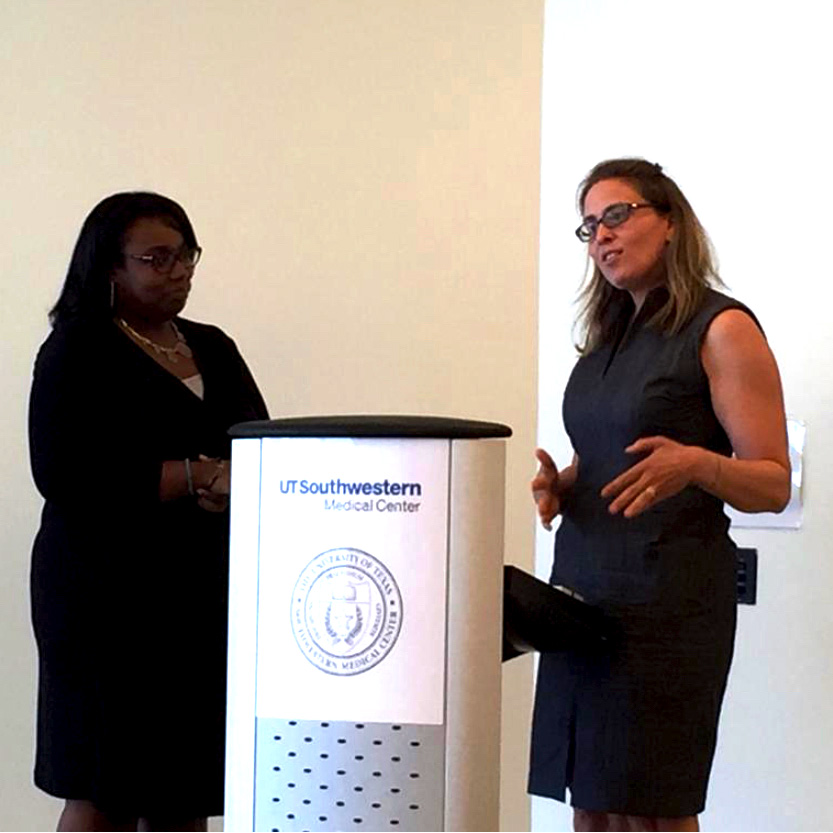 Under the direction of Tanya Martinez Fernandez, M.D., and overseen by the ACGME, our Fellowship Program began enrolling up to two trainees each year in July 2011. Knowledge in pediatric pulmonary medicine is gathered through clinical activities including experiential training within multidisciplinary teams, formal didactic teaching and clinical case discussions with peers and faculty. Each fellow is encouraged to develop individualized learning plans and career development goals early during their training period that help guide future research and electives. Opportunities in translational, basic, clinical and quality improvement research are provided with ample time to develop and complete projects as well as further scholarly interests.
Clinical Experience
Clinical experience in the program is guided by the clinical curriculum which is designed to provide comprehensive exposure to both acute and chronic pediatric pulmonary medicine. The division's inpatient services are not fellow dependent thus allowing us to offer a degree of flexibility within the training curriculum.
The vast majority of training occurs at Children's Medical Center -Dallas campus with occasional neonatology consults in the nearby Parkland and Clements University Hospital NICUs. Chronic ventilation clinics take place in the outpatient clinic space of Our Children's House, a transitional inpatient and outpatient care facility within minutes of the main campus.
Most inpatient clinical training occurs during the first year of training. Introduction to specialty specific clinics including those focused on chronic ventilation, sleep, cystic fibrosis, neuromuscular disease, sickle cell, aerodigestive disorders and severe asthma occurs during the 1st year and an elective month during the 3rd year offers an opportunity to further expertise in areas of interest. Continuity clinics for general pulmonology or cystic fibrosis are scheduled on a weekly basis including a telemedicine clinic once a month.
Our pulmonary function laboratory is one of the first pediatric labs with ATS registration and has a very seasoned staff. The fellows have full access to the PFT lab for patient evaluations and are assigned PFTs for interpretation and discussion with supervising attendings.
The sleep medicine program at CMC in Dallas has the largest pediatric sleep laboratory in North Texas and offers robust exposure to sleep medicine as well as research opportunities for the fellows.
Rotation Schedule
First Year

| | |
| --- | --- |
| Orientation in Pulmonary | 2 weeks |
| Physiology Lab | 1 week |
| Pediatric Intensive Care Unit (PICU) | 2-4 weeks |
| Continuity Clinic/CF Clinic | 1/2 day per week |
| Inpatient/Consult Service | 24 weeks |
| Chronic Ventilation Clinic | 1/2 day per quarter |
| Research/Vacation | 21 weeks |

Second Year

| | |
| --- | --- |
| Inpatient/Consult Service | 12 weeks |
| Continuity Clinic/CF Clinic | 1/2 day per week |
| Chronic Ventilation Clinic | 1/2 day per quarter |
| Specialty Specific Outpatient Clinics | 2 weeks |
| Research/Vacation | 36 weeks |
| Optional Sleep Elective | 2 weeks |

Third Year

| | |
| --- | --- |
| Inpatient/Consult Service | 12 weeks |
| Outpatient Elective or Research | 4 weeks |
| Continuity Clinic/CF Clinic | 1/2 day per week |
| Chronic Ventilation Clinic | 1/2 day per quarter |
| Research/Vacation | 36 weeks |
Education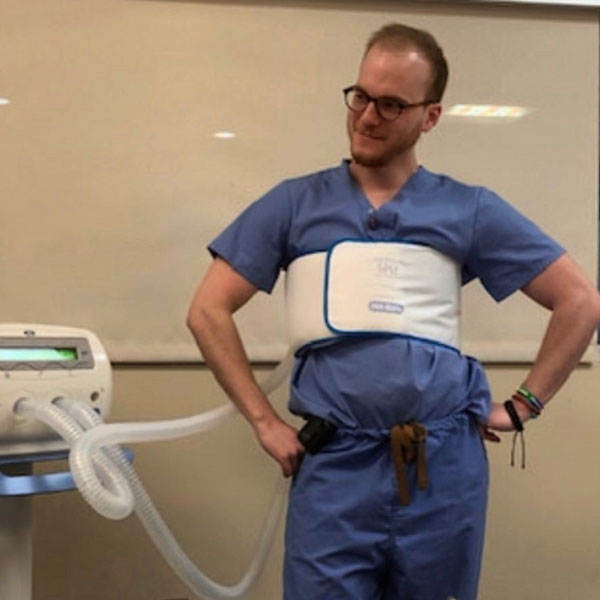 At UTSW, our fellowship program's educational goal is to provide fellows a comprehensive knowledge base and broad clinical exposure to all aspects of pediatric pulmonology. Regular educational sessions for the fellows include weekly core didactics and CF patient review. A weekly division wide session provides a forum where subjects of interest to both faculty and fellows are discussed including interesting/rare pulmonary cases seen by our services, education on core and contemporary pulmonary topics, journal club, radiology conference, pathology conference, morbidity & mortality conference as well as discussions on research in progress.
Fellows attend the Departmental Fellows Conference bimonthly and an annual departmental fellows' retreat where they are able to participate in didactics of interest to fellows in the department as well as socialize with their peers. In addition, fellows are encouraged to attend departmental educational activities including Grand Rounds and the weekly departmental multidisciplinary conference.
As a premier academic center, UT Southwestern Medical Center hosts a number of lectures, workshops and symposia that are available to all trainees. Further development of individualized learning interests is available through offerings at the main medical school campus. Our fellows have pursued coursework offered through UT Southwestern Medical Center including medical education, quality improvement and biostatistics.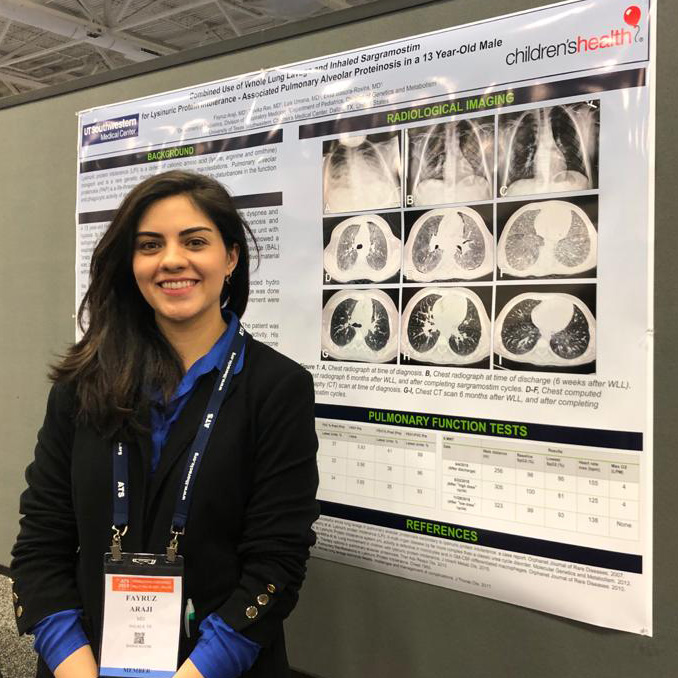 Research
The University of Texas Southwestern has a renown international reputation in medical research and is a premier medical institution. UT Southwestern faculty has many distinguished members including six Nobel Laureates since 1985, 25 members of the National Academy of Sciences, and 16 members of the National Academy of Medicine.
Beginning in the first year of fellowship, each fellow is introduced and exposed to different programs of research at UT Southwestern Medical Center. This includes basic science research, along with clinical research opportunities and quality and process improvement. Faculty members within the division have varied research interests within all areas of pulmonary medicine. Strong interdisciplinary interactions with other pediatric subspecialties as well as with other Departments at the University of Texas Southwestern, such as adult Pulmonary and Critical Care and Infectious Disease expand opportunities for research.
First year fellows spend time considering their options and plan for an ongoing investigation. Once a specific area of focus is identified, each fellow undertakes a research project that is developed with appropriate mentorship in an area of interest, with each fellow having an individualized scholarly oversight committee to help ensure success.
The Division's Cystic Fibrosis Care center is an active member of the Cystic Fibrosis Foundation's Therapeutics Development Network, and within this framework there is opportunity for clinical research in cystic fibrosis. The CF center is also engaged in a nationwide quality improvement collaborative, the Cystic Fibrosis Learning Network. Participation in this network allows for both instruction on how to engage in QI research and there is ample opportunity for fellows to engage in collaborative and multicenter quality improvement initiatives.
Additionally, the UT Southwestern's Center for Pulmonary and Vascular Biology in conjunction with the Division of Pulmonary and Critical Care Medicine in the Department of Internal Medicine offer further research training opportunities via a T-32 training grant from the National Institutes of Health which supports postdoctoral research training in lung biology and disease.
Diversity
UT Southwestern Medical Center strives to be a model of diversity and inclusion in the workplace. Our division of Respiratory Medicine is a reflection of different backgrounds and cultures. As such, we seek to attract diverse talent, celebrate individuality and nurture success for fellows of all backgrounds and perspectives.
Created as an on-campus networking and professional development program for underrepresented and/or discriminated groups, the Housestaff Emerging Academy of Leaders (HEAL) is a development program open to all residents.
Life-Work Balance
We believe that well-being and finding work-life balance is an important aspect of training and a necessary skill to master for a successful and joyful career. Faculty and fellows can choose to enjoy activities together outside of work including Journal Club dinners hosted by faculty where we discuss and critically analyze recently published literature and/or participate in volunteer opportunities such as the annual Great Strides CF fundraising walk.
Living in Dallas
North Texas added over a million residents in the last decade making the Dallas region home to a rapidly growing, young and diverse population. Whether you are looking to capitalize on its rich sports heritage, strong arts culture, vibrant community or want a family friendly atmosphere, the lively feel of the Big D will lead you to plentiful options for entertainment. The cost of living remains affordable in the US's now fourth largest metro area. Whether travel is a hobby or passion, rest assured that the second largest state in the country has plenty to see. In addition, Dallas is home to the world's largest global airline—American Airlines—and the U.S.'s largest domestic carrier—Southwest Airlines making domestic and international travel readily accessible.
Contact Us



Priscilla Castro
Coordinator, Pediatric Pulmonology Fellowship Program
Phone: 214-456-5834