Medical Student & Resident Education
The Division of Pediatric Pulmonology and Sleep Medicine provides educational opportunities for medical students and pediatric residents, in addition to our accredited fellowship program.
Medical Students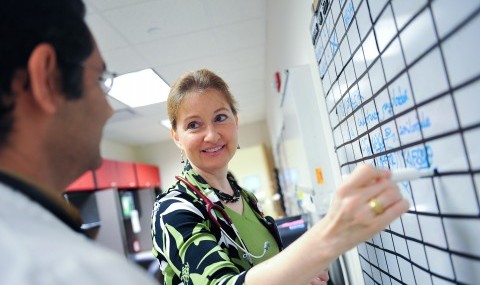 We teach a full curriculum based on the core competencies from the Council on Medical Student Education in Pediatrics (COMSEP). Just a few of the benefits:
Bedside clinical supervision and daily rounds provided.
Faculty from nearly all the pediatric divisions facilitate didactic sessions and interactive case-based discussions.
Constant curriculum review occurs via feedback from faculty, national regulatory agencies, and the students themselves.
Students rotating through our core clerkships continue to outpace national averages on standardized assessments.
Specialty outpatient clinics staffed by members of the Division of Pediatric Pulmonology and Sleep Medicine faculty allow medical students to receive individualized, one-on-one teaching.
Clinic sessions include individualized, one-on-one instruction
Residents
The evaluation of children with respiratory problems remains an integral component of the practice of pediatric medicine. Pediatric residents must become familiar with recognition, diagnosis, and care of respiratory diseases, because these conditions remain the most common reason for childhood physician encounters and the number one cause of school absenteeism and hospital admission.
Our resident rotation program provides you with intensive exposure to a broad spectrum of pulmonary disorders. During residency, we strive to highlight principles of management, current controversies, and the respective roles played by the pediatrician and pulmonary subspecialist.
Designed for upper-level residents (including second- and third-year general pediatric residents, the residency allows you to gain valuable experience in the daily management of children with known, as well as presumptive, pulmonary disorders.
Expectations during your residency program include the ability to:
Demonstrate medical knowledge
Comprehend pathophysiology
Develop differential diagnosis
Show increased independence when formulating management plans
Maintain an overall awareness of the acuity of the patients of the inpatient service
Yadira Rivera-Sanchez, M.D., directs the Pediatric Pulmonology and Sleep Medicine Resident Education Program.