Immunohistochemistry (IHC) Services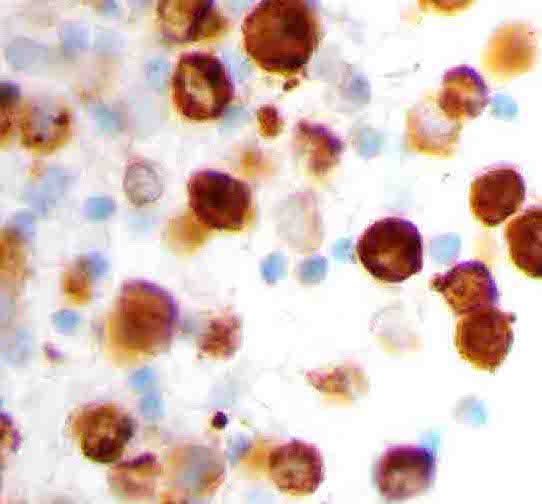 The Immunohistochemistry Laboratory provides a broad range of immunohistochemical stains for paraffin sections of fixed tissues, and selected in situ hybridization and immunofluorescence procedures.
In addition to the routine antibodies used in general diagnostic anatomic pathology practice, the Immunohistochemistry Laboratory offers a large selection of less commonly used, or "esoteric," antibodies that may not be available or practical to implement in general diagnostic laboratories.
Our antibody menu currently includes more than 200 different antibodies to tumor antigens, proliferation markers, infectious agents, and other normal and abnormal tissue antigens. New antibodies are developed upon request as needed by our customers. We also offer different detection/chromogen systems, so that stains can be tailored to our customers' particular needs.
The lab is staffed by specialized histotechnologists, many of whom have earned Added Qualification in Immunohistochemistry (QIHC) certification from the American Society of Clinical Pathologists. The laboratory is overseen by a board-certified pathologist, and draws upon the expertise of world class faculty of the UT Southwestern Medical Center Department of Pathology in implementation and ongoing quality control of stains that we offer.
UT Southwestern faculty pathologists are available to offer full diagnostic consultation on submitted cases if requested.
Immunohistochemical Stains
AAT
Actin, smooth muscle (SMA)
Adenovirus
AE1/AE3
Albumin FITC
ALK-1
Alpha fetoprotein (AFP)
Alpha-1 antichymotrypsin (AACT) (Propath)
Alpha-B Crystallin (Mayo)
Androgen Receptor
BAF47
BAP-1
BCL-10 (Phenopath)
BCL-2
BCL-6
BER-EP4 88341
Beta-catenin (B-Catenin)
Beta-HCG (Propath)
BK VIRUS (SV40)
BOB-1
Brachyury (Phenopath)
BRST-2 (GCDFP)
C1Q/FITC
C3/FITC
C3d
C4d
C4D/FITC
CA 19.9
CA-IX
Calcitonin
Caldesmon
Calponin (Myoepithelial) (Propath)
Calretinin
CAM5.2
Cat Scratch (Propath)
Cathepsin-K
CD1A
CD2
CD3
CD4
CD5
CD7
CD8
CD10
CD117 (GIST)
CD123 (Propath)
CD138
CD15
CD163
CD21
CD23
CD25
CD31, (endothelial cell)
CD34, QBend/10, (endothelial cell)
CD38
CD43
CD56 (NCAM)
CD68
CD79a
CDK4 (Propath)
CDX2
CEA/Mono
CEA/Poly (Mayo)
Chromogranin
CK5/6
CK7
CK8
CK14 (Propath)
CK17
CK19
CK20
CK903
CMV
C-Myc
Collagen IV (COLL-IV)
Cyclin D1-RAB
D2-40
DBA.44 (Hairy Cell) (Propath)
Desmin
DOG1
Dysferlin
E-Cadherin (ECAD)
EGFR (Propath)
Epithelial membrane antigen (EMA)
ERG (Propath)
Estrogen Receptor (ER)
Fascin
Fibrinogen
FLl-1
FVIII
FXIIIA
GAB1 (Mayo)
Galectin-3
Gastric Mucin
Gastrin
GATA3
Glucagon
GlycophorIn A
Glypican-3
GP IIIA
Granzyme-B
H. Pylori
HBcAg (Hepatitis B Core Antigen)
HBME-1
Helicobacter pylori
Hepatitis B Surface Antigen (HBSAG)
Hepatocyte (HepPar1)
Her2/Neu (c-erbB-2)
Hercep Test (IHC)
HHV8 (Propath)
HLA, Type II
HMB-45
HPL (Propath)
HSV1/2
IgA (Propath)
IgA/FITC
IgD
IgG
IgG/FITC
IgG4
IgM (Propath)
IgM/FITC
Inhibin
Insulin (Propath)
IRF4 (MUM1)
ISH EBV
ISH HPV-F16 (High Risk)
ISH HPV-F16 and ISH HPV-F6
ISH HPV-F6 (Low Risk)
ISH JCV
ISH Kappa
ISH Lambda
Kappa
Kappa/FITC
KI-1
KIR 7.1
L26
Lambda
Lambda/FITC
LCA
Leu-7 (CD57)
LH (Luteinizing Hormone)
Lysozyme
Mammoglobin
MART-1/Melan-A
MDM2
Melanoma Cocktail
MHC1
MIB-1
MLH-1
MNF-116
MOC-31
MSA
MSH-2
MSH-6
MUC-1
MUC-2 (Propath)
Myeloperoxidase
MYO-D1
Myogenin
Myoglobin
Napsin A
Nestin (Phenopath)
NKX3.1
O13 (Ewing sarcoma)
OC125 (Propath)
OCT 2
OCT 3/4
Olig-2-R (Mayo)
p16 (INK4a)
P27 (Mayo)
P40
P53
P57 (Propath)
P63
Parvovirus (Propath)
PAX-2
PAX-5
PAX-8
PD-1
PD-L1(22C3)
PD-L1(SP142) (Mayo)
PIN-4 (P63,HMW,P504S)
Placental alkaline phosphatase (PLAP)
PMS-2 - IHC
PPP (Pancreatic polypeptide) (Propath)
Prealbumin
Progesterone receptor (PR)
Prolactin
Prostate Specific Antigen (PSA)
Prostate-specific acid phosphatase (PSAP)
Prostein (Propath)
Protein gene product 9.5 (PGP 9.5)
PTEN (Propath)
Racemase
RCC
RSV (Propath)
S100
S-100 (Melanoma Control)
SALL-4
SATB2 (Propath)
SDHB (Propath)
Serotonin (Phenopath)
SF-1 (Phenopath)
SMI-31
SMM
Somatostatin (SOMATO)
SOX-10
SOX2
Spectrin
Spirochete (Treponema Pallidum)
SV 40
Synaptophysin
TCL-1
TDT
TFE3 (Phenopath)
Thrombomodulin
Thyroglobulin
Thyroid Stimulating Hormone (TSH)
TIA-1
TLE1 (Propath)
Toxoplasma
Tryptase
TTF-1
UCHL-1
UEA-1 (Ulex Europ. Lectin) (ARUP)
Varicella Zoster
Vasoactive Intestinal Peptide (VIP) (Propath)
Villin
Vimentin
VZV (Mayo)
Wt-1
YAP1 (Mayo)
Adrenocorticotropic Hormone (ACTH)
a-Dystroglycan
ALDH1L1
Alpha-Sarcoglycan
Alpha-Synuclein (LB509) - Enzyme Digestion
Amyloid A
Amyloid Precursor Protein (APP)
Aqua-4
AT8
ATRX
Beta-Amyloid
Beta-Sarcoglycan
C5b-9
Caveolin 3
COLL-4 - FS
COLL-6 - FS
Delta-Sarcogly
Desmin-FS(1:1280)
Desmin-FS(1:2560)
Desmin-FS(1:640)
DYS-1
DYS-2
DYS-3
Emerin - FS
Follicle Stimulating Hormone (FSH)
Gamma-Sarcolgycan
GFAP (Glial Fibrillary Acidic Protein)
Golgi (GLG1)
Growth Hormone
IDH1-R132H
MAP 2
Merosin-300 kDa
Merosin-80 kDa
Mitochondria
Myosin/M
Neu-N
Neurofilament (NEUROFIL)
Neuron specific enolase (NSE)
NP-CAM5.2
NP-CD3
NP-CD34, QBend/10, (endothelial cell)
NP-CD68
NP-EGFR (31G7) (Propath)
NP-EMA
NP-HMB 45
NP-Inhibin
NP-L26
NP-LCA
NP-Leu-7 (CD57)
NP-Melanoma Cocktail
NP-MIB-1
NP-p53
NP-p62
NP-S100
NP-Synaptophysin
NP-TTF-1
PHH-3
PTH, Parathyroid hormone
SSTR2
STAT6
Tau, 3R (RD3)
Tau, 4R (ET3)
TDP-43
UBIQ-AP/Brain (Propath)
Contact Us
Immunohistochemistry Laboratory
214-633-6442