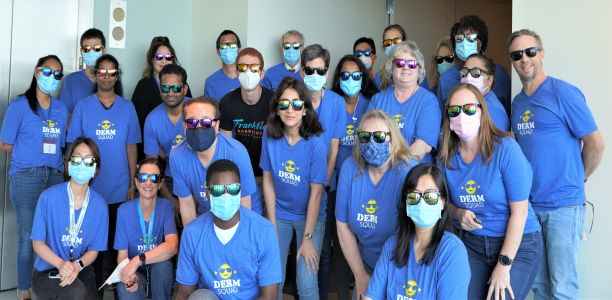 Welcome back, Derm Squad! Back to campus and to phase 4 (a fully open campus). Here are Elizabeth Edward's top nine reasons for celebrating.
Returning to campus made the above picture possible.
I missed seeing everyone.
Communication seems faster. For me, it's quicker to pop over to someone's desk to talk then try to compose a well worded email, schedule a virtual meeting, or wait for someone to return a phone call.
Teamwork is strengthened by togetherness. We are each other's support system.
We can celebrate birthdays, work anniversaries, employee appreciation, and other special occasions in person. (I've missed cake.)
Being together again gives me hope for the future.
All the change over the last year has been stressful so the return to (moslty) normal operations is a much needed stress reliever.
It marks the end (I hope) to an extraordinary crisis. Our department not only survived but has bounced back thanks to your efforts.
Have I already mentioned, that I missed you? I really, really did.
In this edition of The Skinny:
Year End Close Dates for August - Administrative Adventures

New Office Suite in POB I - Administrative Adventures

Pictures of the graduating residents - Educational Endeavors

Appreciation Week Activities Recap - Employee Engagement
Plus much more
Quotes contemplating completion as we finish fiscal year 2021.

Alternatives for the word complete

Can you think of any others? Send us an email to The Skinny
Hope you enjoy reading this edition as much as we enjoyed creating it for you.
Sincerely,
The Skinny Committee
In between editions, you can stay up on the latest department news at Announcements.