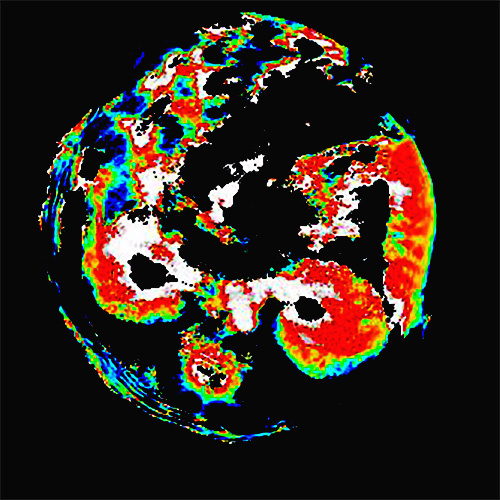 Our Goal
To provide imaging infrastructure, technical expertise, and logistic coordination to facilitate high-quality imaging of cancer in small animals.
Location
Hoblitzelle Building (G)
Department of Radiology - South Campus
5323 Harry Hines Blvd.
Dallas, TX 75390
The Small Animal Imaging Shared Resource of Harold C. Simmons Comprehensive Cancer Center is a small animal multimodality imaging resource that facilitates advances in the understanding of cancer biology and development of novel therapeutics. SAISR enables noninvasive assessment of tumor development, progression, and response to therapy based on multiple imaging technologies including optical, ultrasound, photo-acoustics, MRI, SPECT, and PET/CT. While imaging traditionally focused on anatomical visualization, the SAISR now provides spatial context for prognostic biomarkers and theranostic interventions. Specifically, the Shared Resource facilitates and integrates pathophysiology, metabolism, and receptor target identification with anatomical imaging.
Members seek to develop and implement new imaging capabilities to further enhance research capabilities. The new cyclotron routinely provides many new radiolabeled agents, greatly expanding the portfolio for potential investigations. The new pre-clinical radiation core facility (PCR-CF) will for the first time provide MRI and image guided irradiation inside the specific pathogen free (SPF) vivarium.
Services
SAISR maintain a diverse array of small animal imaging instruments that allow Simmons Cancer Center members to perform:
Optical imaging
Magnetic resonance imaging (MRI)
Positron emission tomography/X-ray computed tomography (PET/CT)
Single photon emission computed tomography/X-ray computed tomography (SPECT/CT)
Ultrasound
Multispectral optoacoustic tomography (MSOT)
Stereotactic irradiation (IGRT)
Many instruments include components for physiological monitoring and regulation. UT Southwestern continues to invest heavily in infrastructure for both cancer and imaging.
Technology and Equipment
To best serve Simmons Cancer Center investigators, instruments are available both inside the specific pathogen free (SPF) barrier vivarium, where many cancer investigators maintain their colonies, and in conventional research areas:
• AMIHTX optical imaging system
• MRS Powerscan 3T/17 MRI
• XStrahl SAARP
• iThera MSOT 256-TF
• Mediso PET/CT
• BioScan NanoSPECT/CT
Fees
Planar BLI (Spectrum or Lumina) – $10/image
Bioluminescent/Fluorescent l Imaging (Spectrum or Lumina) – $58/hour (self-service); $101.5/hour (full service)
Small Animal Ultrasound – $43.5/hour (self-service); $90/hour (full service)
Photoacoustic Tomography (iThera MSOT) – $58/hour (self-service); $104.5/hour (full service)
Radio-labeling and Organic Synthesis – $100/day
MRI 7.0T – $100/hour
Fees are for Simmons Cancer Center members and already reflect 50% subsidy.
For additional information, including signing up for services, please visit the SAI site.
Leadership and Contact