High Throughput Screening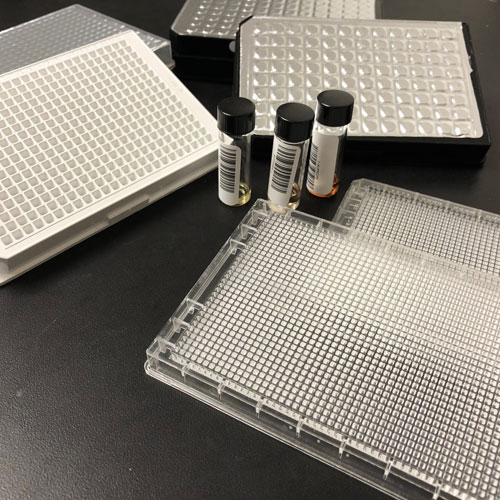 Our Goals
To aid in the early, pre-clinical identification and development of new small molecule inhibitors and chemical tools and to support the discovery and characterization of novel biological targets and pathways for therapeutic intervention.
Location
Green Science Building (L)
South Campus
5323 Harry Hines Blvd.
Dallas, TX 75390
The High Throughput Screening Shared Resource (HTSSR) is dedicated to helping Simmons members initiate and execute research efforts dedicated to turning new insights in cancer biology into preclinical drug and target discovery initiatives. Screening projects typically have one or more translational goals: identification of new cancer targets via functional genomics or chemical screens, development of new therapeutics (small molecules), and/or identification of relevant therapeutic biomarkers to stratify patients in the clinical setting.
Services
Assay Development
Assay development and validation are critical and time-intensive activities of High Throughput Screening Shared Resource projects. Our scientists efficiently develop and optimize biochemical or cell-based assays spanning many measurement types including fluorescence, Alpha Screen, luminescence, absorbance, radiometric, mass spectrometric, and image-based readouts. In collaboration with Simmons Cancer Center members, HTSSR organize these assays into a screening strategy that will enable selection of compounds that align with project goals.


High Throughput Chemical Screens
For high throughput chemical screens, investigators have access to the UT Southwestern chemical library, which consists of 339,450 drug-like small molecules from commercial sources, 2,500 compounds from UTSW chemists, 1,100 approved drugs, 450 experimental drugs, and 6,500 partially purified natural product fractions. Once all the assays for a project are optimized, a pilot screen of a diversity subset (8,000 compounds) is conducted to represent the chemical space of the larger chemical library. HTSSR analyzes the primary data, repeats failed plates, uploads the final data set to our screening database, and delivers a report to the sponsoring Simmons Cancer Center member. Using historical screening data and relevant literature, HTSSR works with Simmons Cancer Center members to select compounds with desirable activity profiles for confirmation studies.


High Throughput Functional Genomics Screens
Functional genomics screens essentially take the same path as chemical screens: assay development and optimization, screening, analysis, summarization followed by hit selection, and validation. HTSSR maintains a human genome-wide siRNA library (~21,000 human genes, Horizon Biosciences, Inc.) and an arrayed human CRISPR library (36,000 gRNA's, 2 gRNA's per gene, SigmaMillipore, Inc.). After screening, project scientists use bioinformatics tools and expertise in cancer biology to prioritize genes for further characterization. The move to CRISPR screening provides a more effective gene knock out tool with fewer off-target effects than RNAi.


Advanced Support for Pre-clinical Drug Discovery
Following chemical screens, the project team chemist(s), HTSSR and the Pharmacology Core review the structures of confirmed hits and select those with the greatest potential for further study and development. This multidisciplinary effort is an iterative process that involves design and synthesis of analogs of valued hits and assessing them for potency, selectivity, mechanism of action, ADME properties, and cellular activity. The goal is to create lead compounds with high efficacy in an animal model of cancer that HTSSR advances to late-stage, pre-clinical studies and clinical trials. In this context, HTSSR provides bioassay, chemoinformatics, data management, and computational chemistry support: structure-based drug design for medicinal chemists, site mapping and docking studies for hit compounds and potential target proteins in phenotypic screens, and virtual screening support for scaffold hopping and hit expansion.
Equipment and Technology
HTSSR maintains the following instruments necessary for high-throughput screening:
Low volume liquid transfer in 96, 384, and 1536 well plates: two Biomek instruments, a Span-8, and an Echo 655 with Access automation package
Four multimode plate readers to quantitate luminescence, fluorescence and absorbance 4 assays
InCell Analyzer 6000, an automated microscope for high content, image-based screening that reads 96, 384, or 1536 well formats and supports live or fixed cell imaging in standard or confocal modes
RapidFire mass spectroscopy reader to measure low MW analytes from biochemical and cell-based assays
BioTek EL406 plate washer/dispenser
Two BioTek Microflo bulk liquid handlers
Two Agilent PlateLoc plate sealers
Two plate barcode printers
Monitored, cryogenic storage units house mammalian cell banks. A BioMicroLab XL100 handles compounds submitted by chemists for testing and incorporation into the library. This instrument transfers compounds from 1-dram vials to 2D barcoded tubes for storage, library plate creation, and cherry picking. Six -80°C and seven -20°C freezers are used for storage. Software and database platforms include our LIMS Genedata Screener for data analysis, Accelrys' Pipeline Pilot for data aggregation and summarization, Glide and MOE for SBDD and docking studies, and Tibco's Spotfire (v. 6.5) for data visualization.
Fees
Members receive a 20% subsidy on consumables costs for assay development and pilot screens and 50% on larger screens, which provides an incentive to all members to take advantage of HTSSR. Charges to investigators include personnel time, instrument usage, reagents, consumables, and computational resources. The fee structure is tiered with external commercial and external academic users paying 3x and 2x the internal UTSW rate, respectively.
For additional information, including signing up for services, please visit the HTS Lab Site.
Leadership and Contact