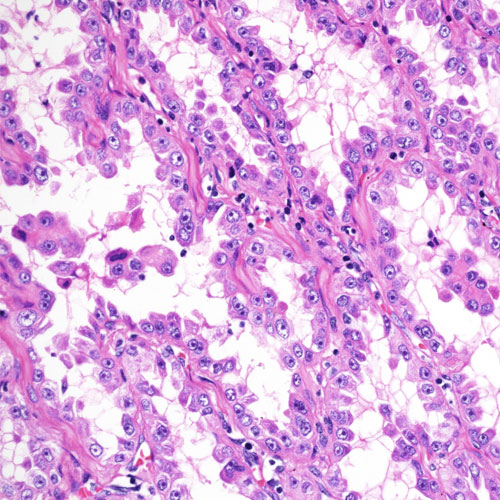 Our Goal
To facilitate the storage and distribution of comprehensively annotated, high-quality biospecimens and their derivatives and to provide professional and technical pathology services.
Location
Simmons Biomedical Research Building (NB)
NB5.102 - North Campus
6201 Harry Hines Blvd.
Dallas, TX 75235
The Tissue Management Shared Resource (TMSR) serves as a centralized resource that facilitates the storage and distribution of comprehensively annotated, high-quality biospecimens and their derivatives and provides professional and technical histopathological services to Simmons members and collaborators.
The TMSR provides high-quality biospecimen and pathology resources through: preserving and expanding the biorepository and infrastructure with clinical and molecular genomics annotation and integration within a web portal for distribution; development, expanding, and utilizing innovative and routine tissue and cell resources, including tissue microarrays (TMA) and tumor cell lines that will aid in the successful completion of projects by members; and by providing cutting-edge pathology services and expertise in histomorphologic interpretation of human and animal model tumors.
Services
Tissue Procurement, Banking, and Distribution
Procuring, processing, banking and distribution of human neoplastic and non-neoplastic tissue are performed in the pathology department in Parkland Health & Hospital System and William P. Clements Jr. University Hospital. The TMSR has space in the surgical pathology laboratories where surgical specimens are received and dissected by clinical staff. All tissue is quality-assured via histopathologic examination reviewed by clinical pathologists.


Clinical-Pathologic Data Collection and Data Integration
Collected specimens are assigned a unique identifier used for annotation and tracking. Each sample can be tracked from procurement, to division into smaller aliquots, to storage, and its distribution to individual investigators. The TMSR Core maintains a secure, password protected, HIPAA compliant, partially web-accessible database recording details of banked specimens. Specimen-related data are captured and stored in a tissue management database, OpenSpecimen, with automatic population from electronic medical records. Members can perform basic sample availability queries of this database in a de-identified manner through a secure web interface to OpenSpecimen. UT Southwestern researchers can quickly search specimen availability on the Specimen Catalog. Please refer to the tip sheet for assistance.


Histology, Immunohistochemical, and Tissue Microarray Services
TMSR provides automated immunohistochemical (IHC) staining services using standard, commercially available or investigator-generated antibodies on paraffin-embedded tumor sections. In addition, tissue microarrays are prepared in collaboration with UT Southwestern surgical pathologists. The surgical pathologist who curates each TMA is available for consultation on antibody optimization for IHC procedures and scoring the array. Antibodies previously used for IHC can be accessed here.
All service requests are managed through iLab. If you do not have an iLab account, please follow these step-by-step instructions to set up an account (tips to navigate iLab and for principal investigators using iLab are also available).
Technology and Equipment
Histology
Leica RM2235 and Histocore microtomes, Boekel Scientific and Ted Pella lighted tissue flotation baths, Leica CM-E microscope, Sakura VIP6AI tissue processor, Leica Histocore Arcadia H embedding system, Leica Autostainer XL H&E stainer, Isotemp oven, ThermoScientific Slidemate AS slide printer, ThermoScientific Printmate AS150 cassette printer


Sample Processing
Brady IP300 label printer, six ultra-low freezers (Sanyo, ThermoScientific, and Panasonic) monitored by CDAS (centralized university system), Beckman Coulter Allegra X15R centrifuge, Hettich Zentrifugen Universal 320 R centrifuge


Other
ATA100 tissue arrayer, Boekel slide moat, Dako Autostainer Link 48 IHC and ISH stainer, Leica Bond RX IHC, IF and ISH Autostainer, Akoya Bioscience Vectra Polaris, Indica Labs HALO image analysis modules, 4°C refrigerator, -20°C freezer, analytical balance, Millipore water purification system
Fees
The use of shared resource specimens and services are available to Simmons Cancer Center members, other UTSW scientists, and external researchers. Fees for histology services and procurement services are subsidized for cancer center members working on oncology projects. Members also have priority for specimens with limited inventory. Please cheryl.lewis@utsouthwestern.edu Cheryl Lewis, Ph.D., with any additional questions.
Histology Services

| | | | |
| --- | --- | --- | --- |
| Services | SCCC Member Investigator | UTSW Investigator/ Affiliate | External Academic Investigator |
| Process Embed (one tissue) | $3.50 | $4.67 | $9.34 |
| Multiple Tissue P/E (additional piece) | $0.60 | $0.80 | $1.60 |
| Reprocessing &/or reembedding tissue | $2.50 | $3.33 | $6.66 |
| Printed cassette | $0.75 | $1 | $2 |
| Simple Section (Paraffin) | $3 | $4 | $8 |
| Extra Section (Same Tissue) | $0.60 | $0.80 | $1.60 |
| Extra Section (Different Tissue) | $2 | $2.66 | $5.33 |
| Upcharge for banked tissue/section | $1.70 | $2.27 | $4.54 |
| TMSR tissue block pull/refile charge (per block) | $1 | $1.33 | $2.66 |
| Paraffin dipped slide | $0.50 | $0.65 | $1.30 |
| Tissue Curl/tube (< 50 microns total) | $5 | $6.67 | $13.34 |
| Tissue Curl upcharge for banked tissue | $5 | $6.67 | $13.34 |
| H&E/Deparaffinization/Dehydration | $1.50 | $2 | $4 |
| IHC Standard Run (>5 slides/ab) | $18 | $24 | $48 |
| IHC Standard Run (< 6 slides/ab) | $20 | $26.67 | $53.34 |
| IHC Optimization | $22 | $29.33 | $58.66 |
| IHC Dual Stain (PI provided antibodies) | $45 | $60.01 | $120.01 |
| Control Tissue Unstained Slide | $4.70 | $6.26 | $12.53 |
| 2 Control Tissues Unstained Slide | $8.40 | $11.20 | $22.40 |
| Histologist Assistance (Hourly Rate) | $60 | $80 | $160 |
| Slide Boxes: | | | |
| 25 slides | $3 | $3.99 | $7.99 |
| 100 slides | $6 | $8 | $15.99 |
| TMA Construction (investigator provided)/core | $13 | $17.33 | $34.66 |
| TMA Sectioning | $14 | $18.67 | $37.33 |
| RNAScope ready to use kit, >5 slides per request | $30 | $40 | $80 |
| RNAScope ready to use kit, optimization or | $34 | $45.33 | $90.65 |
| GeoMx - RNA probes | $405 | $540 | $1,080 |
| Additional GeoMx RNA slides | $18.75 | $25 | $50 |
| GeoMx - protein | $405 | $540 | $1,080 |
| Additional GeoMX protein slides | $18.75 | $25 | $50 |
| Slide Scanning - Per Hour | $32 | $42.67 | $85.33 |
| RUSH order | cost + 50% | cost + 50% | cost + 50% |

Procurement Services

| | | | |
| --- | --- | --- | --- |
| Services | SCCC Member Investigator | UTSW Investigator/ Affiliate | External Academic Investigator |
| Archival Specimen Distribution | | | |
| Frozen Tissue/aliquot | $25 | $33.33 | $67.67 |
| Additional aliquot from same tissue | $17 | $22.10 | $44.20 |
| Frozen paired tumor/normal aliquots | $60 | $80 | $160 |
| Plasma or Serum/aliquot | $13 | $17.33 | $35 |
| Buffy Coat/aliquot | $24 | $32 | $64.01 |
| FFPE Tissue Block | $33 | $44 | $88.01 |
| Specimen Procurement | | | |
| Fresh Tissue Collection/aliquot | $20 | $26.66 | $53.33 |
| Fresh Whole Blood | $30 | $40 | $80 |
| Additional aliquot from same tissue | $13 | $17.33 | $34.66 |
| Blood Processing, simple | $40 | $53.33 | $106.65 |
| Blood Processing, complex | $57 | $76 | $151.99 |
| Specialty Services | | | |
| Consenting | $40 | $53.34 | $106.68 |
| Technical Assistance | $40 | $53.34 | $106.68 |
| Complex Technical Assistance (Hourly rate) | $65 | $100 | $200 |
| Consultation with Director/Pathologist (Hourly rate) | $100 | $130 | $260 |
| Storage of Samples in-80C (Box/Year) | $15 | $19.50 | $39 |
| RUSH order or after 6 p.m. | cost + 50% | cost + 50% | cost + 50% |
Leadership and Contact