Access and Support for HTS Experiments
Jump to …
Financial Support
The cost of an HTS experiment is substantial. For approved projects, the Harold C. Simmons Comprehensive Cancer Center and UT Southwestern Medical Center provide considerable support for screening projects by underwriting fixed costs in the HTS Core (e.g., salaries, infrastructure, equipment, etc.). This makes high-throughput screening affordable for young investigators as well as established researchers in the Simmons Cancer Center and the University at large. Principal investigators are responsible for the cost of screening supplies, subsidized fees that cover infrastructure and personnel, and a scientist from their lab who will be dedicated to the project.
For HTS projects with a focus on cancer, the Simmons Cancer Center will cover 20 percent of the screening supplies costs for small screens (e.g., 8,000-compound pilot screens, miRNA screens, etc.) and 50 percent of larger screens (full-library compound screens and genome-wide RNAi screens). Approval for Cancer Center funds for small screens is obtained through Bruce Posner, Ph.D., the Core Director. For larger screens, the HTS Oversight Committee decides whether Cancer Center funding can be awarded. The maximum financial award for a large screen is $12,500.
Fees Associated with Screening
Tissue culture can be conducted in the investigator's laboratory or the HTS laboratory. If long-term culture work is to be conducted in the HTS lab, a daily fee of $5 will be assessed for use of HTS pipettes, tubes, gloves, paper towels, and alcohol. The investigator's laboratory should supply its own plates or dishes, media, bottles, and any filter units needed.
The costs for using other instruments and resources in the HTS Core are captured in iLab, which is available to Principal Investigators via the Core Facilities intranet.
Access for Assay Development and Smaller Screening Projects
To gain access to the HTS facility and scientific staff for assay development and small screening projects, principal investigator(s) must first meet with the HTS Core Director, Bruce Posner, Ph.D., to discuss the primary assay, the goals for the screening project, assay development that has been completed to date, and downstream studies that will help advance the hits identified in the screen.
Access to the HTS Core is at the discretion of Dr. Posner and based largely on the originality of the screen, feasibility of the assay and screening strategy, and the therapeutic potential of the approach.
Once access is granted, the principal investigator will work collaboratively with the HTS lab to develop, optimize, and validate the assay for a small screen. Assay development is described in greater detail under HTS Screening of Chemical Compounds or siRNA Libraries.
Small projects are defined as screens that interrogate small chemical or RNAi libraries in the HTS Core or supplied by the principal investigator. The Core has several chemical sublibraries that include the Prestwick Collection (~1,100 approved drugs), the MacMillan Natural Products Fraction Collection (~7,360 fractions representing ~30,000 natural products), the NIH Clinical Collection (~450 experimental drugs), and the 2K subset (~1,800 natural product–like commercial compounds).
Access for Large Screening Projects
In order to gain access to the HTS facility and the institutional libraries for large screening projects, principal investigators must submit a four-page proposal that includes the following elements:
Abstract introducing the aims of the project and the approach to be used
One page of background describing relevance of project to cancer
Description of the screening strategy that will be employed
Estimate of reagent, consumables, and instrument usage costs
Name of scientist from the PI's lab that will be dedicated to the experiment
Description of secondary and counterscreening assays for prioritizing the compounds
If applicable, a stated request for Cancer Center funding for screening supplies
Both the practicality and the scientific and therapeutic value of the approach for screening are assessed by the Cancer Center HTS Oversight Committee, headed by Michael Roth, Ph.D., in the Biochemistry Department. Dr. Posner, the Core Director, and the HTS team will help evaluate the cost and practicality of the proposed assay such as the number of liquid handling and wash steps, timing, reagent volumes, and necessary controls. If Cancer Center funding is requested, the HTS Oversight Committee will review the request and decide whether funds can be awarded. The maximal award is $12,500, and funds must be spent on screening supplies.
For advice about for applying for Cancer Center support, contact Dr. Posner at bruce.posner@utsouthwestern.edu.
To submit a proposal to the HTS Oversight Committee, send the proposal as an MS Word document or a PDF by email to Dr. Roth at michael.roth@utsouthwestern.edu. Dr. Roth will submit the proposal to the HTS Oversight Committee for review and provide feedback to the principal investigator.
HTS Screening of Chemical Compounds or siRNA Libraries
Assay Development
Assay development is conceptually similar for RNAi and compound screens. In both cases, the primary assay must reflect an appropriate biological context and be sufficiently robust to detect desired changes in the biological response when exposed to a genetic or chemical perturbagen.
Dr. Posner and the HTS staff will comment on the practicality of the assay, offer suggestions for counter and secondary assays, and, if needed, provide alternative assay approaches that have proved effective in previous projects. The HTS Core has more than 40 years' experience in assay development and screen execution and is a valued collaborator in these aspects of HTS.
Both HTS Core and project scientists work collaboratively to develop, refine, and validate parameters and controls (positive, negative, and neutral) for the primary assay such that it is robust (Z values > 0.5 over many assays and experimental days), tolerant of effects from DMSO, free from systematic effects (e.g., plating artifacts, liquid handling errors, etc.), simple (most assays have less than three liquid additions and are endpoint assays), and efficient in use of reagents, HTS equipment, personnel, and resources. Secondary assays are developed in parallel to the primary assay and must meet the same criteria. RNAi screens are typically run in 96-well microtiter plates (three replicates per siRNA pool), while compounds screens are run in a 384-well format (one replicate per compound).
Once an assay has an acceptable Z' in small-scale experiments for chemical or RNAi screen, it is tested in three to 10 plates treated under "mock" conditions, an experiment in which the HTS protocol is executed but no actual library samples are tested. In the case of compound screening, DMSO is substituted for the chemical library in the test wells (columns 3 to 22 of a 384-well plate) and for RNAi screening, transfection reagent plus a non-targeting siRNA or transfection reagent alone is substituted for the library in columns 2 to 11 of a 96-well plate.
Assays that are reproducible and largely free of plate or systematic effects are deemed optimized and ready for screening, provided approval has been obtained from the Core Director (small screening projects) or the HTS Oversight Committee (large screening projects).
Chemical Pilot Screens
For compound screens, a pilot experiment can be done with an 8,000-compound diversity subset. This subset is an approximate representation of the chemical space in the larger 300,000+ UT Southwestern small-molecule commercial library.
Principal investigators are required to dedicate a scientist to work on the HTS screen. This person will work with the HTS scientific staff, who will operate the robotic liquid handlers and perform all operations involving the dispensing of compounds from library plates to experimental plates. The HTS staff scientists will also read the plates for each experimental run, analyze the data, and provide a report to the principal investigator and his/her scientist leading the screening effort.
Following the primary screen, the principal investigator can opt to cherry-pick hits for confirmation studies using the primary assay (three replicates per compound) and further characterization using secondary and counter screens. The PI is supplied with 4 μL of a 5 mM stock of each cherry picked compound. This is enough for several plate-based assays in a limited dose-response format, if desired.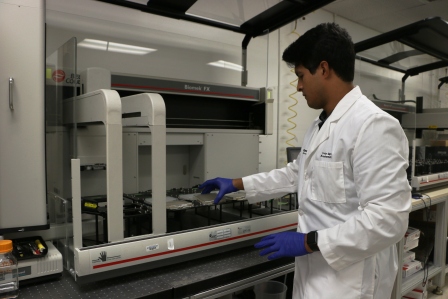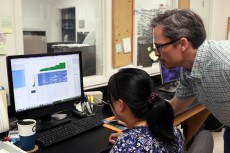 Large Screens
Results from assay optimization, mock screens, and pilot screens (if applicable) can be used as preliminary data in the proposal for a large genome-wide siRNA screen or a full-library chemical screen (See Access for Large Screening Projects). Once the Oversight Committee approves a large screening project, the HTS Core will schedule several experimental runs (25-50 plates per day) for the screen over an eight- to 12-week period. The scientist from the principal investigator's lab will participate in screen execution while HTS scientists will dispense the library, collect assay data, monitor screen quality, analyze screening data, and provide regular reports of screen progress.
At the conclusion of the screen, the HTS Core will provide a summary of the primary data for the screen. For chemical screens, principal investigators can select 1,920 compounds for cherry-picking and follow-up studies. The Core provides 4 μL of a 5 mM stock solution for each cherry-picked compound. This is more than sufficient to carry out confirmation studies with the primary assay and additional follow-up studies that can include secondary assays and counter screens.
For follow up studies in RNAi screens, the HTS Core will provide the ordering information for commercial siRNA libraries and the investigator can order primary hits that are of interest. The HTS team can provide follow-up support (e.g., inventory management, assay execution, data analysis, etc.) for siRNA screens, if needed.
Advanced Project Support for Chemical Screens: Early Pre-Clinical Drug Discovery
One of the keys to our success as a collaborative facility has been the tight integration of HTS Core expertise with that in medicinal chemistry, ADME (Absorption, Distribution, Metabolism, and Excretion), and in vivo efficacy. Six faculty members in the Biochemistry Department enable lead optimization and development in pre-clinical drug discovery programs. Their efforts are supported and enhanced by the Pharmacology Core that carries out ADME, toxicity, and efficacy studies.
All data captured in each iteration of the lead optimization cycle is uploaded into the UT Southwestern Laboratory Information Management System (LIMS) to ensure the integrity of the data and facilitate data mining, reporting, and decision-making as leads are optimized and characterized. Drs. Anwu Zhou, Prema Latha Mallipeddi, and Hong Chen provide bio- and cheminformatic support for screening and serve as LIMS administrators. (For details on the LIMS, please see Core LIMS website.)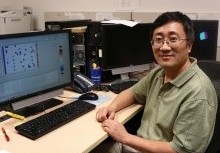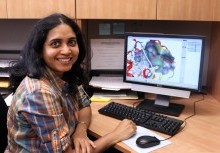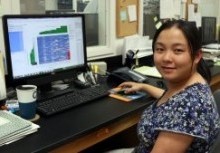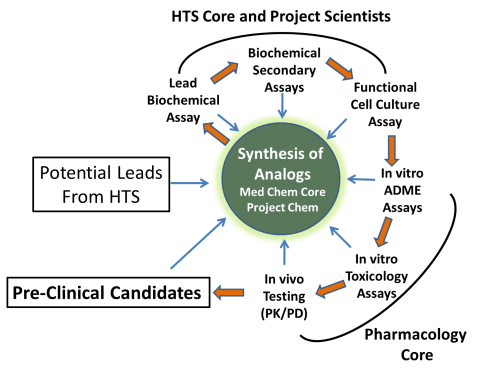 Figure 1. Hit-to-Lead Development Cycle. Roles of the HTS facility, Chemistry, and Pharmacology cores in their interactions with project biologists and chemists. The order and priority of the primary, secondary, and cell culture assays may change if the primary HTS assay is cell-based. (Adapted from MacCoss, M. and T.A. Baillie. Organic Chemistry in Drug Discovery. Science, 2004. 303(5665): p. 1810-1813.)