Exploring Post Meeting Recaps
October 23, 2017
Miranda Browning, MS, CCC-SLP, Jocelyn Delgado, MS, CCC-SLP, Hilary Green, MS, CCC-SLP, Clancy Piazza, MS, CCC-SLP, and Rebecca Smith, MS, CCC-SLP, Speech and Language Pathologists
During our October meeting, we had UT Southwestern Medical Center speech pathologists present and provide break-out sessions to our Exploring group. We learned that speech pathology is a very broad medically aligned field and they have the opportunity to specialize, or not, in a variety of settings and work with many types of disorders. As a speech language pathologist, you can be expected to tackle issues such as language processing disorders, speech disorders, feeding/swallowing disorders, and even "picky eaters."
Some common diagnoses that might require a speech language pathologist are stroke, traumatic brain injury, autism, intellectual disabilities, birth defects, and head/neck cancer. Speech language pathologists work in a variety of settings, such as inpatient/outpatient care, private practice, schools, skilled nursing facilities, home health, and acute care.
There is a high demand for speech language pathologists and assistants. The main difference between the two is that assistants can't evaluate, just treat. As a speech language pathologist, you are able to have a diverse clientele, variety of work settings, prospect of self-employment, and most importantly the ability to impact lives forever!
To become a speech language pathologist or assistant, you need to maintain a high GPA in college, log a lot of volunteer hours, complete your prerequisites, finish graduate school, and pass your board exams!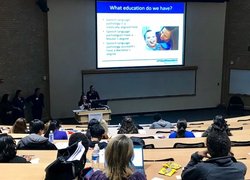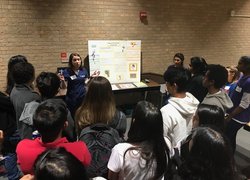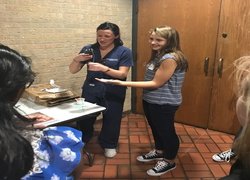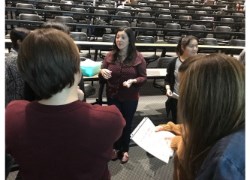 September 25, 2017
Shannon Bowling, PT, DPT and Clay Fredrickson, PT, DPT, CSCS, NSCA-CPT, Physical Therapists
We had a packed house at our first meeting, led by physical therapists Drs. Bowling and Fredrickson. Dr. Fredrickson gave a presentation on "What They Do," "Tools They Use," "Where They Work," "Whom They Work With," as well as educational/program requirements and job prospects/salary. After the presentation, they divided the students into three groups to engage in hands-on activities (balance exercises, stretching techniques, and use of equipment/aides). The students asked many questions and the meeting was a big success among the participants!