Why UT Southwestern
The Department of Radiology offers residency training in the following areas, which are accredited by the Accreditation Council for Graduate Medical Education (ACGME).
Accredited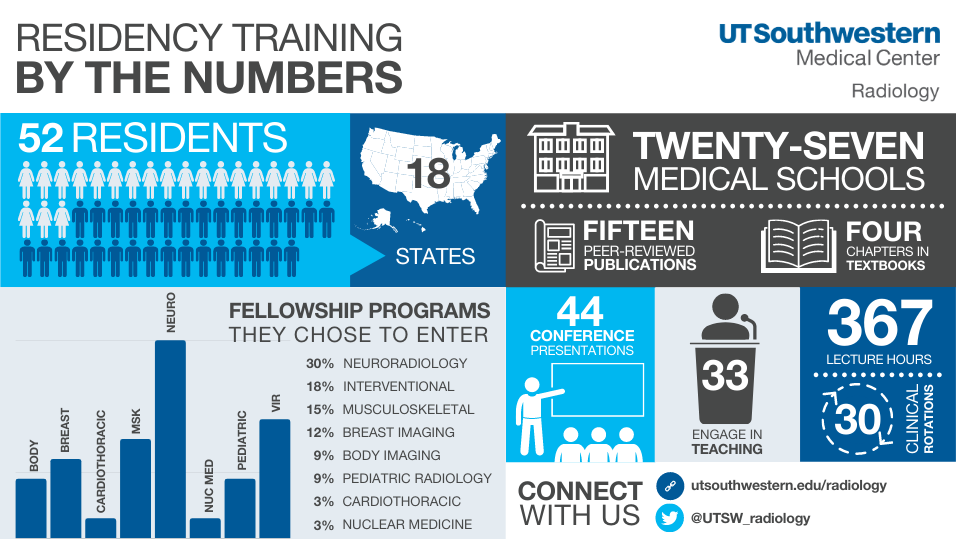 Clinical and Education Resources
Radiology residents at UT Southwestern have the resources to succeed in the practice of medicine and in the development of clinical knowledge and skills.
Imaging Equipment and Information Technology
State-of-the-art imaging resources across all facilities
PACS and voice recognition across all facilities
EPIC – Electronic medical records, work orders, and scheduling
MedHub – Residency management software suite
Other Resources
Clinical and study resource STATdx and RADPrimer
Departmental licensure for project and publication development software
UT Southwestern library with extensive electronic journal subscriptions
Resident library with book and computer access
Award-winning medical graphics group
Private study lounge
The Clinical Experience
The Department of Radiology performs nearly 1 million radiology exams across our diverse facilities annually. As a resident, you'll have experience at:
Research Resources
UT Southwestern is one of the nation's premier research centers. We offer radiology residents outstanding resources to conduct leading-edge research.
Advanced Imaging Research Center – Created in 2005 as a collaborative effort between UT Southwestern and other institutions in North Texas to further the efforts of imaging and translational research
Departmental statistician
Five whole-body MRI units: One 7T and four 3T
MRI hyperpolarization
Positron emission mammography
Research and Clinical Grand Rounds Lecture Series
Small animal MR, SPECT, PET, and CT
Recently installed 16.5MeV Cyclotron
Support from the Cancer Prevention and Research Institute of Texas (CPRIT) plus a Clinical and Translational Research Award from the NIH
Research Programs
BOLD and TOLD Contrast MRI
Bone metabolism
Contrast agent development
Diffusion tensor imaging (DTI) neonatal
Fetal MRI
High-intensity focused ultrasound (HIFU)
Hypoxic-ischemic injury
Imaging infection and inflammation
PET and radiochemistry
Prostate cancer
Quantitative MRI
Renal cancer MRI
How to Apply
Application Process
The program provides ten Diagnostic Radiology and three Clinician Scientist Track positions per program year.
Radiology residency applications should be submitted through the Electronic Residency Application Service (ERAS).
It is strongly recommended that you complete your application by October 15. In addition to the ERAS application, applicantions must include:
Brief personal statement
Curriculum vitae
Medical school transcript
Dean's letter
Three letters of recommendation from physicians who have knowledge of your clinical experience
For the 2023 ERAS® cycle, our program will be collecting and reviewing data from applicants supplemental ERAS applications. Completion of the standard MyERAS application is a requirement; completion of the supplemental ERAS application is optional.
In its second year of use, the supplemental ERAS application is designed to help applicants share more information about themselves and assist our program in finding applicants that fit our program's setting and mission. There is no cost to applicants and participation is optional.
The supplemental ERAS application provides:
geographic preferences (by division and by urban or rural setting;
information about an applicant's most meaningful experiences and other impactful life events, if applicable; and
program signals
The supplemental ERAS application will be delivered on a survey platform that is separate from the MyERAS application and must be completed between August 1 and September 16, 2022.
Learn more about the AAMC supplemental ERAS application.
The Department acknowledges every application submitted. Following completion of the application, the Residency Selection Committee evaluates and selects candidates to interview. For this application cycle, interviews are conducted in November and December.
Applications are evaluated for both personal and professional qualities with the goal of a diverse program filled with qualified candidates.
All positions begin July 1 following successful completion of a preliminary year of training.
All positions are filled through the Match unless special circumstances apply. The National Resident Matching Program (NRMP) program code for the four-year Diagnostic Radiology Program is 2835420A0, and the NRMP program code for the five-year Clinician-Scientist Track Program is 2835420A1.
Residency Interviews
Residency interviews are conducted on weekdays and include:
Pre-interview virtual social hour with current residents
20-minute interviews with four faculty members and/or residents
Virtual department tours
Passage of Medical Licensing Examinations Policy
UT Southwestern Graduate Medical Education
About Graduate Medical Education (GME)
Board Eligibility
To learn more about specific time limits for remaining eligible to be initially certified by the ABR and about maintaining board-eligible status, click here.
International Medical Graduates
International medical graduate applications should be submitted through the Dean's office at your medical school or through Educational Commission for Foreign Medical Graduates (ECFMG). For the UT Southwestern clinical visa policy UT Southwestern Clinical Training Visas.