Why UT Southwestern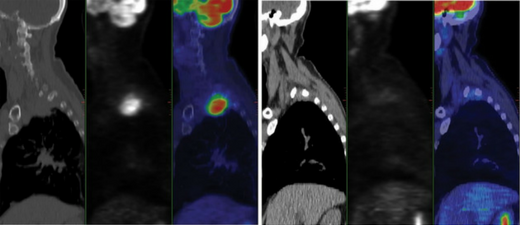 UT Southwestern Medical Center is one of the premier academic medical centers in the nation, with a distinguished faculty that has received six Nobel prizes, and that includes 24 members of the National Academy of Sciences, 16 members of the National Academy of Medicine, and 13 Howard Hughes Medical Institute investigators. UT Southwestern is the No. 1 hospital in Dallas-Fort Worth, second in Texas, and among the top 50 programs nationally in six clinical specialty areas, according to U.S. News & World Report.
The Nuclear Medicine Residency program, established in 1986, is fully accredited by the Accreditation Council for Graduate Medical Education (ACGME). This residency program prepares trainees for certification by the American Board of Nuclear Medicine and the Nuclear Radiology CAQ (certified added qualification) of the American Board of Radiology.
Our Mission
The mission of the Nuclear Medicine Residency program is to provide outstanding educational opportunities to residents through innovative teaching, clinical training, and exposure to research, quality, and leadership initiatives, enabling our trainees to become outstanding providers and leaders in the field of nuclear medicine and molecular imaging.
Program Aims
Educate physicians aspiring to specialize in world-class diagnostic nuclear medicine
Train physicians for expertise in current and emerging innovative treatment of patients using therapeutic nuclear medicine
Provide training opportunities in the setting of a large academic medical center with three tertiary care hospitals that serve a diverse population of adult and pediatric patients
Foster research participation through exposure to cutting-edge technologies
Four residency positions are available and consist of a one-year program for residents who have completed diagnostic radiology residency training, a two-year program for residents who have completed internal medicine residency training, and a three-year program for those who have completed an ACGME-accredited preliminary year without prior residency training.
The program is based at Parkland Health & Hospital System, with additional clinical service at UT Southwestern Medical Center, Clements University Hospital, the PET Center at Clements Advanced Imaging Center, Children's Health℠, and the Dallas VA Medical Center, providing 13 rotations a year.
Program Highlights

Residents rotate through Parkland Memorial Hospital (870 beds), Clements University Hospital (460 beds), the PET/CT Center and Children's Health Dallas (487 beds)
A high-volume clinical experience offers immense learning. More than 16,000 nuclear medicine studies are performed annually, providing clinical services that include general nuclear medicine, nuclear cardiology, oncologic PET/CT, cardiac PET/CT, SPECT/CT and therapies with 131I, 223Ra and 177Lu DOTATAE.
Residency training is provided by seven nuclear medicine faculty, with three faculty dual trained in nuclear medicine (ABNM) and diagnostic radiology (ABR), two faculty in nuclear medicine (ABNM), and one faculty in diagnostic radiology (ABR)
Additional faculty include five nuclear cardiologists, a pediatric radiologist, and a clinical physicist
Beyond the clinical experience
The Nuclear Medicine Division hosts the International Atomic Energy Agency/United Nations Fellows Program in Nuclear Medicine for international leaders in the field, integrated diagnostic radiology and nuclear medicine residency program (selection through the Diagnostic Radiology Residency program), and a PET/CT fellowship program which is accredited by the Texas Medical Board.
Call Duty
Because call duty is integral to becoming an independent nuclear medicine physician, residents provide short-term coverage for evenings, and weekend coverage.
Facilities and Equipment
Clinical equipment at Clements University Hospital and Parkland Health & Hospital System include:
Two clinical PET/CTs and one research PET/CT

Nine SPECT/CTs

Two dedicated cardiac SPECT cameras
Conferences
Nuclear Medicine Residency conferences are held every Monday and Thursday throughout the year and include didactic lectures, case-based presentations, clinico-pathological conferences, and journal clubs. In addition, residents attend and present at monthly clinical protocol meetings, research meetings (in conjunction with the cyclotron program), cyclotron program journal clubs, and quarterly quality assurance presentations. Residents also participate and present in 10 different multidisciplinary conferences, in combination with medicine, surgery, medical oncology, surgical oncology, radiation oncology, pathology, and other clinical subspecialties.
Radiology Clinical Grand Rounds and Research Grand Rounds are held monthly with prestigious visiting and local professors, offering the opportunity to meet and learn from leading national authorities on a variety of topics.
Research Opportunities
Intellectual vibrancy and technological innovation are core values of the Nuclear Medicine Division and the Department of Radiology, which are developed through research and collaborative efforts of the clinical faculty, medical physics, and research faculty. Department and Division faculty publish in leading imaging journals. Dedicated research rotations are included in the Nuclear Medicine Residency program, and are very highly encouraged.
Residents are required to engage in scholarly activity as part of their training in and ACGME-accredited program. Results must be published or presented at institutional, local, regional, or national meetings. Residents also complete a quality improvement project annually.
Pilot project funds and dedicated research time are provided to those who wish to pursue an academic career.
The Nuclear Medicine Division has state-of-the-art instrumentation with PET/CT, SPECT/CT, GMP cyclotron facility, image reconstruction and analytical core laboratories for translational molecular imaging and clinical trials. We have multiple FDA-approved INDs for novel radiotracers for translational research, as well as NCI-sponsored multicenter clinical trials. In addition, we have access to animal imaging facilities with animal SPECT/CT and animal PET/CT.
The Cyclotron & Radiochemistry Program, in collaboration with researchers throughout campus, can facilitate research using radiotracers labeled with 18F, 15O, 13N and 11C, macromolecules tagged with metal radioisotopes, such as 64Cu, 89Zr, 55Co. Residents can participate in research projects in neurodegeneration, oncology, cardiology, metabolism, immunology and innovative technologies (nanomedicine, theranostics).
Salaries and Benefits
Hospital stipends are set annually and are competitive nationally with those of other teaching programs. The amount, shown in the chart below, depends on the year of residency training.
Low-cost hospitalization and dental insurance is available to contracted house staff, as well as a group life insurance plan.
Medical malpractice insurance is provided for Radiology house staff by the Department through the University of Texas System group plan.
Each resident receives 25 days of PTO annually. PTO does not roll over from year to year.
Subsidized resident parking is available.
Salary
PGY 1
$62,545.60
PGY 2
$65,540.80
PGY 3
$68,016.00
PGY 4
$71,552.00
PGY 5
$74,256.00
PGY 6
$77,646.40
PGY 7
$80,558.40
PGY 8
$84,572.80
Parkland Contract
Application Process
Nuclear Medicine Residency applications should be submitted through the Electronic Residency Application Service (ERAS).
It is strongly recommended that you complete your application by November 15. In addition to the ERAS application, applicants must include:
Brief personal statement
Curriculum vitae
Medical school transcript
Dean's letter
Three letters of recommendation from physicians who have knowledge of your clinical experience
The Department acknowledges every application submitted. Interviews are conducted each year from November through January.
Applications are evaluated for both personal and professional qualities with the goal of a diverse program filled with qualified candidates.
All positions begin July 1 following successful completion of a preliminary year of training.
International Medical Graduates
For questions regarding International Medical Graduates, please visit our fellowships page.