Yi-Ting Tzen, Ph.D., Wound Research
Research Summary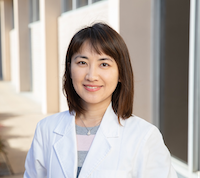 Dr. Tzen's research theme revolves around pressure injury and diabetic foot ulcer risk identification and prevention. Dr. Tzen utilizes non-invasive skin blood flow measurement to quantify severity of tissue ischemia and microvascular dysfunction. She investigated effectiveness of local cooling and alternating pressure on enhancing tissue tolerance toward pressure in people with spinal cord injury, and changes in microvascular function in trauma patients with spinal cord injury and people with type 2 diabetes. She currently expanded her research to include energy metabolism as a modifiable predictor for chronic wound formation.
Research Interests
Pressure Injury
Diabetic Foot Ulcer
Spinal Cord Injury
Laser Doppler flowmetry
Signal processing
Collaborators
Orthopaedic Surgery
Dane Wukich, M.D.
Wei-Han Tan, M.D.
Katherine Raspovic, D.P.M.
Selected Publications
Tzen YT, Brienza DM, Karg P (2019). Implementing local cooling to increase skin tolerance to ischemia during normal seating in people with spinal cord injury. Journal of Tissue Viability, 28,4,173-8.
Tzen YT, Purohit R, Mei S, Tan WH (2020). Assessing skin blood flow and interface pressure in patients with spinal cord injury provided an alternating pressure overlay: a cross-sectional study. Wound Manag Prev, 66,3,16-28,