Nneka L. Ifejika, M.D., Stroke Rehabilitation Research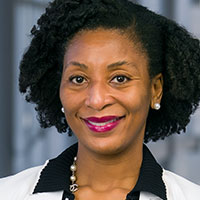 The Stroke Rehabilitation Research program at UTSW has three components:
Optimization of Stroke Outcomes during Acute Hospitalization (via the Stroke Continuum of Care Committee)
The Stroke Continuum of Care group convenes monthly. We have multiple projects in the works (including a COVID-19 protocol), and keep a research chart.
Using Machine Learning to Predict Post - Acute Rehabilitation Process Flow
Our team won the Health Impact and our work is ongoing; we are adding additional data before applying for grant funding. Learn more about the project.
Prevention of Acute Care Readmissions using Structured Educational Protocols (Resident-led Research)
Our two resident PIs, Annie Abraham and Audrie Chavez, both won Shark Tank funding. Elisabeth Aleman RN coordinates the on-site elements and is an important part of the team.