Diversity & Inclusion in Biochemistry Department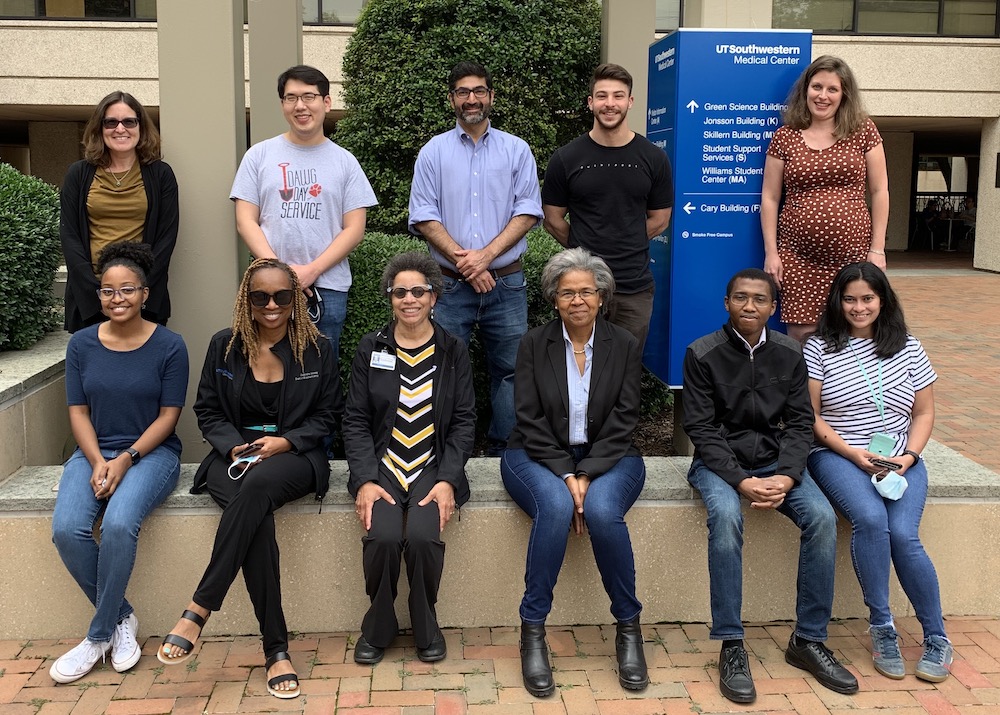 Diversity Mission Statement
We promote a culture in the Department of Biochemistry at UT Southwestern where diversity, equity, and inclusion are respected. Our Department wishes to foster an atmosphere where science is practiced at the highest level and people from diverse backgrounds excel because they feel that they are welcome and safe, and their ideas are credited and valued. This inclusive environment of respect for people of all backgrounds, experiences, and perspectives will advance the scientific and educational goals of the Department.
Priorities
Recruitment, mentorship and retention of a diverse faculty, students, postdocs, and staff. We strive to include, at all levels: indigenous Americans, people of color including underrepresented groups and new immigrant populations, first-generation students, people with apparent or non-apparent disabilities, people of various gender, sexual identities, and expressions, people of various religions, and people with more than one of the above identities.
Furtherance of an affirming and equitable climate for people from those diverse backgrounds.
UTSW Resources Related to Diversity, Equity, and Inclusion
For reporting concerns related to discrimination and racism

For Diversity & Inclusion Educational Resources

For joining an Employee Business Resource Group

For the Institutional Diversity Website with resources
Campus Partners
Academic Articles on Diversity in STEM
What Comes Next? Simple Practices to Improve Diversity in Science
Olugbeminiyi O. Fadeyi, Marie C. Heffern, Shanina Sanders Johnson, and Steven D. Townsend
ACS Central Science 2020, 6, 1231-1240
DOI: 10.1021/acscentsci.0c00905
For Black Scientists, the Sorrow Is Also Personal
Kafui Dzirasa
Cell 2020, 182, 263-264
DOI: 10.1016/j.cell.2020.06.028
The Diversity–Innovation Paradox in Science
Bas Hofstra, Vivek V. Kulkarni, Sebastian Munoz-Najar Galvez, Bryan He, Dan Jurafsky,
and Daniel A. McFarland
PNAS 2020, 117, 9284-9291
DOI: 10.1073/pnas.1915378117
Organic Chemistry: A Call to Action for Diversity and Inclusion
Sarah E. Reisman, Richmond Sarpong, Matthew S. Sigman, and Tehshik P. Yoon
J. Org. Chem. 2020, 85, 16, 10287-10292
DOI: 10.1021/acs.joc.0c01607
Equity and Inclusion in the Chemical Sciences Requires Actions not Just Words
Melanie S. Sanford
ACS Cent. Sci. 2020, 6, 7, 1010-1011
DOI: 10.1021/acscentsci.0c00784
Organic Chemistry: A Retrosynthetic Approach to a Diverse Field
Laura K. G. Ackerman-Biegasiewicz, Daniela M. Arias-Rotondo, Kyle F. Biegasiewicz, Elizabeth Elacqua, Matthew R. Golder, Laure V. Kayser, Jessica R. Lamb, Christine M. Le, Nathan A. Romero, Sidney M. Wilkerson-Hill, and Dwight A. Williams
ACS Cent. Sci. 2020, 6, 11, 1845-1850
DOI: 10.1021/acscentsci.0c01138