Faculty Diversity & Development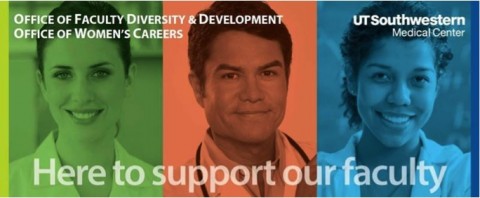 Overview
Established by Byron Cryer, M.D., the Office of Faculty Diversity & Development (FDD) launched in January 2011 as the result of one of President Daniel K. Podolsky's strategic initiatives for UT Southwestern Medical Center. The Office of Women's Careers (OWC), led by Helen Yin, Ph.D., was founded in April 2012 as a division of the Office of Faculty Diversity & Development.
FDD and OWC are responsible for enabling department chairs, center directors, and other academic leaders to recruit and retain the very best faculty to campus, while also implementing strategies to promote the careers of women and underrepresented minorities.
Mission
To facilitate the recruitment, development, and retention of diverse and outstanding faculty and trainees at UT Southwestern.
The primary objectives are to:
Promote faculty diversity
Broaden faculty research funding opportunities
Assist in the promotion and tenure process
Provide career development opportunities
Offer mentoring and one-on-one career guidance
The Office of Faculty Diversity & Development is housed on the fourth floor of the McDermott Administration Building (B building, South Campus). See Campus Map.