Biological Chemistry Ph.D. Program
About the Biological Chemistry Program
The Biological Chemistry Graduate Program provides state-of-the-art training in biochemistry, synthetic organic chemistry, and molecular biology. The courses are designed to prepare students to make significant research contributions at the interface of chemistry and biology. Students benefit from working collaboratively across disciplines to solve complex health challenges – a hallmark of a UT Southwestern education.
The Biological Chemistry Graduate Program is designed to train students in the theory and techniques related to the molecular mechanisms that control cellular activities. Faculty members are actively engaged in research topics such as gene regulation, RNA-mediated processes, enzymology, protein interactions, cellular metabolism, and synthetic organic chemistry.
Students interested in joining the Biological Chemistry Ph.D. program must apply to the Basic Biomedical Sciences umbrella program. First-year students complete a core curriculum that includes a core course, three or four laboratory rotations, and training in the responsible conduct of research. Students who perform satisfactorily in the first semester core course qualify to enter the Biological Chemistry Graduate Program.
Training
Training is provided through a variety of experiences:
Works-In-Progress
Each student presents a seminar on his/her own research annually and is required to attend this seminar series on a weekly basis.
Journal Clubs
All students are required to participate in a weekly faculty-mentored Journal Club that covers a broad range of topics in Biochemistry and related fields.
A Message from the Program Chair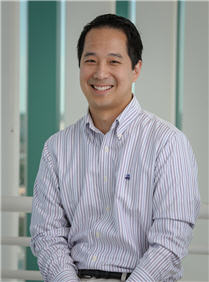 Benjamin P. Tu, Ph.D.
Professor, Biochemistry
Graduate School: University of California-San Francisco, 2003
Postdoctoral Training: UT Southwestern Medical Center
"The focus of the BC program is centered on the proteins and small molecules that control cell and organismal function, with an emphasis on in vivo significance and discovery-based approaches.
"It is our goal to provide a rigorous, stimulating, and enjoyable training experience for students in preparation for the next phases of their careers."