Vascular Surgery Simulation
Rutvi Patel, M.D.
Distinction in Medical Education
Primary Project Description
My primary scholarly project for the Medical Education Track was developing a vascular surgery simulation curriculum for general surgery residents at UT Southwestern. In the last few decades, there has been a paradigm shift in teaching surgical skills, with early psychomotor learning moving out of the operating room into a simulated practice environment. In addition, the specialized nature of vascular surgery and its complex procedures make it a challenging rotation for junior surgical residents. To this effect, my primary aim was creation of a standardized, structured, cost and time-effective simulation curriculum with the following learning goals:
To familiarize junior general surgery residents with vascular instruments, basic steps/technique of an end-to-side vascular anastomosis, and solidify foundational open surgical skills.
Help junior residents feel more prepared and confident in the OR during their vascular surgery rotations, and teach them how to be effective first-assistants in vascular procedures.
Move the early learning curve for open vascular procedures out of the operating room, so that faculty can entrust junior residents with more autonomy in the operating room.
The project consisted of developing learning goals/objectives, constructing low-fidelity simulation models for hands-on practice, creating written and video instructions for standardized teaching (in collaboration with vascular surgery faculty), and finding performance metrics for objective evaluation of resident progress. This project resulted in a new standardized vascular surgery simulation curriculum which has been piloted and subsequently incorporated into the general surgery resident simulation curriculum at UT Southwestern Medical Center.
Reflection of the Project/Distinction in Medical Education Track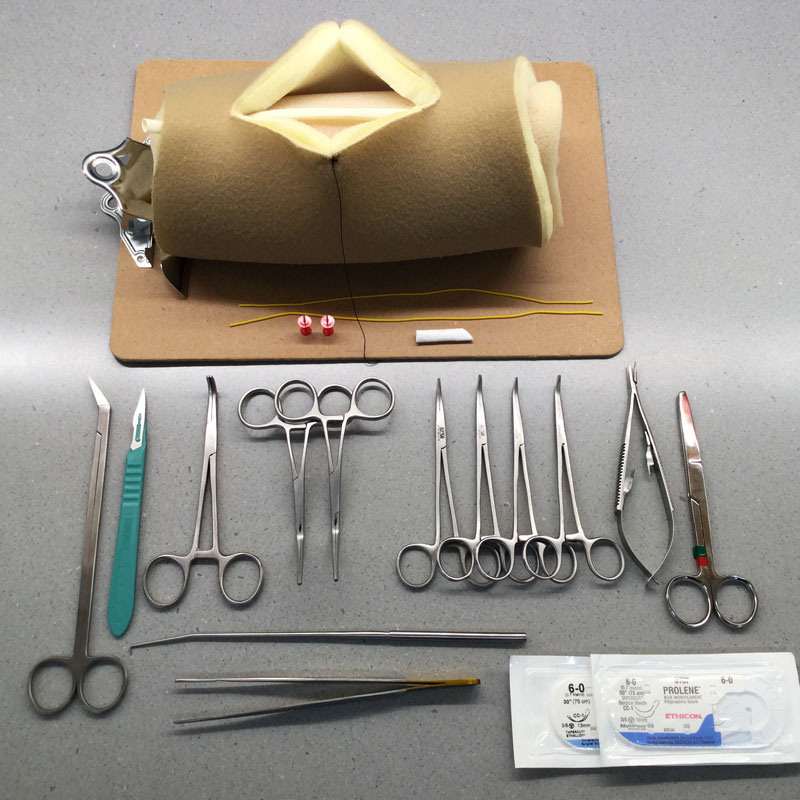 I am not only elated that my project was successfully integrated into the resident curriculum, but also delighted that this endeavor effectively combined my prior experiences and hobbies with future interests: teaching, arts and surgery. This project presented an avenue for gaining practical experience in medical education while engaging my creative/artistic side by constructing low-fidelity simulation models, creating hand-drawn visual illustrations and practicing video-editing skills. Moreover, I gained invaluable mentorship from faculty and residents involved in medical/surgical education across various specialties.
The Medical Education Track at UTSW served as a bridge, connecting my prior experiences and passion for teaching to my future goal of being a clinician educator. This track not only solidified my knowledge of medical education principles, curriculum design/development, evaluations and assessments etc., but also presented ample opportunities to spearhead projects, obtain direct teaching experiences, develop a teaching portfolio and collaborate with faculty to gain more insight into the inner workings of academic medicine.
The success of this track is attributable to its faculty (such as Track Leader Dr. Dorothy Sendelbach), who are 100% hands-on and always available for guidance, support and troubleshooting. I appreciate their mentorship and commitment to customizing each students' experience toward their future goals and desired specialty. This track would be a highly meaningful, productive and rewarding experience for any student interested in medical or surgical education!
– Rutvi Patel, M.D., Distinction in Medical Education