About Us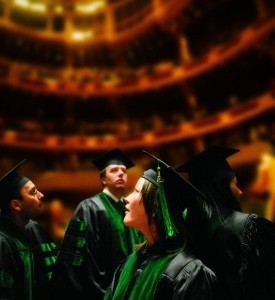 UT Southwestern Medical School is one of four medical schools in the University of Texas System and one of the nation's top medical schools. UT Southwestern admits approximately 230 students each year, and admission is highly competitive. We're looking for the best and the brightest, the most intellectually curious, and the most caring and compassionate future physicians.
A Rich History … An Enduring Legacy
Since our founding in 1943, we've graduated more than 11,000 physicians. This year alone, the Medical School will train about 950 medical students and 1,300 clinical residents.
Our graduates have distinguished themselves at top medical facilities around the world, advancing the cause of medicine, furthering their careers, and adding luster to a UT Southwestern degree. In fact, one Medical School graduate won a Nobel Prize.
Location, Location, Location
The Medical School is located in the 387-acre Southwestern Medical District, just minutes from downtown Dallas. The medical district is home to two UT Southwestern University Hospitals, William P. Clements Jr. University Hospital and Zale Lipshy University Hospital; as well as Parkland Hospital – one of the nation's top public hospitals – and Children's Medical Center, a national leader in pediatric care. All are used to train Medical School students.
Leaders in Research
Along with educating the physicians of tomorrow to care for future generations of patients, UT Southwestern is a leading research facility ($427.3 million in annual funding). We are home to some of the country's foremost medical minds. UT Southwestern's faculty includes more members of the prestigious National Academy of Sciences than all other academic medical centers in Texas combined.