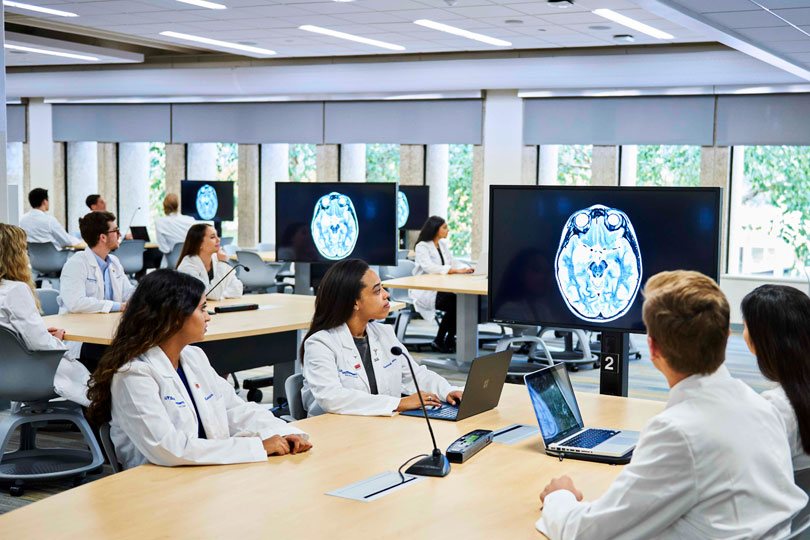 UT Southwestern Medical School uses an innovative curriculum and early clinical experiences in some of the nation's most dynamic health care facilities to train the physicians of tomorrow. Each year, we admit approximately 230 students to begin the next phase of their medical career alongside an intellectually curious class of learners.
At UT Southwestern Medical School, learners' skills are developed through an emphasis on student mentorship by renowned faculty, access to diverse educational opportunities, and student-centered learning communities. Since our founding in 1943, UT Southwestern has been committed to developing the next generation of well-rounded leaders in clinical care and research.
Few medical schools nationally – and none in the Southwest – can match the overall educational excellence UT Southwestern offers in its classrooms, laboratories, clinics, and hospitals at an unparalleled cost of tuition. Our promise to students is to provide them with:
High-quality, well-rounded medical education
Elite training alongside a supportive campus community
Extremely affordable tuition
A Rich History … An Enduring Legacy
Since our early beginnings with Southwestern Medical Foundation, UT Southwestern Medical School has seen enormous growth and expansion, which is what uniquely positions our medical center to offer students such richly diverse training opportunities. Each year, the Medical School will train roughly 950 medical students and 1,300 clinical residents in facilities of more than 2,000 beds to care for patients of varied cultural backgrounds, experiences, and access to care at our five affiliated hospitals:
Students can expect to spend 80 percent of their clinical training at Parkland Hospital, one of the nation's top public hospitals, and to have access to training opportunities at Children's Medical Center, a national leader in pediatric care. UT Southwestern continues to invest in developing one of the leading academic medical centers in the nation by expanding our clinical services to better meet the needs of our evolving patient population within and beyond the Dallas community. Not only is UT Southwestern a leading research facility ($554.4 million in annual funding), in December 2014 we opened the $800 million state-of-the-art William P. Clements Jr. University Hospital. The 12-story, 751-bed facility is an essential component of UT Southwestern's commitment to our patients and students alike.
Leaders in the Clinic
Since our founding in 1943, we've graduated more than 12,000 physicians. Our graduates have distinguished themselves at top medical facilities around the world, advancing the cause of medicine, developing themselves as physician leaders, and creating a pathway through medicine that aligns with their values.
Leaders in the Lab
Along with educating the physicians of tomorrow to care for future generations of patients, UT Southwestern is a leading research facility ($554.4 million in annual funding). We are home to some of the country's foremost medical minds. UT Southwestern's faculty includes more members of the prestigious National Academy of Sciences than all other academic medical centers in Texas combined.
LCME Accreditation
The University of Texas Southwestern Medical School is fully accredited by the Liaison Committee on Medical Education (LCME) of the American Association of Medical Colleges and the American Medical Association.