Our Curriculum: Your Foundation
We strive to develop clinicians and physician-scientists, whose knowledge, compassion, and leadership will serve as examples of excellence to peers and patients alike.
In order to continue advancing with the evolving medical landscape, we recently revised our educational approaches to maintain our academic excellence.
The new curriculum builds on the excellent scientific and clinical foundations at UT Southwestern to provide students with an educational experience that fully integrates basic sciences and clinical disciplines throughout the four-year experience.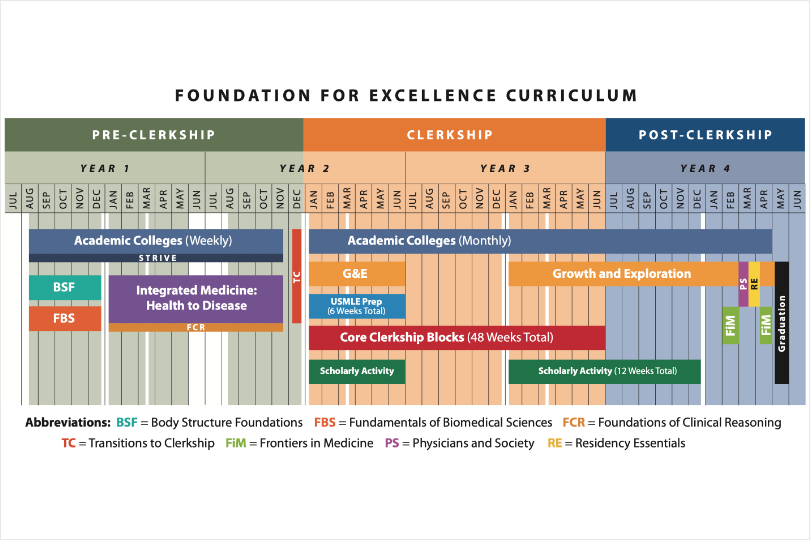 The new curriculum emphasizes our institutional commitment to:
Expanding individualized student learning pathways: We understand that each student's chosen path in medicine looks different. To accommodate each student's vision for their educational pathway, we have expanded opportunities for added activities that would lead to an M.D. degree with Distinction as well as combined degrees.
Providing students with specialized faculty mentorship: An integrated and extended Academic Colleges program allows students to engage in specialized faculty mentorship and peer-to-peer learning throughout their time in medical school.
Enhancing opportunities for active learning: A Frontiers in Medicine course following the clerkships provides novel perspectives on the importance of biomedical sciences as a foundation for clinical medicine. Additionally, we have added a required 12-week scholarly activity that all students will complete by producing a product for evaluation.
Treating each student as a unique member of a learning community: Teaching activities in all years involve lectures, faculty and peer mentorship, small-group sessions, team-based learning, simulations, laboratories, and clinical activities.
Eliminating redundancies and enriching topics in the pre-clerkship period: Clerkships are now able to start in January of the second year, allowing students more opportunities to explore different clinical areas before making decisions about residency training.
Clinical Training Facilities