Welcome to Your Future in Medicine
Congratulations! You have been offered admission to UT Southwestern Medical School. Our Admissions Committee took into account your academic and personal qualities and accomplishments and considers you a valuable, contributing member of the Class of 2027 and an excellent future physician.
Welcome to our world. Come add to its richness. UT Southwestern Medical Center in Dallas has been preparing the physicians of tomorrow and building foundations for successful careers in medicine for 75 years. We consistently rank among the best programs in the country according to U.S. News & World Report.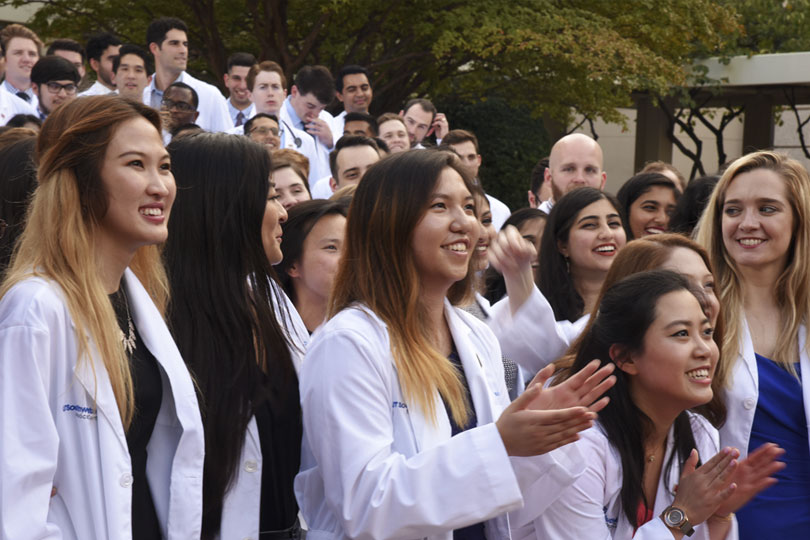 Consider our advantages:
Excellent clinical training
Dynamic new curriculum, rich in clinical experiences and electives from the first year on
Unsurpassed training facilities that include two University Hospitals, one of the nation's busiest public hospitals, and one of the nation's largest children's hospitals. In 2022, U.S. News & World Report ranked UT Southwestern the best hospital in Dallas and second in Texas for the sixth year in a row.
A new 49,000-square-foot Simulation Center – one of the largest of its kind in the nation
Exceptional preparation for top residency programs
Our graduates routinely secure residencies in top-rated national programs across the United States, typically in more than 20 specialty areas.
Our students consistently have match rates well above the national average and score higher than the national average for both Step 1 and Step 2 of the United States Medical Licensing Examination.
Each year, more than 50 of our students choose to stay at UT Southwestern and enter our affiliated residency programs, which are ranked among the best in the nation.
Abundant research opportunities
More than 5,800 research projects, fueled by more than $450 million in funding
Ample opportunities to participate in research, including a Scholarly Activity period with multiple research tracks available and more than 450 labs on campus
Outstanding faculty
More National Academy of Sciences members (23) and Howard Hughes Medical Institute Investigators (13) on faculty than all other medical institutions in Texas combined
Six Nobel Prize recipients
UT Southwestern Medical School is located in the heart of one of the fastest-growing areas of the country.
The 68-acre Dallas Arts District, located close to the UT Southwestern campus, is the largest contiguous urban arts district in the nation.
Dallas has more restaurants per capita than New York City.