Prospective medical students with an interest in combining population health with clinical medicine to become successful physician/public health practitioners should consider pursuing the Doctor of Medicine/Master of Public Health (M.D./M.P.H.) dual degree at UT Southwestern Medical School and UT Southwestern Peter O'Donnell Jr. School of Public Health.
The M.D./M.P.H. dual degree program will give you the opportunity to gain strong methodological skills as an M.D. public health leader in:
Health promotion
Health economics and policy
Data sciences
Epidemiology
Biostatistics
Health systems science
Implementation science
A dual M.D./M.P.H. degree gives graduates the tools to address social determinants of health, have an impact on large populations through public health policies, and build a career researching public health issues that affect patients.
About the Program
Students can earn the dual degree in four years. The program is an integrated degree plan that combines traditional M.D. training with the M.P.H. curriculum and shared credits between the Medical School and the School of Public Health.
Students will work closely with faculty, staff, and administrators from both schools to develop an individualized degree plan.
The four-year degree plan is designed as a complementary program. M.P.H. coursework is concentrated in the two summers immediately preceding and following the first year of medical school to provide context on public health data, systems, and populations. The emphasis during the fall and spring of the first year is on the Medical School curriculum. See below for the Example Completion Plan.
Admissions Process
Students seeking admissions must meet the application requirements for both UT Southwestern Medical School and the M.P.H Program at the Peter O'Donnell Jr. School of Public Health.
Applicants must apply and receive admittance to the M.D. program at UT Southwestern to be eligible for the M.P.H. Program. Start your application though our online portal, but DO NOT submit your application until you have received your acceptance into the UT Southwestern M.D. Program. Upon admittance to the M.D. program, we will send prospective students more information about the dual degree application process.
Students must complete a personal statement.
Your personal statement is a chance for us to get to know you and your academic and professional goals as a potential student in our program. In 1,000 words or less, please: 
State your reasons for pursuing an M.P.H.
Clearly and concisely, describe your relevant public health experience. 
Indicate why you feel UT Southwestern might be a good fit for you. 
Practicum Requirement / Applied Practice Experience (APE)
All M.P.H. students will complete three credit hours of a community service-learning experience toward their degree.
Students will work with their advisors to connect with UT Southwestern mentors and community partners for experiences focused on community engagement and practice.
Integrative Learning Experience (ILE)
The ILE represents the culmination of the M.P.H. program in which students demonstrate mastery of the concepts taught throughout the entire program.
Students will work with their advisors to choose foundational and concentration-specific aims that align with their professional and educational goals.
The ILE can take many forms, including:
Practice-based project
Essay-based comprehensive exam
Capstone course
Integrative seminar
All students will produce a scholarly paper as part of the ILE requirement.
Residency Specialties
Here are some of the specialties that our students pursue:
Anesthesiology
Emergency Medicine
Family Medicine
General Surgery
Internal Medicine
Obstetrics and Gynecology
Pediatrics
Plastic Surgery
Psychiatry
Past Residency Locations
Here are some programs where our graduates have matched:
University of Arkansas for Medical Sciences
UCSF Benioff Children's Hospital Oakland
University of California Davis Medical Center
University of California San Francisco School of Medicine
University of Kentucky College of Medicine
Johns Hopkins University School of Medicine
Beth Israel Deaconess Medical Center – Harvard Medical School
Tufts Medical Center
Albany Medical Center
Mount Sinai Hospital
Renaissance School of Medicine at Stony Brook University
Oregon Health & Science University
Baylor Scott & White
Baylor University Medical Center, Dallas
Children's Health Dallas
The University of Texas at Austin Dell Medical School
The University of Texas Medical Branch at Galveston
UT Southwestern Medical Center
UT Health San Antonio
Eastern Virginia Medical School
University of Washington Affiliated Hospitals
University of Washington School of Medicine
Curriculum
The M.P.H. program – 45 credits total:
Core courses (18 credits)
Shared credits from UT Southwestern Medical School (12 credits)
Advanced public health coursework (9 credits)
Integrative learning experience (3 credits)
Practicum (3 credits)
Example Completion Plan
Semester
M.D. Curriculum
M.P.H. Curriculum
Summer Prior to Medical School
10 hours of M.P.H. core coursework:
Introduction to Programming and Software Packages
Introduction to Public Health Data
Introduction to Analysis of Public Health Data
Introduction to Health Systems Science
Year 1
Fall
MS1 Curriculum
Seminar in Public Health Topics (0 credit hours)
Spring
MS1 Curriculum
2 hours of M.P.H. coursework:
Introduction to Leadership and Management
Summer
12 hours of M.P.H. coursework:
Practicum
Introduction to Health Promotion, Structure, and Agency
Elective Courses
Year 2
Fall
MS2 curriculum
3 hours of M.P.H. coursework
Social Determinants of Health
Spring
MS2 curriculum
No M.P.H coursework
Year 3
Fall
MS3 curriculum
3 hours of elective M.P.H. coursework
(to be taken anytime during Year 3 or 4)
Spring
MS3 curriculum
No M.P.H. coursework
Year 4
Fall
MS4 curriculum
3 hours of M.P.H. Capstone or Thesis
(taken upon completion of coursework during Year 3 or 4)
Spring
MS4 curriculum
No M.P.H. coursework
Students may choose to leave the dual degree program to take a leave of absence or to extend the program to five years.
Financial Aid
Students should file the Free Application for Federal Student Aid (FAFSA) document online beginning as early as October in the year prior to beginning their medical education. Students should indicate on the FAFSA that results must be sent to both schools: UT Southwestern Medical Center (school code 010019). For more information, see the Office of Financial Aid.
M.P.H. Course Delivery
M.P.H. coursework is offered in a hybrid format that is compatible with the M.D. curriculum. During first summer term, courses will be offered in an online format to allow for maximum flexibility. The remainder of the degree plan will include both hybrid and in-person learning experiences.
Contact Us
Rohit Das, M.D., M.P.H.
Associate Professor of Neurology
Program Director, MD/MPH Dual Degree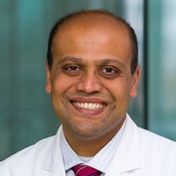 Trish Perl, M.D., M.Sc.
Professor of Internal Medicine
Liaison for Integration of Medical & Public Health Education