Student Profile: Tori Knox-Rice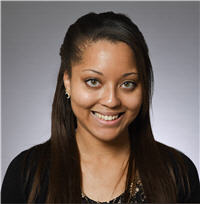 Thinking back to the start of my experience in clinical psychology, it is clear that my true passion for the field began with my decision to pursue an internship in the human services concentration at my undergraduate institution, Quinnipiac University. I welcomed the opportunity due to its emphasis on hands-on experience and genuine human interactions. I chose an internship through a hospice service, which allowed me to spend time with an ill and aging population as they neared the end of their lives. The experience of working on an interdisciplinary team and learning what it meant to be a clinician in a medical field helped me decide that the field of end-of-life care is where I belong. I received my bachelor's in psychology with a minor in gerontology; a reflection of my desire to understand human behavior coupled with the intention of serving the aging population.
Deciding to come to UT Southwestern was heavily based on the program's emphasis on clinical care and an undeniably vast number of opportunities. Being in a hospital system opened the door to an abundance of health-related possibilities, and has been an incredible asset to my training experience. The flexibility of the program allowed me to forge my own clinical opportunity through Parkland Palliative Care. This training was self-designed as an opportunity to gain and enhance my knowledge of palliative care services and allowed me to explore an area of interest related to the delivery of palliative services through an interdisciplinary palliative care team; I would later identify Parkland Palliative Care as my primary research site.
I completed my second-year practicum training at Metrocare Services where I was trained in assessment evaluations with children, adults, and families. Although not in my identified area of interest, it was an opportunity that helped shape me into a well-rounded clinician. Recently, I completed my first internship rotation at Moncrief Cancer Institute where I provided outpatient psychotherapy services through Moncrief's Survivorship program. During this rotation, I was able to expand my skills in evidence-based psychotherapies. This served as a chance to utilize Cognitive Behavioral Therapy in individuals and groups, but also build experience with Acceptance Commitment Therapy in those living with terminal diagnoses. This site also provided the opportunity to take part in comprehensive measurement based care with the VitalSign6 program; a screening tool for suicidality of clinic patients and mental health navigation services via biweekly phone evaluations.
During the 2017-2018 academic year, I will complete my second internship rotation at Parkland Consult Liaison, a multidisciplinary setting that offers psychotherapy services for inpatients through consults with a psychiatry team. Here I hope to continue refining my skills in evidence-based psychotherapy, brief assessment, intervention, and efficient communication with other medical providers in an integrated care setting. Through Southwestern Psychotherapy Clinic, I will serve as a member of the DBT skills groups. This group was developed to provide skills training to individuals within the community with a focus on Mindfulness, Interpersonal Effectiveness, Distress Tolerance, and Emotion Regulation.
For my dissertation, I will be investigating components of health literacy in an African American oncology population, with a particular emphasis on positive spiritual coping's impact on the completion of Advance Directives. As part of a pilot study with Dr. Ramona Rhodes, we hope to contribute to the literature by identifying barriers to completion of Advance Directives and evaluate the utility of a culturally tailored educational intervention.
It is an absolute honor to serve as Co-Chief Resident for the UT Southwestern clinical psychology program for the upcoming year. UT Southwestern has gone above and beyond my expectations and allowed flexibility beyond my wildest dreams. From the various opportunities (clinical and research), outstanding multidisciplinary experience, and an exceptional faculty, there are so many aspects of this program that I adore. I welcome any questions related to the program and what my experiences as a student have been so far. Please do not hesitate to reach out if you're interested in learning more about our unique program or my experiences as a UTSW student.
Sincerely,
Tori Knox-Rice
Co-Chief Resident and Doctoral Candidate