Student Profile: Kaltra Dhima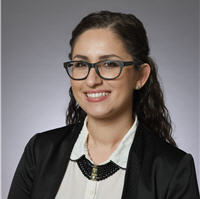 My path to clinical psychology began at Boston University, where I completed a bachelor's degree in neuroscience and psychology while serving as a student research assistant in a neuropsychology laboratory. I then spent three years working as a clinical research coordinator at the Harvard NeuroDiscovery Center Biomarker Study and had the opportunity to meet hundreds of patients with Parkinson's disease and their families. These interactions highlighted the physical and emotional complexities accompanying the neurodegenerative condition, which solidified my interest in serving such populations via the study of brain function and behavior.
During my graduate school application process, I was immediately drawn to the UT Southwestern Clinical Psychology program for a number of reasons, the primary of which was that it was housed within a major academic medical center and therefore provided a vast array of clinical and research opportunities. Upon arriving for the on-site interview, I was struck by the sense of community within the program itself, as it was clear that the interpersonal connections between the students, faculty, and staff made for a highly supportive and collaborative environment.
Fast-forward to the present, as I begin my fourth and final year in this program, I am amazed when reflecting upon how much I have learned and gained throughout my training thus far. My clinical training began in the summer of my first year with a 15-month practicum placement at the Dallas County Henry Wade Juvenile Justice Center. There I worked with numerous supervisors in various capacities, including integrated assessment as well as short-term and long-term intervention in both individual and group settings. Most importantly, I was able to work with and learn from adolescents with exceptionally complex backgrounds and stressors, a population which was new for me and in high need of mental health services. During this time, I also completed a short rotation at the Parkland Psychiatric Emergency Department, which exposed me to yet another novel patient population in acute distress. At the same time, I began conducting weekly individual psychotherapy with adults from the community at the program's own outpatient psychotherapy clinic, which I will continue until the completion of my time in the program.
During my third year, I completed my first year-long internship rotation at the Parkland Neuropsychology Clinic, where I had the opportunity to be supervised by two board-certified neuropsychologists. Most recently, I began my second internship rotation at the UT Southwestern Neuropsychology Clinic, where I am supervised by yet another board-certified neuropsychologist and longtime mentor, Dr. Laura Lacritz. I am also in the process of completing my dissertation, which will explore subtypes of Parkinson's disease and related trajectories of cognitive and motor functions. Given the expansiveness of the UT Southwestern community, I am fortunate to be completing my dissertation under the guidance of an incredible interdisciplinary committee with individuals across various specialties, including neuropsychology, neurology, neuroscience, and biostatistics.
In addition to the extensive clinical and research opportunities I have had access to at UT Southwestern, I have also been able to grow professionally in other realms. For example, I have served as a Teaching Assistant for three different courses with students at both undergraduate and graduate levels. I have also served on and helped develop numerous professional organizations: within the program in the FOCUS and ANST student groups, within the school in the Diversity & Inclusion Alliance, as well as at the state and national levels in the Texas Psychological Association Neuropsychology Division and the National Academy of Neuropsychology Women in Leadership Committee. I am also gaining insight into program development this year through my role as Co-Chief Resident.
I cannot stress enough how beneficial the setting of this program is for its students' training. Being part of a major medical center in a large metropolitan area like DFW allows for comprehensive development in all aspects, including clinical, research, academic, and professional leadership. Any student interested in joining the Clinical Psychology program at UT Southwestern can rest assured that they will have access to a diverse set of training opportunities and emerge from the program as a highly skilled psychologist.