Student Profile in Pediatric Psychology
Saba Masood
Clinical Psychology Graduate Program
Mentor: Kelli Triplett, Ph.D.
Undergraduate Degree: Human Development and Family Sciences
Undergraduate Institution: The University of Texas at Austin
Hometown: Lewisville, Texas
Awards/Fellowships: I graduated with Departmental Honors from the College of Natural Sciences at UT Austin. I was awarded the Cultural Diversity Fellowship during my first year in the graduate program. This award allowed me to conduct research at Children's Health with an underserved pediatric population and learn about the various clinical opportunities available with these populations.
How did you become interested in science and/or research?
My interest in clinical psychology stemmed from personal and early professional experiences. As an undergraduate at the University of Texas at Austin, I became involved in research studying children with autism spectrum disorder and their families. This application of clinical research highlighted what the field of clinical psychology entailed: performing exceptional and relevant research to inform treatment of mental health disorders. As a first-generation immigrant, my personal interest in the field came from wanting to learn about and understand the complexities of working with those from diverse backgrounds and delivering culturally-informed care. Naturally, my interest in pediatric mental health, family systems, and cultural diversity led me to pursue a degree in clinical psychology.
Why did you choose UT Southwestern?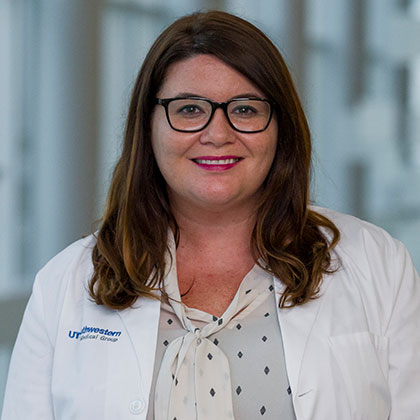 Several factors attracted me to the Clinical Psychology Program at UT Southwestern. I hoped to train at a program that provided diverse clinical experiences while fostering rich research experiences. My training thus far has provided me with both. As the Cultural Diversity Scholar, I received early exposure to pediatric research at Children's Health. Under the mentorship of Kelli Triplett, Ph.D., I studied racial and ethnic disparities and post-traumatic stress symptoms in pediatric solid organ transplant patients and their caregivers. In addition to research mentorship, I have continued to receive incredible clinical guidance from faculty at Children's Health. As someone who is ultimately interested in a career in pediatric health psychology, I have learned about the integration of psychology in a pediatric medical setting. Faculty also encourage students to participate in scholarly activities by presenting at research conferences. Recently, I had the opportunity to present at the 2019 Society of Pediatric Psychology Annual Conference and received a student award for my research.
What do you think makes the Clinical Psychology Program one of the best?
In the heart of a major medical center, the program boasts the chance to learn from faculty who are experts in their respective field. As a practicum student at the Center for Depression Research and Clinical Care, I received training on conducting diagnostic interviews and assessing suicidality in high-risk patients. My clinical supervisor at the CDRC, Jennifer Hughes, Ph.D., M.P.H., is an expert in the field of child/adolescent depression and suicide and receiving exposure to this population under her mentorship further enriched my clinical experience. I look forward to completing my internship in Consult-Liaison Psychology at Children's Health in the upcoming year and continuing to build upon my clinical experiences.
Lastly, I sought a program that encouraged and fostered collaborative relationships between current students. During my time in the program, I have collaborated with students on research projects and graduate-level lectures. The upperclassmen in the program have also provided mentorship on navigating graduate school and how to increase involvement in professional activities outside of school. I also served as the underclassman co-chair on the Student Research Committee and worked with fellow students to develop a series of research workshops.
What do you love about the Clinical Psychology Program? Why should prospective students consider it?
The Clinical Psychology Program at UT Southwestern is a unique place to receive training due to its location in a major medical center, the affiliated internship, and 4-year graduation rate. The program values its students and strives to provide a personalized training experience. I am consistently challenged by the clinical cases I encounter and, at the same time, I feel incredibly supported by the program's faculty and students. Prospective students should feel confident that they will receive stellar graduate training at this program and emerge as clinician-researchers who have the potential to pursue a career in a wide array of settings.
– Saba Masood, Clinical Psychology Graduate Program