IVIS Spectrum (Bioluminescence and Fluorescence)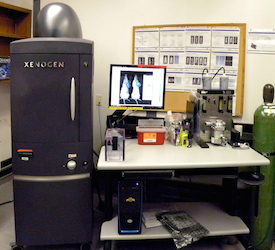 The IVIS Spectrum in vivo imaging system can facilitate noninvasive longitudinal monitoring of disease progression, cell trafficking, and gene expression patterns in living animals. High efficiency filters and spectral unmixing algorithms take full advantage of bioluminescent and fluorescent reporters across the blue to near infrared wavelength region.
The instrument is equipped for high sensitivity from 490 to 850nm with 10 narrow band excitation filters (30nm bandwidth) and 18 narrow band emission filters (20nm bandwidth) that help reduce autofluorescence by the spectral scanning of filters and the use of spectral unmixing algorithms. Also, the spectral unmixing tools can separate signals from multiple fluorescent reporters within the same animal.
Its features include:
High sensitivity CCD for bioluminescence or fluorescence imaging
High throughput with 23 cm field of view
High resolution (to 20 microns) with 3.9 cm field of view
Spectral unmixing using discrete band pass filters
Reflection (Epi-) or transmission-mode fluorescence
Single-view 3D surface topography from structured light
3D diffuse tomographic reconstructions for both bioluminescence and fluorescence
Ideal for imaging multiple probes/reporters
Investigators may request full service imaging or be trained to undertake investigations themselves.