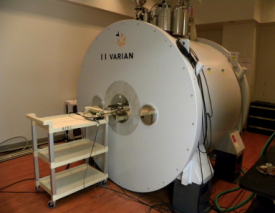 The Agilent (Varian) 9.4 T MR imaging system is specialized for high-field MRI small animal research.
Its RF synthesizer covers broad frequency range, from 10 to 420 MHz. It is equipped with a 600 mT/m gradient coil (12 cm i.d.). It also has many RF coils, such as two 1H quad horizontal volume RF coils (38 mm and 63 mm i.d., respectively), two surface coils (10 and 25 mm diameters) covering frequency range of 350 – 420 MHz, one surface coil (22 mm diameter) covering frequency range of 100 – 170 MHz, and another surface coil (20 mm diameter) covering frequency range 38 – 82 MHz.
It is also equipped with a small animal monitoring, heating, and gating system. Its pulse sequence library also includes most popular MRI pulse sequences.
It can be used to acquire many kinds of MR images such as T1W, T2W, EPI, cardiac functional image, diffusion weighted image, etc.
Most importantly, this scanner has capabilities to do multi-nuclear MRI such as 1H, 31P, 19F, 23Na, 13C, 17O, 15N, etc.
Investigators are trained to undertake investigations themselves.