The Birth of Basic Research
Basic research in the Department of Obstetrics and Gynecology traces its origin to the chairmanship of Jack A. Pritchard, M.D. (1955–1970).
In the 1950s, Dr. Pritchard was among a new breed of physician-scientists who married clinical care and basic research. He was at the forefront of what today is called bench-to-bed or translational research.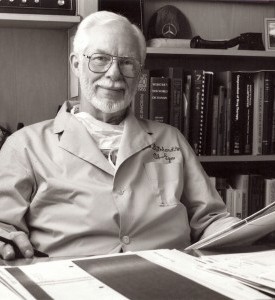 A pharmacist and M.D., he promoted evidence-based medicine over myth and folklore. His research forever changed the way obstetrics is practiced.
No stranger to the lab bench himself, Dr. Pritchard pioneered translational research in the areas of preeclampsia-eclampsia (toxemia of pregnancy), hematology, placental abruption, and obstetrical hemorrhage. He was also the "father" of family planning in Dallas.
Dr. Pritchard's first contributions came early in his career. While a fellow at Case Western Reserve, he observed that blood he'd drawn from a woman with apparent toxemia of pregnancy had grossly hemolyzed. Hemolysis results when red cells break open releasing hemoglobin into the surrounding plasma.
Working with hematologists, Oscar Ratnoff and Russell Weisman, in the Department of Medicine, they identified a variety of changes known to be associated with hemolysis and published their findings in the New England Journal of Medicine in 1954.1
This publication was followed by an article on red cell destruction2 in women with preeclampsia and eclampsia and another on the mechanism for blood clotting during normal labor and delivery.3
Dr. Pritchard's research on the use of magnesium sulfate4 changed the protocol for the treatment of preeclamptic and eclamptic women, ended the use of morphine in the management of the disease, and greatly reduced maternal mortality. The subject of debate and clinical studies since 1955, magnesium sulfate is still accepted today as an inexpensive and effective means to control the convulsions associated with preeclampsia-eclampsia.
Shortly after becoming Chairman, Dr. Pritchard set up a laboratory to screen for hematologic abnormalities on all obstetric patients and hired the Department's first laboratory technicians. In his words,
... Ruble Mason and Gwen Chase were superb at detecting deviations from so-called normal levels. We soon had a group of pregnant women identified to be healthy but hematologically different. Most women cooperated very well with the serial studies that we carried out and served to shed light on the confusing obstetric hematology. Most of the housestaff became interested and actively participated in studies. Numerous well-received publications followed.
Evidence-based medicine was Dr. Pritchard's mantra throughout his career as a practicing physician (1946–1990) and he instilled this philosophy in others.
Under his leadership, the Department developed a research infrastructure. In addition to the hematology laboratory, there was a laboratory that analyzed urine (by the gallons), studies involving folate and iron deficiency, hypertension, infection, and the effects of posture on renal function during pregnancy–to name but a few.

All were aimed at understanding and improving health care and treatment outcomes and separating fact from myth.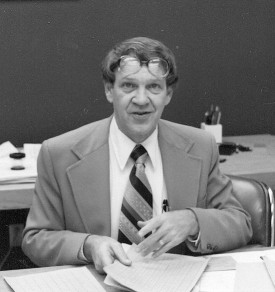 Dr. Pritchard's hiring of Paul C. MacDonald, M.D., as an Assistant Professor in 1962, was to prove pivotal in the expansion of basic research in the Department.
A year later, with a faculty of six M.D.s, Dr. Pritchard hired the department's first Ph.D. Pentti Siiteri had just completed his doctorate in biochemistry at Columbia University and was interested in studying estrogen metabolism in humans.
He and Dr. MacDonald had become acquainted while Dr. MacDonald was doing a reproductive endocrinology fellowship at Columbia.
Throughout the 1960s, Drs. Siiteri and MacDonald investigated estrogen biosynthesis and published several papers which, to quote Dr. Pritchard, "altered the world's thinking and brought them international recognition."
It had been known since the 1920s that increased amounts of estrogen were produced during human pregnancy. But the origin of this estrogen remained obscure. There appeared to be little if any hormone produced by the ovary. There was little evidence that either the adrenal of the mother or the fetus actually produced estrogen. And, there was no evidence that the placenta produced estrogen de novo.
During the 1960s, Dr. MacDonald working with Dr. Siiteri set about to discover the origin of the increase in estrogen during pregnancy. They reasoned that an androgen (dehydroisoandrosterone sulfate)5 produced by both the fetal and maternal adrenals was delivered to the placenta and that in the placenta, this androgen was irreversibly converted into estrogens.6,7
These early studies on estrogen in pregnancy were revolutionary at the time. "This observation ... in large measure resulted in the development of Maternal-Fetal Medicine as a sub-specialty of obstetrics," according to Norman F. Gant, M.D. (Dr. Gant was Chair of the Department of Obstetrics and Gynecology [1977–1982], and Executive Director of The American Board of Obstetrics and Gynecology [1992–2010]).
It also set the direction for basic research in the Department in the decade to follow. Utilizing the techniques developed in the study of estrogen in pregnancy, investigators examined estrogen production in postmenopausal women.
It had been known for years that estrogen withdrawal occurred with the cessation of ovarian function. But there was also evidence for continuing estrogen production in postmenopausal women. In a series of investigations, the team led by Dr. MacDonald determined that a steroid produced by the adrenal, Δ4–androstenedione, could be converted into a specific estrogen, estrone, in nonendocrine tissues such as fatty tissues.8,9,10
Dr. MacDonald also observed that postmenopausal women who developed endometrial carcinoma had increased estrone production. He postulated that the two were correlated and warned the medical community against the administration of estrone-containing compounds during menopause. Later epidemiologic studies confirmed this observation.
The study of estrogen in postmenopausal women led the team to investigate the role of hormone production in other disease states – such as polycystic ovary syndrome (PCOS) – a hormonal disorder characterized by elevated levels of androgen (male hormone), menstrual abnormalities, and decreased ovulation.
These pioneering estrogen studies were the foundation for the Department's basic science investigations in the decades ahead.
For his role in elucidating estrogen metabolism, Dr. MacDonald came to be called "Mr. Estrogen" by his colleagues.
When Dr. MacDonald became Chairman (1970-1976), he expanded the involvement of Ph.D.s in the Department.
He offered joint faculty appointments to John M. (Jack) Johnston, Ph.D., a biochemist and Professor of Biochemistry, and John C. Porter, Ph.D., a neuroendocrinologist and Professor of Physiology.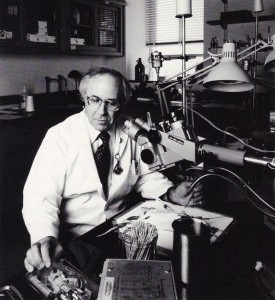 In fact, he renovated laboratory space in the Danciger (H) Building, so that Dr. Porter could relocate his laboratories from the Department of Physiology to Obstetrics and Gynecology in the fall of 1973.
This was an era of adaptation and innovation for basic scientists in the department. You couldn't go to a catalog and order exactly what you needed. Cannulas had to be adapted to infuse tiny portal vessels in rats,11 and sometimes existing equipment needed to be modified to suit a new purpose. One such device was an embolating apparatus (pictured here with Dr. Porter).
Working with the Department of Bioengineering, Dr. Porter developed a pump that introduced an air bubble at measured intervals into the tube used to collect rat hypophysial portal blood. The air bubble enabled the blood to be separated into individual aliquots during a continuous collection period and avoided diffusion along the collection tube and mixing of hormones.12
Together with Dr. Siiteri, these Ph.D.s formed the nucleus for basic science laboratory research in the Department.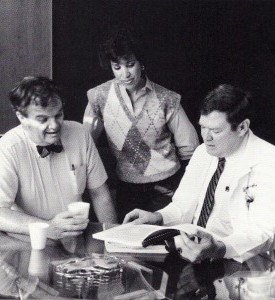 Dr. Johnston's research concentrated on the biochemical aspects and investigated fetal lung maturation while Dr. Porter's research dealt with neuroendocrinology, aging, and later with ovarian cancer.
By September 1970 when Dr. MacDonald became Chairman, the total faculty in the Department of Obstetrics and Gynecology numbered 12. That same year, the Board of Regents approved the establishment of the Center for Reproductive Biology Sciences.
The purpose of this academic research unit was to provide an environment and facilities in which investigators could efficiently address the pressing problems of human reproduction. The goal as described in the Center proposal was to "enjoin the total resources of the medical, biologic, and social sciences to provide the scientific basis through which we can insure [sic] the delivery of the optimum quality newborn of each pregnancy."
In 1973, Cecil and Ida Green endowed a distinguished chair in reproductive biology sciences. In recognition of their endowment, in 1974, the Board of Regents changed the name of the Center to the Cecil H. and Ida Green Center for Reproductive Biology Sciences. With the founding of the Cecil H. and Ida Green Center for Reproductive Biology Sciences, basic research had a "home."
While most of the bench research done from 1977 through 2000 was conducted in the facilities of the Green Center, laboratories like those of Ayalla Barnea, Ph.D., Roger Bawdon, Ph.D., E. William Byrd, Ph.D., Bruce Carr, M.D., C. Richard Parker, Jr., Ph.D., John Porter, Ph.D., and William Rainey, Ph.D. remained in the Department.
Throughout the 1970s, 1980s, and 1990s, with Dr. MacDonald as its Director, the Green Center was at the forefront of research into female reproductive health. During the MacDonald years investigations focused on the biochemical, neuroendocrinological, and pathophysiological aspects of a woman's health throughout her life as well as the impact a woman's health had on infant development and well-being.
Following Dr. MacDonald's death in 1997 and the appointment of David L. Garbers, Ph.D., as Director in 1999, the Green Center laboratories moved to the Department of Pharmacology. Several faculty who had worked with Dr. MacDonald remained in the Department of Obstetrics and Gynecology and relocated to new laboratory space in the Cary (F) Building where they continued research on the pathophysiological aspects of female health.
In 2010, W. Lee Kraus, Ph.D., became the third Director of the Cecil H. and Ida Green Center for Reproductive Biology Sciences, and the Center's laboratories moved from Pharmacology into 10,000 square feet of newly renovated laboratory space in the Department of Obstetrics and Gynecology.
That same year, Dr. Kraus also assumed the role of chief of the Division of Basic Reproductive Biology Research in the Department of Obstetrics and Gynecology.
Today, basic research is being conducted in laboratories in the Department of Obstetrics and Gynecology and the Green Center for Reproductive Biology Sciences. We invite you to visit our investigators' laboratory websites to learn more about ongoing investigations.
______________
1 Pritchard, J.A., Weisman, R., Jr., Ratnoff, O.D., and Voshburgh, G.J. Intravascular hemolysis, thrombocytopenia, and other hematologic defects associated with severe toxemia of pregnancy. New Engl J Med 1954 Jan 21; 250(3):89-98
2Pritchard, J.A., Ratnoff, O.D., and Weisman, R., Jr. Hemostatic defects and increased red cell destruction in preeclampsia and eclampsia. Obstet Gynecol 1954 Aug; 4(2):159-164.
3Ratnoff, O.D., Colopy, J., and Pritchard, J.A. The blood clotting mechanism during normal parturition. J Lab & Clin Med 1954 Sep; 44(3):408-415.

4Pritchard, J.A. The use of the magnesium ion in the management of eclamptogenic toxemias. Surg, Gynec & Obstet 1955 Feb; 100(2):131-140.

5Siiteri, P. K., and MacDonald, P.C. The utilization of circulating dehydroisoandrosterone sulfate for estrogen synthesis during human pregnancy. Steroids 1963 Dec; 2(6):713-730.

6Siiteri, P.K. and MacDonald, P.C. Placental estrogen biosynthesis during human pregnancy. J Clin Endocrinol Metab 1966 Jul; 26(7):751-761.
7Siiteri, P.K. and MacDonald, P.C. The origin of placental estrogen precursors during human pregnancy. In: Excerpta Medica Foundation International Congress, Series No. 132. Proceedings of the Second International Congress on Hormonal Steroids, Milan, Italy, May 23-28, 1966, (1967), 726.

8MacDonald, PC, Grodin, J.M. and Siiteri, P.K. The Utilization of plasma androstenedione for estrone production in women. In: Excerpta Medical International Congress, Series No. 184. Progress in Endocrinology, Proceedings of the Third International Congress of Endocrinology, Mexico, 1968, (1969), 770-776.

9MacDonald, P.C., Rombaut, R.P., and Siiteri, P.K. Plasma precursors of estrogen. I. Extent of conversion of plasma Δ4-androstenedione to estrone in normal males and nonpregnant normal, castrate, and adrenalectomized females. J Clin Endocrinol Metab 1967 Aug; 27(8):1103-1111.

10Grodin, J.M., Siiteri, P.K., and MacDonald, P.C. Source of estrogen production in postmenopausal women. J Clin Endocrinol Metab 1973 Feb;36(2):207-214.

11Porter, J.C., Mical, R.S. Kamberi, I.A., Grazia, Y.R. A procedure for the cannulation of a pituitary stalk portal vessel and perfusion of the pars distalis in the rat. Endocrinology 1970; 87(1):197-201.

12Ben-Jonathan, N., Porter, J.C. An embolating apparatus for the collection of multiple samples of systemic and hypophysial portal blood. Endocrinology 1974 Mar; 94(3):864-870.